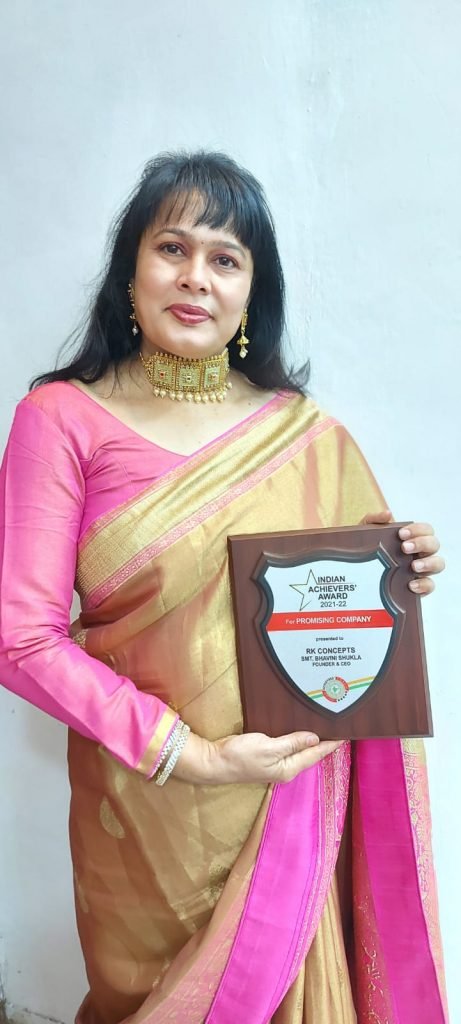 With Indigenous researchers and the notion of Make In India, Smt. Bhavini Shukla lays foundation steps for RK Concepts
"Discover, Develop and Desire to do best for our client", is what Smt. Bhavini Shukla believes in. She is best known for her inspiring, courageous and dynamic personality. And with her belief, she has now reached successful milestone by expanding her business at National, International & Continental Levels in the span of just 36 months. She started her venture "RK CONCEPTS GROUP OF COMPANIES" in the year 2019. She is passionate and a proud Founder & CEO of RK CONCEPTS.
Stressing on the norm of 'Make In India', Smt. Bhavini considers it as great delight as well as pride to acquaint her company- "RK CONCEPTS GROUP OF COMPANIES", a new entry in the innovative and technical industry with the hope of establishing the industry 4.0 and 5.0 revolution. The organization deals in many sectors like R & D work, Manufacturing, Automation, sales and services with the aim of rendering quality, conceptual work, satisfaction of client, Innovative ideas being their motto.
RK CONCEPTS have indigenous researchers. Their researchers wish to contribute their knowledge for the betterment of mankind and society. They have researched in many fields that include Food preservation and dryer based on IDH, BLDC drives, Universal LED driver (5 Watt to 400 Watt), Three phase induction heating, Blood purification based on Electromagnetic induction. The organization is composed of highly enthusiastic, Doctorate level and experienced team persons. They have the latest high-tech equipments.
RK Industry as a whole has been into various sections where in the Industrial wing deals in Embedded Hardware, Mother Oven, Portable Oven, Aluminum Melting Furnace based on Resistance Heating, Channel Type Furnaces for Copper, Brass, CI, Steel, Main Frequency Induction melting for Copper, Brass, CI, Steel, Medium Frequency Induction Heating & Melting, Bitumen Furnaces, All kind of Electrical Panels, Inverter and Converter, Electronics and Electrical Equipment Services, Development of Electronics Hardware, The other department of RK Automation Deals in Industrial Automation and Home Automation. The Software wing of RK Company Deals in Embedded Programming, PLC Programming, IOT Programming, PCB Layout. The RK Concepts Designer lights Deals in All type of LED panels, LED Drivers and Designer Lights.