Smt. Kiran Bedi, Retired IPS, Social activist and currently Lieutenant Governor of Puducherry
Prem Bhandari, Chairman USA, Jaipur Foot
Padmashree H.R. Shah, Chairmn TV Asia, USA
Rajeev Bhambri, Financial & Business Leader in Media, USA
Mridul Pathak, Vice President, Indo-American Chamber of Commerce, USA
Sammy Kotwani, President, Indo Russian Business Alliance, Russia
Shahnaz Husain, Founder, Chairperson & MD, The Shahnaz Husain Group in India.
Minnie Bodhnwala, Chief Executive Officer, Wadia Hospital, Mumbai
R.K. Dubey, CMD, Canara Bank
Dr. P.K Chand, CMD, NALCO
Prof. Anil Sahasrabudhe, Chairman of All India Council for Technical Education (AICTE).
Balram Jakhar, Former Speaker,  Lok Sabha
Harish Rawat, Chief Minister, Uttarakhan
Bharat Mehta, Sr. Vice President, Reliance Industries Ltd.
Anusorn Muttaraid, Director, Delta Electronics (Thailand) Public Co., Ltd.
Diana Hayden, Miss World
Baba Kalyani, CMD, Bharat Forging
Kamal Singh, Executive Director, UNGCNI
Prof. S. Parasuraman, Director, Tata Institute of Social Sciences
Sergey Cheremin, Minister of the Government of Moscow & Dept of Foreign Economic and Intl Relations.
H.E. Mr. D.B. Venkatesh Varma, Ambassador of India to the Russian Federation
H.E Abdullah Al Saleh, Minister for Foreign Trade, Ministry of Economy UAE,
 Dr. Dinesh Arora, IAS  Executive Director, Rural Electrification Corporation Ltd.
S.S. Arya CEO Agriculture Skill Council of India
Dr. Darlie O. Kosh  DG & CEO, Apparel Training & Design Centre, NHO
Sushma Paul Berlia, Chairperson, Apeejay Education Society, Co-Founder and Chancellor, Apeejay Stya University 
Rural Electrification Corporation Ltd. (RECL)
National Skill Development Corporation (NSDC)
Lina Ashar, Founder, Kangaroo Kids Education Ltd.
Sushma Boppana, Academic Director, Sri Chaitanya Educational Institutions
A K Jain, Managing Director, Rajasthan Electronics & Instruments Limited
Roy Founder & Chairman Asean Affairs, Thailand Search Results
Ashok Mittal, Chancellor, Lovely Professional University      
Jeff. Mazzini, Managing Director, AAMC Training Group, Australia
Madhushree Daitari, Regional Director, Indo-American Chamber of Commerce
Gopal Singh,       CMD,     Central Coalfields Limited            
Shavnam Ashtana, Author, Public Relations and Communications specialist
Sandeep Koachar, Celebrity Astrologer
Dr. KVSS Sai Ram, MD, Pratishta Industries Ltd.,
Dr. Sanjib Chakraborty, CEO, Asian College of Teachers
Sridhar S Vice President Tata Communications Limited Karnataka
SACHIN PUROHIT Managing Director SS GLOBAL MERCHANTS LTD. UK LONDON
Prof. Rajendra Sahu Director ABV-Indian Institute of Information
Technology & Management, Gwalior Madhya Pradesh
Amit Marwah Chief Executive Officer Fraikin Dayim GCC Kingdom of Saudi Arabia
Pallavi S S Rane CEO Women's India Trust Mumbai
Gautam B Boda Group Vice Chairman J B Boda Insurance and Reinsurance
Brokers Pvt. Ltd. Mumbai
Mr. Sanchit Bhutani Director Bhutani Grandthum Uttar Pradesh
Anit Shanker Managing Director Accenture BENGALURU
Sourabh Agrawal Senior Vice President Lupin Limited Mumbai


Sanjay Thakur Architect San Studio Dubai
Pankaj Kankar Chief Technology & Product Office Reliance Retail, Fashion & Lifestyle UP
Tambor Lyngdoh Founding Chairman (SYNJUK) cum CCF (KHCRP) Meghalaya
AMIT AGARWAL GROUP CFO Raymond Limited Maharashtra
Mukesh Kumar Sr. Vice President, Company Secretary & Compliance Officer PVR Limited Haryana
Sharad Anand CHIEF EXECUTIVE OFFICER DELTA FOOD INDUSTRIES FZC UAE
Sameera Mahmoud Al-Hubaishi Sr. Clinical Social Worker Rashid Hospital Dubai
Ali Fahad Ali Al Nuaimi Commercial Relation Division Manager Department of Economic Development UAE
Archana Shukla Director, Product Management SAP Karnataka
Ajay Gupta Senior President & Unit Head Grasim Industries Limited – Harihar Karnataka
BRAJESH PALSANIYA CHIEF TREASURY OFFICER RAYMOND LIMITED Maharashtra
Ezhil Nanjappan Chief Technology Officer Otis Elevator Company USA
Capt. Anurag Bhagauliwal Senior Vice President & Unit Head JSW South West Port Ltd. Goa
Chanpreet Sahni Vice President Hexagon Delhi
Bhavin G Kadakia Director – Trade & Investment Australian Trade and Investment Commission (Austrade) Mumbai
Arun Kumar Karmakar Senior Director – Quality and Technical Services Walmart Global Sourcing India Pvt Ltd Karnataka
Ameya Khankar Cybersecurity Consultant for Critical Infrastructure New York
Haresh Sippy CEO Sippy Productions Maharashtra
Manoj Suryadevara Staff Product Manager Walmart Global Tech Arkansas, US
Sumedh Vilas Datar Senior Software Engineer – Machine Learning USA
Deepa Deshpande, PhD President & Founder Universal Regulatory Inc. US
Naman Kher Head of Digital Transformation | Business Unit Head & Director DISYS US
Lakhan Goenka Managing Director LN Goenka Agro Foods Pvt Ltd Gujarat
Dr. Aniruddha Pangarkar Assistant Professor of Marketing University of Wisconsin-Green Bay USA
Durai Murugan Veerasamy Head of WW Digital Studios Amazon Development Centre Tamil Nadu
Sree Lakshmi Kanuri Sr Product Manager Dell Technologies Lewisville, US
Sanket Bhatt CAD/PLM Application Developer The Boeing Company Gujarat
Dr. Ramakrishna Rao Muthyala Author & Researcher AUSTRALIA
Ms. Dulari Rajput Vice President, IT COO, CAO Business Management BNY Mellon Maharashtra
Amey Ajit Porobo Dharwadker Machine Learning Technical Lead Meta USA
Gautam Bajaj Founder & MD TTB DMC UAE
Jagdip Ahluwalia Executive Director Indo-American Chamber of Commerce of Greater Houston USA
S. K. Raj Chairman & Member of the Board Georgia Indo-American Chamber of Commerce USA
Vandana Chak Attorney USA
Chakrapani Singh Performing Arts: Music USA
Padma Shri Sir Dr. Sudhir Parikh Chairman-Parikh World Wide Media & ITV Gold Chairman-Center for Asthma & Allergy USA
Dilip Hari Founding Member and CEO DPNY Hospitality USA
Indranil Das President & CEO Wellman Burners America LLC USA
Raj Adhikary President & CEO Japan Education Center & Information (JECI) JAPAN
Dr. Abhijit Sarkar, FRICS,CPSCM Sr.Vice President & Head of
Administration & Procurement Sharekhan by BNP Paribas Mumbai
Swapan Nath Vice Chairman Trident Limited Madhya Pradesh
Dr C N Srinivas VICE PRESIDENT SRL DIAGNOSTICS TamilNadu
Aswini Thota Data Scientist V/ Principal Data Scientist Bose
Corporation Irving/Texas/USA
Sh. Nikhil Pavan Kalyan Collector-cum-District Magistrate Sundargarh, Odisha
Shri Nikhil Pavan Kalyan, IAS Collector-cum-District Magistrate,
Sundargarh, Odisha Odisha
Col. Varun Bajpai, VSM GM- Ministry of Road, Transport and Highways
Indian Army Dehradun
Dr. Debabrata Sen, MD & CEO, Parampara Group
Sandeep Pawar, Managing Director & CEO,  KENT Intelligent Transportation Systems (India) Pvt. Ltd.
B Pursharta, I A S, Commissioner Municipal Corporation, Chandigarh
Dr RP Singh,  Sec. General, Quality Council of India
Dilip Chenoy,     DG,  FICCI
Ramesh G. Iyer, Managing Director, Mahindra & Mahindra Financial Services Ltd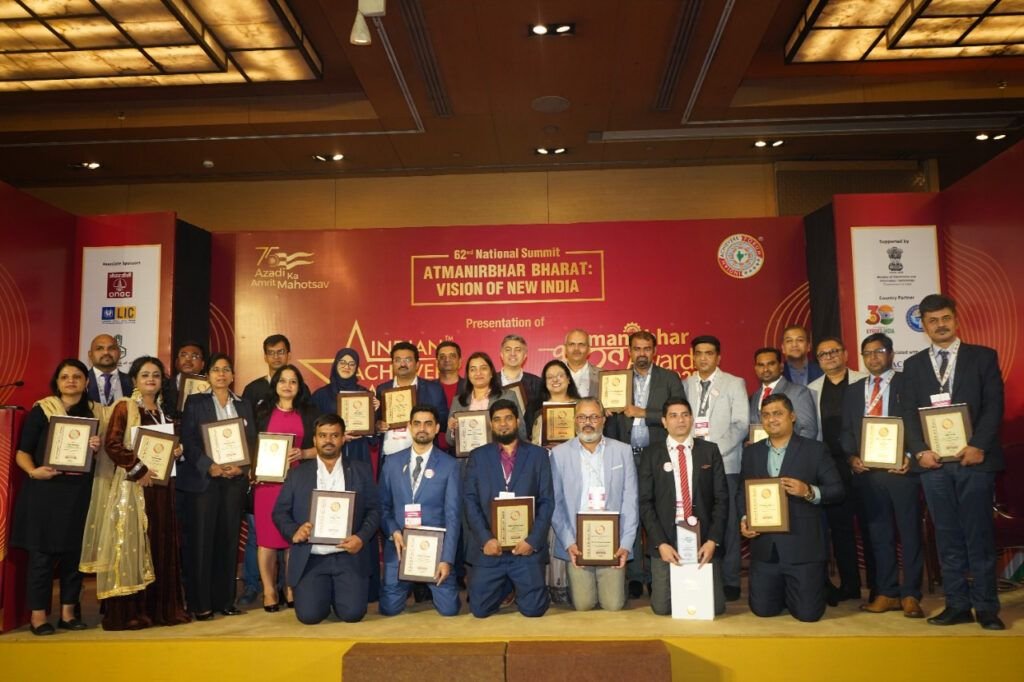 Dr. R.G.Nadadur Co-Founder and President Environment Association of Bangalore Karnataka
Upendra Gulrajani Founder & CEO Nextgen Hotels & Resorts USA
Kavindra Kumar CEO Atal Incubation Centre-Jawaharlal Nehru University Foundation For Innovation (AIC-JNUFI) New Delhi
Kumar Nitesh CEO – Footprint, Trends Footwear & Payless Reliance Retail Private Limited Karnataka
Vasudev Nair Chief Financial Officer TLC Modular Pte Ltd Vietnam
Ganapuram Venu Principal Scientist CSIR- National Aerospace
Laboratories Bengalurua
Mitul Patel Managing Director Apollo Inffratech Pvt. Ltd. Gujarat
Vibhash Garg Director – Renewable Energy PwC Delhi
MOHAMED S.A. HASAN MANAGING DIRECTOR SERVICO GROUP OF COMPANIES Doha- Qatar
Ezhilarasan Natarajan Founder and CEO CoreStack USA
Arungalai Anbarasu Chief Technology & Strategy Officer Waygate
Technologies, a Baker Hughes Business Germany
Sukhlina Minhas Managing Director Fareastvogue ltd
Zhejiang China
Chandni Kapadia Executive Director GLS University
Ganapuram Venu Principal Scientist CSIR – National Aerospace Laboratories
Anand Mahurkar Founder & CEO Findability Sciences. USA
H.E. Mr. Bulat Sarsenbayev, Ambassador in India, The Republic of Kazakhstan
Stuti Kacker, IAS, Chairperson, NCPCR
Neelesh Jathparia, Chairman, Morbi Ceramic Association
Rajeev Bhardwaj, Director (HR), Solar Energy Corporation of India
Kunwer Sachdev, Founder & Managing Director, Su-Kam Power Systems Ltd.
G. Rajan, CMD, Rashtriya Chemicals & Fertilizers Ltd.
Tushar Agarwal Advocate, Supreme Court of India Chambers of Tushar Agarwal, Advocates & Solicitors Delhi
Sandeep Chatterjee Director Deloitte Indian
Dr. O P Bhalla,  Chairman,  Manav  Rachna University
P. Bajaj, Chairman & Managing Director, Bajaj Motors Limited
Sudhirbhai Nanavati,      Executive  Vice  President, Gujarat Law Society,
Tulan Vinodrai Patel, CEO, Oceanic Foods Ltd.
Sangita Jha, Director,      JNJ Management Consultancy Services
MD Emamul Haque, Board of Governor, American Society of Mechanical Engineers (ASME)
Small Industries Development Bank of India (SIDBI)
Dr. Syam Sankar, D' Broadcasting FZ LLC, UAE
Rizwan Sajan, Founder and Chairman of Danube Group, UAE 
Muhammed Musthafa  Abdulla Al Khattal & Zayed, General Trading, UAE
Naveen Kundu, Managing Director, Leisure Corp Pvt. Ltd.
Dr. Santosh Singh, Chairman, DHL Infrabulls Pvt. Ltd.
Sumit Singh, Editor-in-Chief and Executive Director,  Lok Sabha TV
Mohd Mustafa, CMD, SIDBI
Deepak Mehta, Director, Deepak Mehta & Associates
Varuna D. Jani, Director, Varuna D Jani Fine Jewellery Pvt Ltd
Rajeev Gupta, Chairman, IMS Noida
Gauhar Nawab, Chairman, Euro Group of Companies, UK
Pradeep Saurav, Sr. Journalist, Hindustan Times
Kulwinder Singh Sandhu, Sr. Correspondence, The Tribune
Dr. Sanjay Nijhawan, Chairman, Delhi Institute of Technology & Management
S.K. Shahi, Executive Director, CSRL
Naveen Kumar Agrawal, MD, India Constructions Management Co.
C.K. Mishra, GGM-Chief CSR, ONGC
Khurafati Nitin   Radio Jockey     
Bhagirathi Dhal, Executive Director (PERS & Admin), Steel Authority of India
Anurag Agarwal, Chairman, Arya College of Engineering & IT
Ashish Kulkarni, Chief Executing Officer, Reliance Animation
Debarshi Dutta Gupta, Executive Director, East India Pharmaceutical Works Ltd.
Jathedar Manjit Singh G K, President, Delhi Sikh Gurdwara Management Committee
Veena Swarup, Director (HR),  Engineers India Ltd.
Eshwari Prabhakar, Principal, Delhi Public School
Dr. B R Shetty, MD & CEO, UAE Exchange & Financial Services Ltd
Naresh Kumar, AGM-Corporate Communication, Powergrid Limited.
Bapat Vinayak Narayan, Managing Director,  Kirloskar Electric Company Ltd.
Prof. Kamal Ghanshala, Chancellor, Graphic Era University
Anil Kumar Jha, Chairman & Managing Director, Mahanadi Coalfields Ltd.
Radhika Shrivastava, Executive Director, Fortune Institute of International Business
Adv. Aashuutosh Srivastava, Advocate & Member, Supreme Court Bar Association 
 Manan Bansal, Director, Liberty Shoes Ltd.
Dr. Ruchi Seth, Principal, Lotus Valley International School, Noida
Doon Public School
Life Insurance Corporation of India (LIC)
State Bank of India
National Small Industries Corporation (NSIC)
Vikram Limaye, MD, NSE Emerge
Vice President, Edelweiss
Ravi Pisharodi, Director, Tata Motors
Agriculture Skill Council of India
Dalmia Bharat Limited
CMD, TCIL                          
Director, NHPC
Apollo Gleneagles Hospitals