Dignitaries Who Attended Our Past Events​
Shri Santosh Gangwar
Minister of State for Labour and Employment (Independent Charge)
Shri Prahlad Singh Patel
Hon'ble MOS for Tourism & Culture
Shri Sanjay Dhotre
Hon'ble Minister of State for HRD & IT
Shri G. Kishan Reddy
Hon'ble Minister of State for Home Affairs
Govt. of India
Shri Kanumuru Raghu Rama Krishna Raju
Member of Parliament Lok Sabha
Shri Hardeep Singh
Minister of State (Independent Charge) for Housing and Urban Affairs
Shri K J Alphons
Hon'ble Union Minister of State
(Independent Charge) for
Ministry of Tourism
Govt. of India
Shri Manoj Kumar Tiwari
Member of Parliament,
lok Sabha, Govt. of India
New Delhi
Prof. K.V Thomas
Member of Parliament, Lok Sabha
Former Union Minister
Sergei Cheryomin
Minister of Moscow City
Shri Oscar Fernandes
Member of parliament, Rajya Sabha
Govt. of India
Shri Ramdas Athawale
Hon'ble Minister of State for Social Justice
and Empowerment
Govt. of India , New Delhi
Dr. Buta Singh
Former Governor of Bihar
Mr. Korn Dabbaransi
Former Deputy Prime Minister
of Thailand
Shri Prakash Javadekar
Minister of Human Resource
Development (VM)
Shri Suresh Prabhu
Minister of Commerce,Industry &
Civil Aviation
Govt. of India
Shri Ashwini Kr. Choubey
Hon'ble Union Minister
of State Health & Family Welfare
Govt. of India
Shri Pratap Chandra Sarangi
Union Minister of State For MSME & Aninal Husbandry
Mr. Raghuvansh Prasad Singh
Union Minister of Rural Development,
Govt. of India
Shri Balram Jakhar
Former Speaker of the Lok Sabha, Govt. of India
Shri Vayalar Ravi
Hon'ble former Union Cabinet Minister
Overseas Indian Affairs
Govt. of India
New Delhi
Dr. Subramanian Swamy
Hon'ble Member of Parliament,
Rajya Sabha, Govt. of India
New Delhi
Mr. T.P.S. Rawat
Hon'ble Member of Parliament
Govt. of India
New Delhi
Shri Harish Rawat
Former Chief Minister of Uttarakhand,
Govt.of India
SMT. Pratibha Patil
Governor of Rajasthan
Smt. Sheila Dixit
Ex. Chief Minister
Govt. of India
New Delhi
Dr. A. Sampath
Hon'ble Member of Parliament
Govt. of India
New Delhi
Shri Anto Antony
Member of Parliament, Lok Sabha Govt. Of India
New Delhi
Shri Ninong Ering
Hon'ble Member of Parliament
Govt. of India
New Delhi
Shri Laxmi Narayan Yadav
Hon'ble Member of Parliament
Govt. of India
New Delhi
Ms. Kiran Bedi
Lieutenant Governor
Puducherry
Govt. of India
Shri Ram Mohan Mishra
Additional Secretary & Development
Commissioner Micro, Small &
Medium Enterprises (MSME)
Govt. of India
H.E Mr. Yogesh Punja
High Commissioner
The High Commission of Fiji
H.E Mr.Desire koumba
Ambassador
The Embassy of Gabon
H.E Mr. Jagdishwar Goburdhun
High Commissioner
Mauritius High Commission
New Delhi
H.E. Mr. Dusan Vukic
Deputy Ambasaador
The Republic of Serbia
New Delhi
MR. Mridul Pathak
President Indo American Global Chamber of Commerce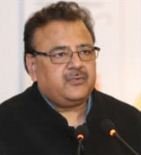 Shri Sailesh
Secretary
Ministry of Minority Affairs
Govt. of India
Prof. Ashutosh Sharma
Secretary
Ministry of Science and Technology
Govt. of India
Prof. Anil D. Sahasrabudhe
Chairman
All India Council for Technical Education
Olympian Sushil Kumar
Indian Wrestler
MR. GAUHAR NAWAB
Chairman,
Euro Group of Hotels, UK
MR. Rajeev Bhambri
CEO
Rediff.com and India Abroad
Alexei Pilko
Director,
Rossiya Segodnya, Russia
Mr. Ramanathan
Mission Director,
Atal Innovation Mission
Mr. E.S. Ranganathan
Managing Director
Indraprastha Gas Limited
H.E. Mr. Mohammed Maliki
Ambassador
Embassy of the Kingdom of Morocco New Delhi
Mr. Prabhat Singh
MD & CEO
Petronet LNG Ltd.
Ms. Rekha Sharma
Chairperson
NCW
Dr. T.K Chand
Managing Director,
National Aluminium Company
Dr. Shymala Mani
Head – Swachh Bharat Mission
National Institute of Urban Affairs
Mr. Nanou Acka Yves
Commercial Counsellor
Embassy of Cote d Ivoire
New Delhi
Dr. Bhaskar Chatterjee
Ex DG, Indian Institute of Corporate Affairs
H.E. Mr. Hamza Yahia Cherif
Ambassador
Embassy of Algeria
New Delhi
H.E. Abdulla Al Saleh
Undersecretary for Foreign
Trade Ministry of Economy
UAE
Shri Sunil Shastri
Chief Patron
Indian Achievers' Forum
H.E. Daniel Chuburu
Argentina Ambassador to India
H.E. Ms. Lesego Ethel Motsumi
High Commissioner
High Commission of the Republic of Botswana New Delhi
H.E. Mr. Hadji Ibou Boye
Ambassador
Embassy of the Republic of Senegal
New Delhi
Ms. Latha Reddy
Ambassador of India in Thailand
Mr. Anil Wadhwa
Ambassador of India in Thailand
Dr. Yaroslav Tarasyuk
Trade Commissioner,
The Trade Representation of
Russian Federation
Dr. Siddharth
Secretary Ministry of Industry
Govt. of India
Mr. Tushar Garg
Sr Scientist,National Innovations Foundation
Dr. Manoj Kumar Mohapatra
Deputy Consul General
New York
Shri SN Tripathi
Secretary,
Minister of Parliamentary Affairs
Tuhin Kanta Pandey
Secretary, Department of Investment and Public Asset Management
Dr. Ajay Garg
Director-Ministry of Electronics & IT
Shri Dr. K. K. Aggarwal
Padma Shri Dr. K. K. Aggarwal
Ms. Stuti Kackar
IAS Retd., Former Chairperson
NCPCR
Govt. of India
Dr K N Raghavan
First Secretary Commerce, Embassy of India in Singapore
Ms. Brigitte
Representer
Embassy of the Democratic
Republic of Congo
New Delhi
Dr. Sunil Pandey
Director
TERI
Mr. Jyoti Kalash, IAS
Principal Resident Commissioner Nagaland
Govt. Of India
Dr. Balvir Talwar
GM (NE, HSE & CSR)
BHEL
Brig Rajiv Williams
Corporate Head-CSR
Jindal Stainless Ltd.
Dr. Ashutosh Karnatak
Director (Projects)
GAIL (India) Limited
Sqn Ldr (Retd.) Shipra Sharma
Head CSR
LTI
Mr. Dinesh Arora
IAS, Executive Director,
REC
Mr. Sanjay Chaubey
Chairman and Managing Director
Electronics Corporation of India Limited
Dr. B. R. Shetty
Chairman,
UAE Exchange
Dr. BBL Madhukar
Secretary General BRICS Chamber of Commerce Industry
Padmashree H.R. Shah
Chairman,
TV Asia, USA
Mr. Prem Bhandari
Philanthropist and Humanitarian
and Chairman, US Chapter of
Jaipur Foot Organisation
Smt. Anju Bhalla
Joint Secretary
Ministry of Science and Technology
Govt. of India
Mrs. Riva Ganguly Das
Indian Consul General
New York
Padma Bhushan Mrs Rajashree Birla
Chairman
Aditya Birla Centre For Community Initiatives
& Rural Development (VM)
Mr. Sanjeev Bikhchandani
Founder
Naukri.com
Mr. Swarup Roy
Founder & Chairman,
ASEAN Affiars, Thailand
Dr. M.P. Narayanan
Vice Chairman - World Mining Congress
Ex Chairman - Coal India Ltd.
Mrs. Leena Deshpande
Associate Vice President HR &
Head CSR Bharat Forge Ltd.
H.E. Suhail Mohd Al Zarooni
Chairman
Al Zarooni Foundation and Suhail Al
Zarooni Group of Companies Dubai, UAE
H.E. Mrs. Moleboheng Glorious Sehlabaka
Charge d Affaires
High Commission of the
Kingdom of Lesotho
New Delhi
Ms. Kedisi N Margaret
Minister Counsellor
Uganda High Commission
New Delhi
Mrs. Sushma Paul Berlia
Chairman
Apeejay Education Society
Dr. L.C. Sharma
Managing Director
IIRD Shimla
Ms. Rinika Grover
Head-CSR
Apollo Tyre
Ms. Rema Mohan
CEO
NSE Foundation
Ms. Meenakshi Batra
CEO
Charities Aid Foundation
Dr. V.P. Joy, IAS
Central Provident Fund Commissioner Employees' Provident Fund Organisation
Govt. of India
New Delhi
Ms. Shahnaz Husain
CEO
Shahnaz Herbals
H.E. Radu Octavian Dobre
Charge D'Affairs
The Republic of Romania
New Delhi
Mr. Sunder G. Advani
Regional President
Indo American Chamber of Commerce
Mr. Kumar Anurag Pratap
Lead CSR
Capgemini