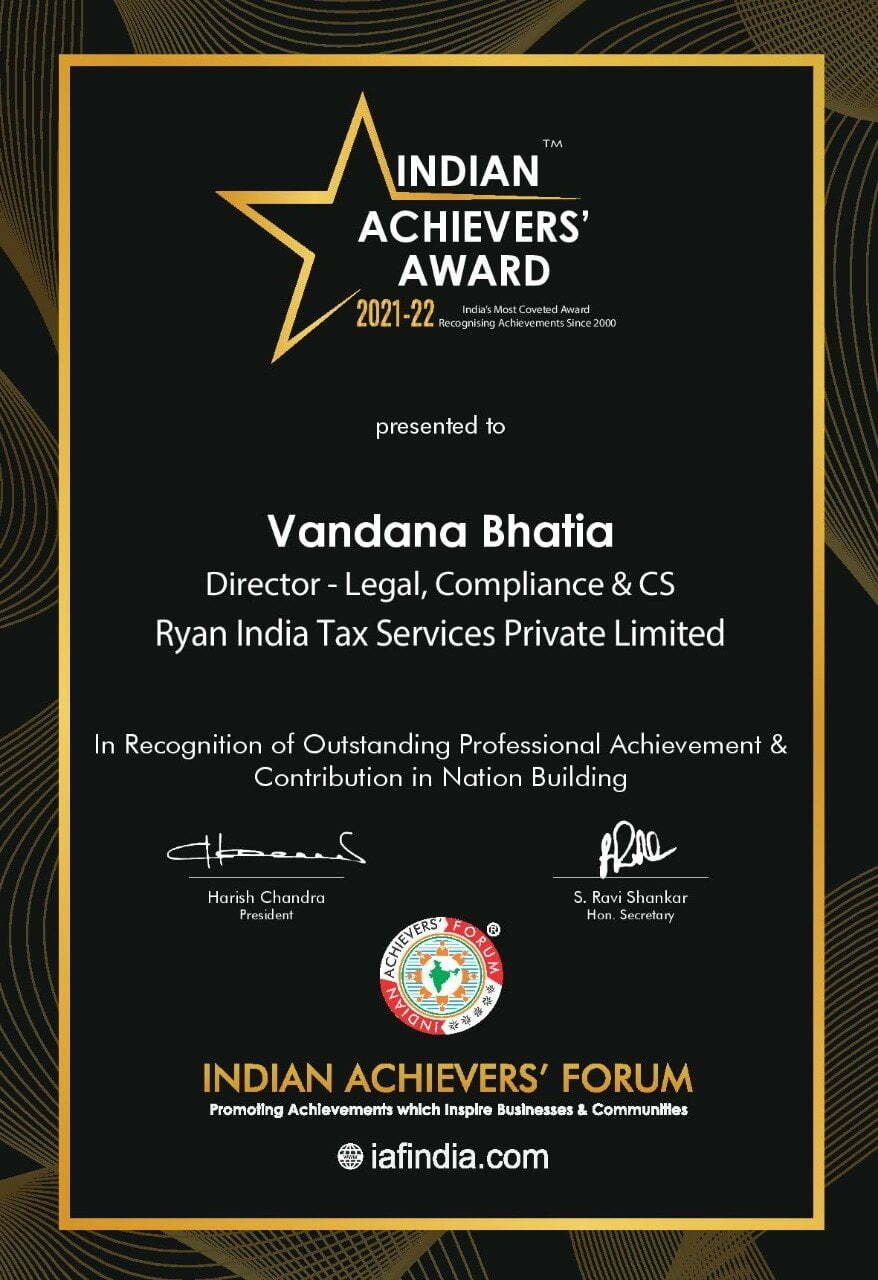 Ms. Vandana's exceptional and phenomenal journey stands inspiring to budding women entrepreneurs
As a self-empowered individual with multi-disciplinary experience, Ms. Vandana Bhatia entered the corporate realm at a very young age. It was the situation that compelled her to start working at the very completion of her Class 12. With her go-getter and can-do attitude, she could indulge in skill development training along with mandatory education. Over the years, it is this attitude that kept her going; even now, as the Director – Legal, Compliance & Company Secretary of Ryan, it helps her excel in various responsibilities, including Compliance Officer. Ms. Vandana strides to become an Independent Director, but in the long run, envisages becoming a futuristic leader.
Ms. Vandana began her journey in 2009 as a CS Intern at Ranjeet Pandey & Associates. Within a short period of time, she got promoted as an Assistant. During this tenure, she completed her CS from the Institute of Company Secretaries of India (ICSI) and further went on to earn her LLB degree. In 2011, Vandana found her first breakthrough with Dr Reddy's, joining as Company Secretary for one of its subsidiaries– Aurigene Discovery Technologies. 
At present, she handles multiple responsibilities with unbridled excellence, thus, positioning herself as a trusted leader before the management. Ms. Vandana has worked in various verticals ranging from Pharma, Clinical Research to Education and Finance. All of them have their distinct innovations, like management portal, CMS, etc., that help in triggering compliance, submit reports to the board; and, contribute to the creation of a digital data bank. 
It is the persistence that helped her in finding new ways to channelize the new Act across the ecosystem. She further established the Corporate Governance Framework at IQVIA India and doing the same for Ryan India. She believes in growing through challenges and is traversing various hurdles, contriving value with every effort in her domain. Ms. Vandana has a methodic approach that helps her cope with day-to-day challenges. She maintains strict timelines and is proactive for all kinds of emergencies and uncertainties.