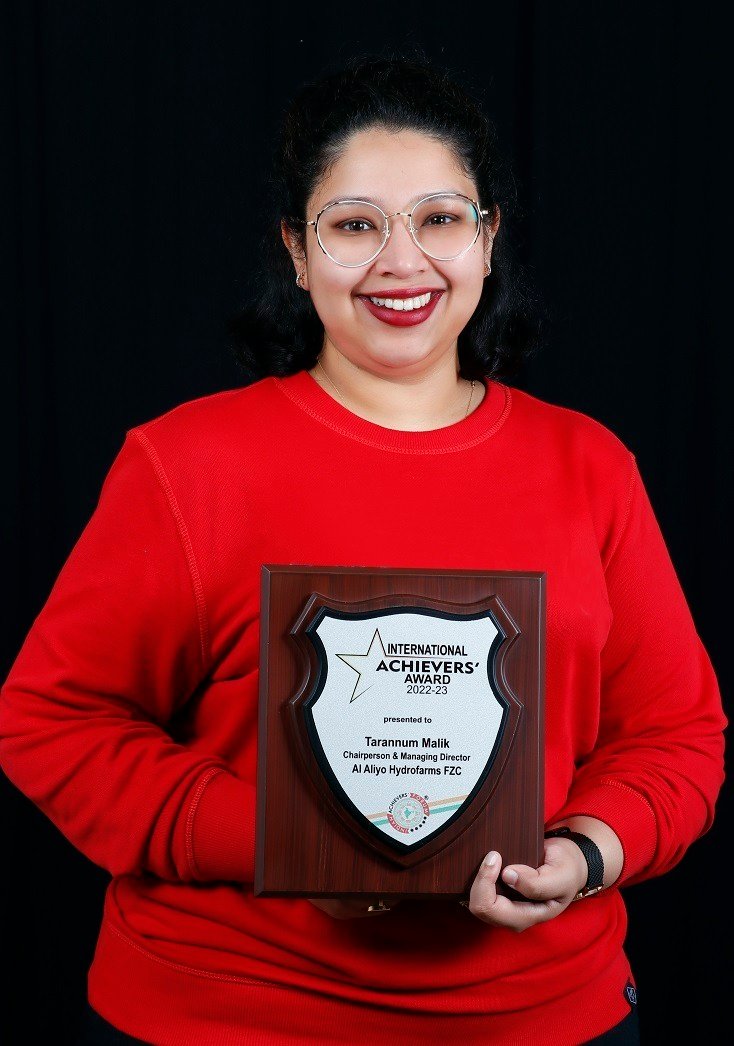 The more profound are your roots, he stronger are your branches
Ms.  Tarannum Malik, Chairperson and Managing Director of Al Aliyo Hydrofarms, is a pioneer of hydroponic fodder farming on an industrial scale in the UAE. Additionally, she has is an honours graduate in finance and accounting from the Alliance Manchester Business School, UK. She hails from  India and raised in the UAE. Two Asian cultures established her ethnic roots of simplifying life by maximising resources through intelligent work. She believe.
As a young college student in the UK, time was always short, and the chores are forever piling up. Taking the garbage out was one task she disliked to the core. Blame it on the nippy outdoors, but that pile of thrash got her thinking there had to be a better way to reduce the global impact of waste generation. She did not want to be a keyboard warrior and wanted results at the grassroots. Hence, she crafted her waste management methodologies and systems after thorough research and extensive industry insights. Cut to seven years as Founder and Managing Director of Ocean Recycling LLC, and she created gold out of garbage. 
And then the Covid-19 Pandemic changed the world as we knew it.
Among many restrictions, the monitored grocery shopping drove home the necessity of food security, particularly in harsh environments. Amidst this uncertainty, she realised humans would realign their needs based on the available resources, but what about the animals?
The UAE does not have arable land being a desert region. And so it imports over 90% of its agricultural produce to meet its demands. That's how Al Aliyo Hydrofarms, UAE's premier industrial scale hydroponic fodder company, was conceived to relieve the dependence on imported animal feed by promoting sustainability and self-reliance.
Over the years, livestock farming has remained one of the most pollutant and unsustainable forms of agri-farming with no standardised parameters. Al Aliyo Hydrofarms is changing this equation by providing fresh, green fodder of barley, corn, and wheat. Our ready-to-feed fodder mats require no mixing, chopping, cutting, or other manual processes before feeding.
Hydroponics is an ancient Greek concept where plant production occurs via water, in a monitored sterile environment sans human interference. Al Aliyo Hydrofarms has been at the forefront of this revolutionary agriculture method. The produce is grown in temperature-controlled environments with regular watering that propels a healthy crop. Furthermore, there is no usage of any chemicals, fertilizers, pesticides or artificial nutrients in the growth process.
They aim to bridge the UAE import gap and reduce the carbon and water footprint in the food sector. Their objective is to contribute to the UAE government's food security efforts by providing top-notch green fodder to farmers at an affordable price.
They  have reimagined innovation to combat climate change and are on the cusp of a livestock farming revolution, one feed at a time. Al Aliyo Hydrofarms has gone from an 'idea' to an 'idea that works'. Even as we are poised to upscale, we are now thinking, 'What next?'