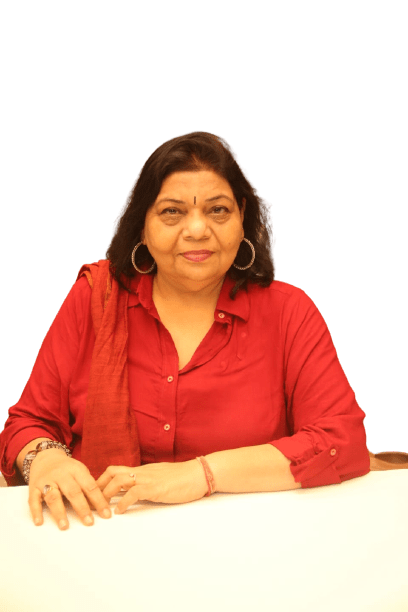 Ms. Sunita Bajaj- a woman of virtue
Ms. Sunita Bajaj believes in the following quote, "Dream it Believe Do it." And this keeps her motivated. Then a 32-year-old law graduate, she quit her job to chase her dreams. As a child she had seen her father (a Yarn Merchant) bring home colourful baby cone yarns and fabrics. Being fascinated seeing the yarn transforming into fabrics and latter into finished garments, she was fascinated towards fabrics and apparels.  had inspired her to start her entrepreneurial journey and formed "Srivari Exports."
Over the past three decades, Srivari Exports has grown in volumetric capacity, customer diversity and product variability. Prioritizing Quality and to deliver premium apparels that is a perfect blend of sustainability, style and comfort, within deadlines has created the foot print of Srivari Exports in both the International and Domestic Markets. For her excellence, she has also been conferred with the "The Arch of Europe" which is one of the world's most prestigious awards recognizing the quality and excellence of companies worldwide. The Indian fashion sphere is humongous, and everyone is competing to be at the apex. Hence innovation is of critical importance across the value chain. Sustainability, efficiency, and technology are at the heart of all it is and so too from production to packaging,  all measure are taken and implemented and  processes to curtail the carbon footprint at every level. After all, sustainability is a collective obligation, not a singular responsibility.
The garment industry at large, is an unorganised SME/MSME sector with  skilled /  semi-skilled workers, as pf today. Going forward, with her experience and expertise, she wishes to play a mentoring role   to the emerging new generation that is quite techno savvy and having  innovative skills that can be incorporated in the production line.  This new motivated generation  is ready to bring in the change and lead India  from the forefront – not only to be a  self-reliant India but also to  make a Made in India tag a force to be reckoned in the  International markets
Following her passion for fabrics and garments, she began her career and formed her Company Srivari Exports.  Soon she realised that Quality was the mantra to survive and compete with other brands in the international market. Soon a passion to see Made in India label play on the international platform became an obsession.
Ms. Sunita is recognised Internationally with 'The Arch of Europe.' She wishes to play a key role in the coming times. India is at a very powerful threshold, having a combination of a relatively skilled and techno efficient youth and the authorities coming up with industry friendly policies. She believe that, 'soon we shall see the economy on the upswing with national and international investments.'