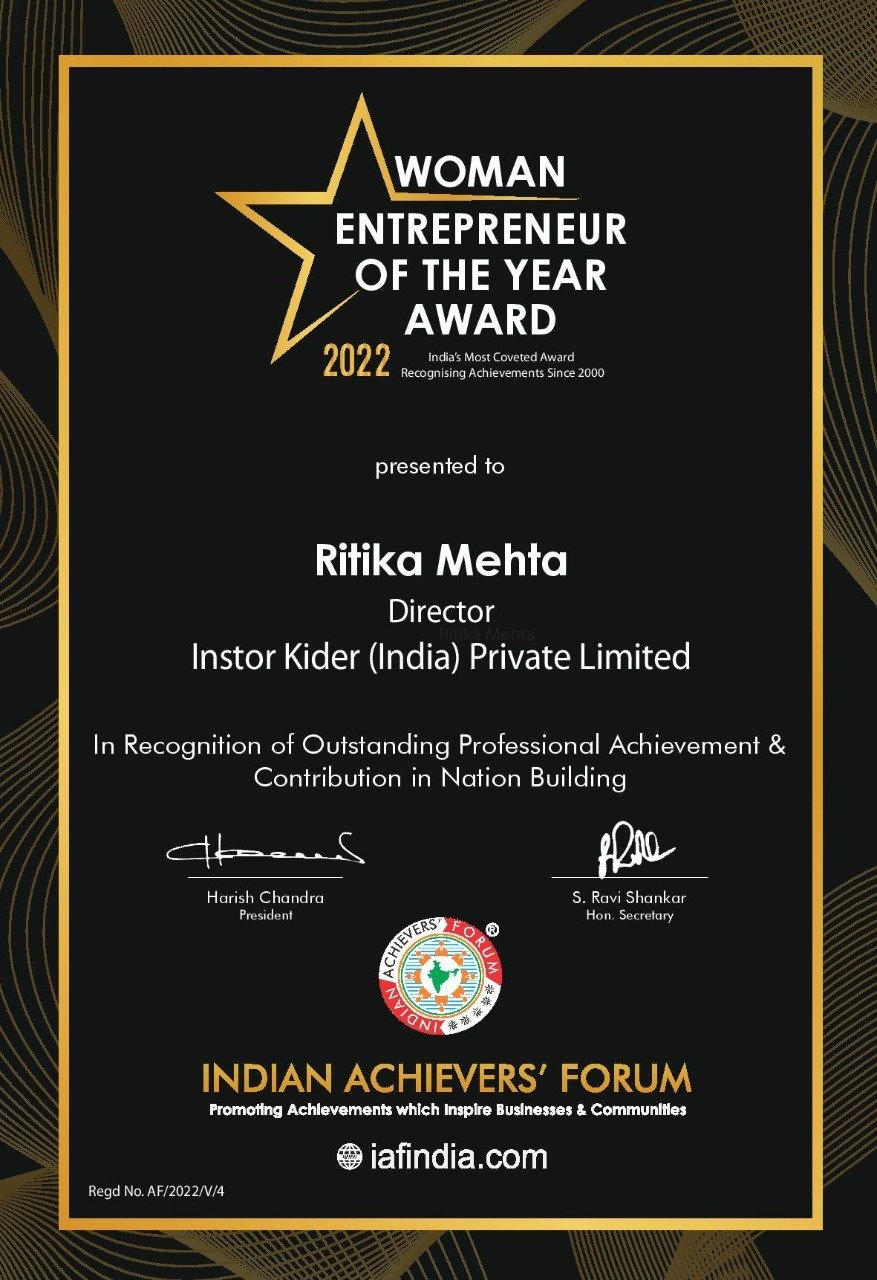 A passionate business leader, philanthropist, and entrepreneur, Ms. Ritika Mehta is the director of India's largest manufacturer and exporter of retail store fixtures and industrial solutions, Instor Kider India Pvt Ltd.  Under her able leadership, Instor Kider India is growing at an unprecedented pace and even during the pandemic company managed to double the retail customers and achieved its highest revenue ever. She works with the vision "Make in India, Make for India and the world", in the last two fiscal years, her company made a solid global impression and successfully entered new international markets. 
Marketing, and Consumer Behavior aficionado, Ms. Ritika Mehta always strives to identify society's emerging problems and trends; and works towards solving them through her multiple ventures & initiatives.
With her philanthropic and nation-first qualities and values, she started working at a very young age of 18. She is a philanthropist at heart and started her social work journey during her college days as an event organiser, under which she organized many prominent events with a group of around 600 people and raised around 50 lakhs that were donated to old age homes.
She regularly encourages, mentors, promotes and supports young innovative entrepreneurs with AIC Pinnacle (an entrepreneurship forum, Not-for-profit legal entity, supported by Atal Innovation Mission, NITI Aayog, Ministry of MSME, and Ministry of Electronics and IT Govt of India) to support the creation of a vibrant and high impact entrepreneurial ecosystem focused on innovation in key sectors which lead to inclusive and sustainable techno-socio-economic development of India.
Women empowerment and development have always been her key working areas to support society. She initiated and implemented many programs for the empowerment of women in Kashmir. Under this, she is supporting girl child education, helping Kashmiri women to market their organic products, and to develop farming processes. Through Instor, she is providing beds to army hospitals to improve and establish healthcare infrastructure and facilities in Kashmir.