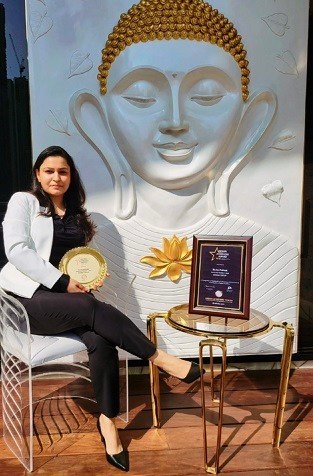 Ms. Richa Pathak's Spectacular contribution towards Nation Building
Being a Master of Law graduate from the London School of Economics and Political Sciences, and completed the Executive Program from IIM Ahmedabad, Ms. Richa Pathak specializes in insolvency law, arbitration, debt restructuring, financing transactions, recovery & exit mechanism, structuring, and real estate financing. She is a recipient of the Chief Justice M.C. Chagla Memorial Trust – Gold medal in the year 2012 for securing top position in the University of Mumbai (Law Faculty) during her final graduation years.
Prior to joining Avigna Group, she served as a Corporate lawyer with L&T Financial Services, and was also associated with the M/s. Wadia Ghandy & Co., Khaitan & Co., Global Loan Agency Service (GLAS), London, and Institute of Economic Affairs (Westminster), London. She was recognized as a leading lawyer of 2022 by World Intellectual Property Organization (WIPO). She is a member of the Loan Markets Association (LMA), The Royal Institute of International Affairs-Chatham House (London), London Court of International Arbitration (LCIA) (London) and Brookings Institute (U.S).
As a Guest Speaker, she has delivered number of lectures and has played key role in motivating thousands of people. She was invited as a speaker to National Law Institute University (NLIU), Bhopal to speak on 'Role of GC in corporate governance and beyond. As an eminent speaker to moderate session at ET Legal Leadership Conclave 2022, she spoke on 'Deciphering the commercial & cross border-litigation-2022 & beyond'. She  is  invited as a speaker at World Intellectual Property Forum (WIPF) 2023 to one of their large IP Awareness Program that is all set to be held in 2023.
She has had the experience of working in close association with the Government of Maharashtra on establishing a think tank and as an advisor on different topics of relevance. She has been regularly attending various institutions as a motivational speaker motivating aspirants preparing for Civil Services examination.
Ms. Richa Pathak has several Articles and Publications published which include
Third Party security- Not a financial debt- Supreme Court shows the path- IBC Laws.
Balance sheet and acknowledgement of liability in IBC: Deciphering the brain teaser Taxman
Stay on NCLAT Order rejecting withdrawal of resolution plan- India Corp law
Relaxations under Indian Insolvency Laws- Mondaq
Covid 19| Relaxations under Indian Insolvency Laws- Lexolog.
She has recently been Awarded the 'Indian Achievers' Award' 2021-2022, in recognition of her achievements and contribution towards nation building.