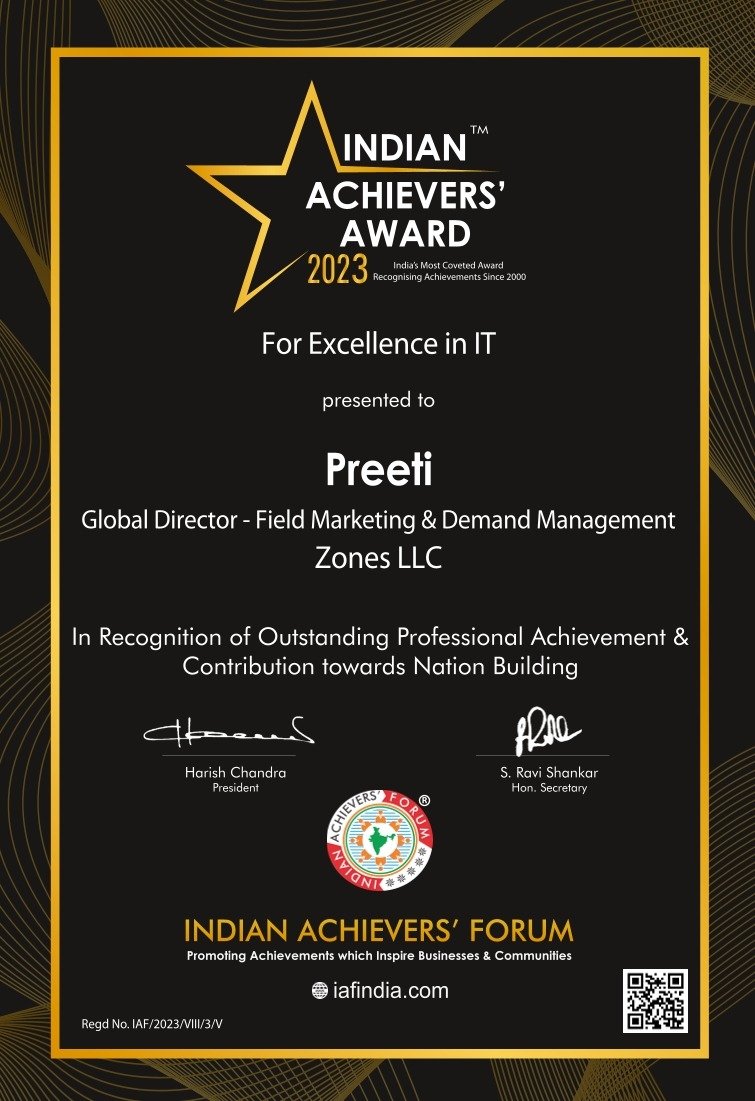 An Exceptional Leader in Information Technology and Champion of Inclusivity
Preeti is a truly an exceptional leader in the world of Information Technology, with more than two decades of experience in the industry, she brings a wealth of knowledge and management skills. What sets Preeti apart is her unwavering commitment to excellence and her passion for making a positive impact. She leads with vision, encourages bold innovation, and strategically shapes the technology and market landscape.
Preeti's journey began in a challenging environment, where she was the first woman in her family to venture into the IT corporate world, at a time when computers were not common in households. She started as an office executive, but her determination and dedication led her to navigate through various domains. She even successfully completed the IIM Bangalore Leadership Training Program, gaining a profound understanding of the IT industry as a skilled marketer and enterprising leader.
With over 25 years of experience, Preeti has become a repository of knowledge in various domains of the industry. She believes in continuous learning and personal growth, demonstrating a proactive and innovative approach to her work. Her track record speaks for itself – consistently meeting and often surpassing demanding performance goals.
Before joining Zones, Preeti had made significant contributions to well-known organizations like HCL, Lenovo, Benq, Converge, and Redington. In these roles, she oversaw sales and successfully expanded customer bases, leading to substantial increases in revenue and market share.
During her seven years at ZONES, Preeti has expertly balanced marketing initiatives and alliance management with Original Equipment Manufacturers (OEMs) and customers in India. As the Global Marketing Director at ZONES, her strategic vision and collaborative efforts played a pivotal role in transitioning ZONES from an Apple-authorized reseller to an Apple Authorized Enterprise Reseller in India – a prestigious achievement awarded to only 44 entities globally. Her exceptional contributions and unwavering dedication have firmly established ZONES as a leading force in the Indian market.
As a revenue enabler and growth alliances strategist, she has not only won numerous accolades and awards but has also emerged as a beacon for women empowerment. Passionately dedicated to mentoring the Gen-Z generation, she tirelessly contributes to society, inspiring positive changes and championing gender equality in the tech industry.
Also as a member of the Iron Lady Group, Preeti empowers women in various industries, championing gender diversity and creating opportunities for professional growth. Her remarkable achievements, collaborative leadership, and support for women position her as an exceptional nominee, championing inclusivity and empowerment not only at ZONES but also in the broader community.
Preeti's involvement as a respected member of ZONES' POSH (Prevention of Sexual Harassment) committee underscores her commitment to creating a safe and inclusive work environment – a cause that holds a special place in her heart.