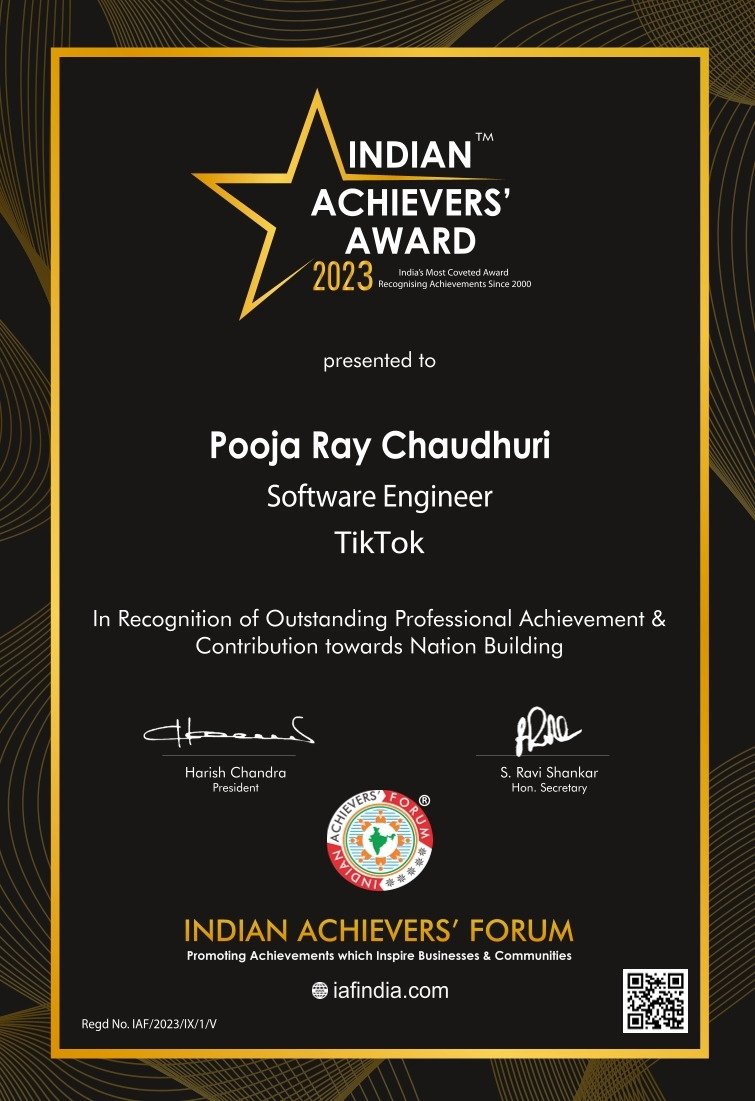 From Kolkata to the Cosmos
In the ever-expanding universe of technological brilliance, one luminary stands out, illuminating the landscape with an exceptional glow – Pooja Ray Chaudhuri.
Originating from the vibrant city of Kolkata, India, Pooja's journey began with a humble book on BASIC programming, sparking a curiosity that evolved into an unwavering passion. From those early days of exploration emerged a brilliant mind dedicated to pushing the boundaries of possibility in the field of Information Technology.
Upon completing her education, Pooja ventured into the professional arena, demonstrating unparalleled dedication and expertise at Wipro Technologies. However, her thirst for knowledge led her to the esteemed halls of the University of Utah, USA, where she embarked on a transformative academic journey. Here, her innovative work in artificial intelligence left an indelible mark, shaping the future of machine learning and technology.
Pooja's brilliance continued to shine at TikTok, where her contributions were marked by efficiency, innovation, and an unwavering commitment to continuous learning. Her profound belief in the transformative power of software tools and her dedication to mentoring, encapsulated in her philosophy of training, support, motivation, advice, direction, goals, and success, have not only elevated her own career but have also inspired countless others in the tech community.
Beyond her technical expertise, Pooja is a beacon of mentorship and advocacy. Through her published works and her active involvement in esteemed organizations like IEEE and BCS (British Computer Society), she has made significant contributions to the academic and professional development of her peers. As a council member of the Women in Tech group, she champions the cause of empowering women in technology, embodying the spirit of leadership and inclusivity.
Pooja's story is not merely one of programming mastery; it is a saga of purpose, passion, and the limitless potential of human creativity. Her achievements echo in the corridors of innovation, her vision reaching as far as the stars. Pooja Ray Chaudhuri, a true pioneer in the technological cosmos, whose impact resonates as a symphony of brilliance, inspiring all those who dare to dream and innovate.