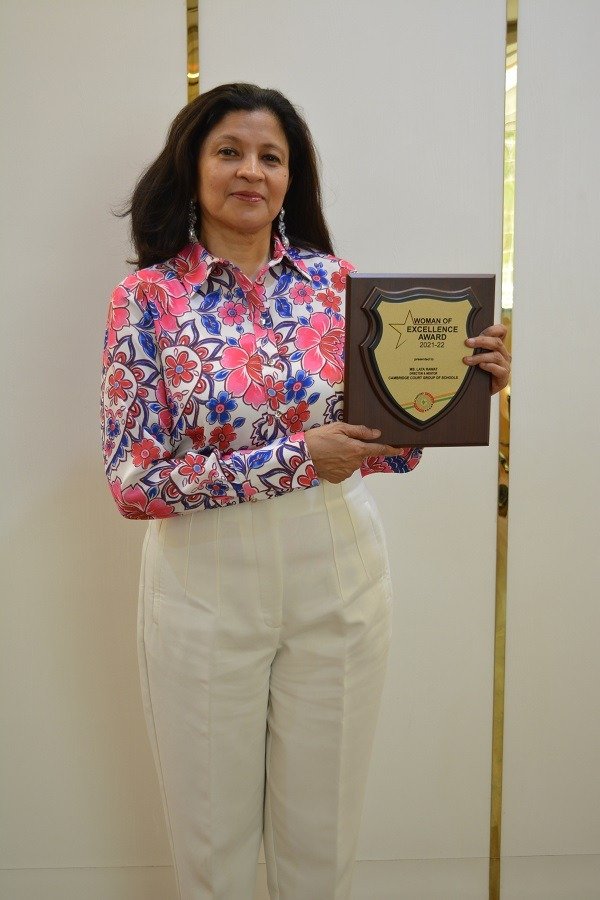 Cambridge Court Group of Schools - Revolutionizing the education system.
With the staunch believer of the saying "Dreams are not what you see in sleep, it is the thing which doesn't let you sleep", Lata Rawat is a woman of substance whose contribution in turning the dreams of most of her students into reality is impeccable. Owner of charismatic personality, astute intelligence and untiring willpower, Lata Rawat has always been a strong mentor and doyenne of all the members of  Cambridge Court family.
It looks like the days of yesteryears, when her dream of opening a school in the heart of the beautiful pink city, Jaipur took its form. Dream was big but the zeal and enthusiasm to accomplish that dream was even bigger. There were days when things won't work out whereas on some days problems brought in a novel solution along with them. Slowly and steadily, a dedicated pool of academicians, researchers, and teachers joined the caravan and her dream took the best of its shape. And today she is the proud Director of two schools – Cambridge Court High School(1999) and Cambridge Court World School(2016) running successfully and achieving various awards such as Best Day Boarding School in Rajasthan, School with best Management system, Best E- learning Methodology and Award for excellence in education award by different reputed organizations.
Her approach of 'explore, experiment, and implement' has been the hallmark of the pedagogy which helped Cambridge Court High School build a country -wide reputation. Concept based teaching-learning process complemented with hands-on experience activities has been the strong foundation of her school. With her growing penchant for research and case studies in school education and witnessing the growing issues of working parents, Lata came up with Cambridge Court World School, a day-grooming school where students are guided to win the challenges of life. She calls it a happy school as she believes that success has no meaning if happiness goes missing in one's life.
Emotional and spiritual intelligence has found a paramount place in the curriculum designed by some of the adept members of her R & D team. She ensures that every child entering her school exits with not only academic excellence but also with the most essential virtues of life of strong character, amiable disposition, mindfulness and habit of showing gratitude towards nature and living beings. Understanding the importance of soft skills in today's business era, Cambridge Court World School became the first in Rajasthan and 4th in India to conduct Ted – Ed sessions for its students.
Also under her able stewardship, Cambridgians of both the schools have been exclusively coached and hence have been excelling leaps and bounds to bring laurels to the school at not only national but international level academic as well as non-academic competitions. Her years of hard work has borne its fruit as Cambridgians have been shining in every sphere around the world.
Her wide-spanning career has been recognised through many accolades. To name a few, she was recognised as Education Leader(2019) by The Economic Times awarded by honourable C.M. Shri Ashok Gehlot Ji, Golden Educationist of India Award issued by IIEM, New Delhi
"Bharat Vidya Shiromani Award" from IIEM, New Delhi, Best Teacher Award from Lions Club, Rajiv Gandhi Education Excellence Award for outstanding achievement in the field of education, Education Achievement by IIEM(2016), and Best Teacher award by Dainik Bhaskar on Teachers Day(2016) .
'Never stop learning, for when we stop learning, we stop growing,' believing in this mantra, her future plans include devising a 21st century educational model and a charity venture for the underprivileged students.