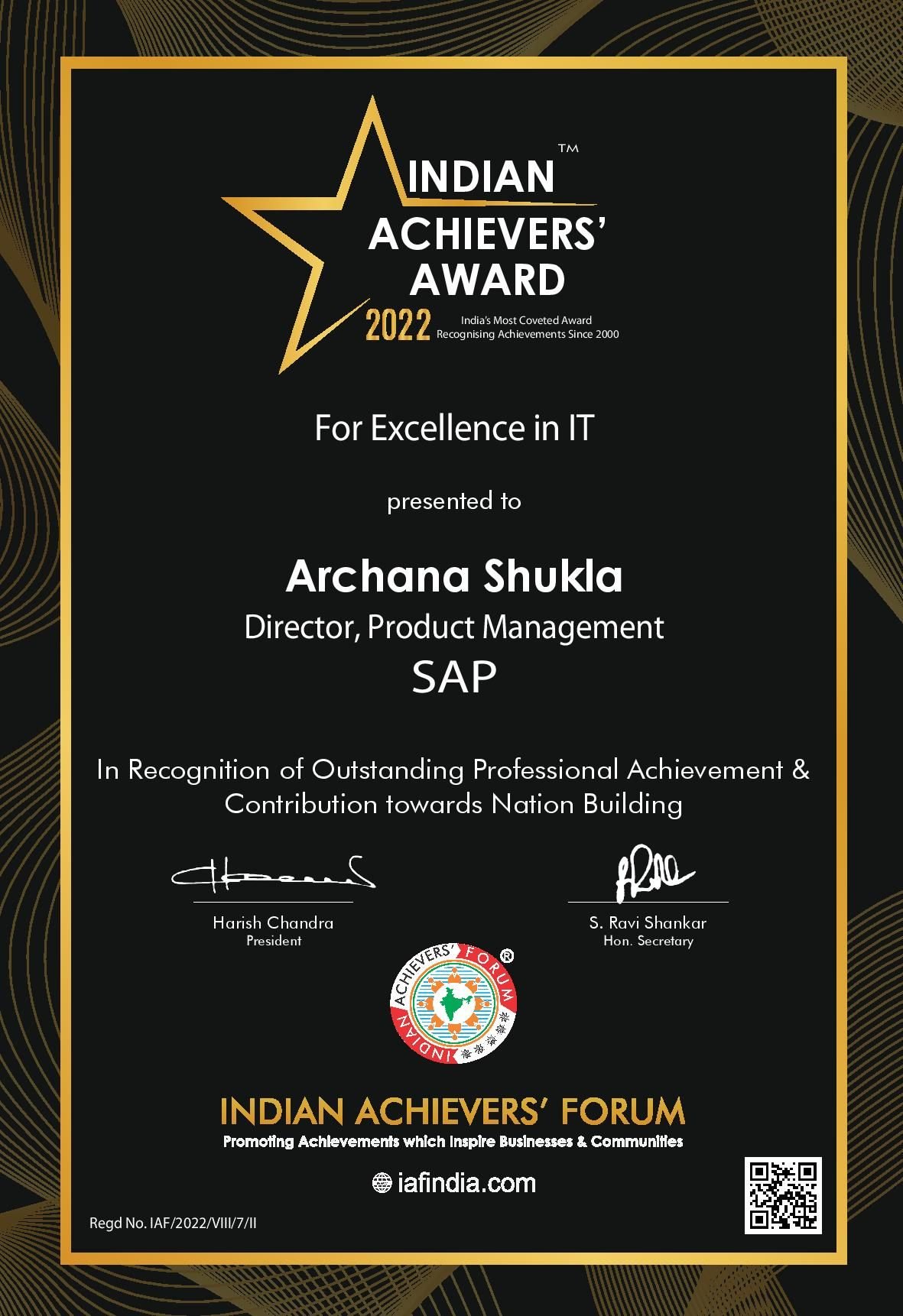 Ms. Archana Shukla's successful professional journey stands highly noteworthy
Ms. Archana Shukla, Director, Product Management firmly believes in the quote from Mahatma Gandhi "If I have the believe that I can do it, I shall surely acquire the capacity to do it even if I may not have it in the beginning," and this has been her guiding factor in her professional career that spans for more than 18 years.
Born to very humble and hardworking parents in Kanpur, Uttar Pradesh, she was brought up in a very disciplined environment, where she was taught some great lessons by her parents that include– Hard work, Commitment, to be Good to Others and Learn from Failures – which she believes has made her successful.
Being a computer science graduate, Ms. Archana started her career as a developer in a young start-up company and then worked in diverse roles as product owner, program manager, regional go-to market lead and global partner manager with deep technical and domain knowledge. Currently, she is the Director, Product Management leading Strategic Customer and Partner engagements, and aims at building strong client relationship, increasing product awareness and adoptions across APJ region.
Besides customer collaborations, she mentors young aspirant technical leaders and developers in their career growth. Ms. Archana loves interacting with people and believes that this has always driven her to take out time to connect and collaborate with developers around the world through developer community – by answering their technical queries, advocating them on their solutions, and blogging about new product features. She is also a speaker at different user group, coffee corner sessions, fire side chat, code-jams, hackathons, and many international conferences; and has authored numerous technical blogs, and magazines articles.
She is also a podcaster who shares product information, customer/partner success stories and does interviews with internal and external colleagues from different technology areas.
As a part of NASSCOM Mentorship Program, Ms. Archana has been helping women from all job roles to educate them on new technologies and best practices. She aspires to do more for the women community by spreading awareness, sharing experiences and helping them make an impact in the community.  She strongly believes that empowering women can change the way IT sector works, and more women in leadership roles inspires others to take that extra mile to achieve more in order to attain success. 
Apart from her being professionally successful, she is an avid reader, travel enthusiast and enjoys talking to people as this way she is able to learn from them. With her experience, she has realized that there is no single route to success and her advice to all young aspirants is to "go and create your own success path". Just be confident, committed and courageous!