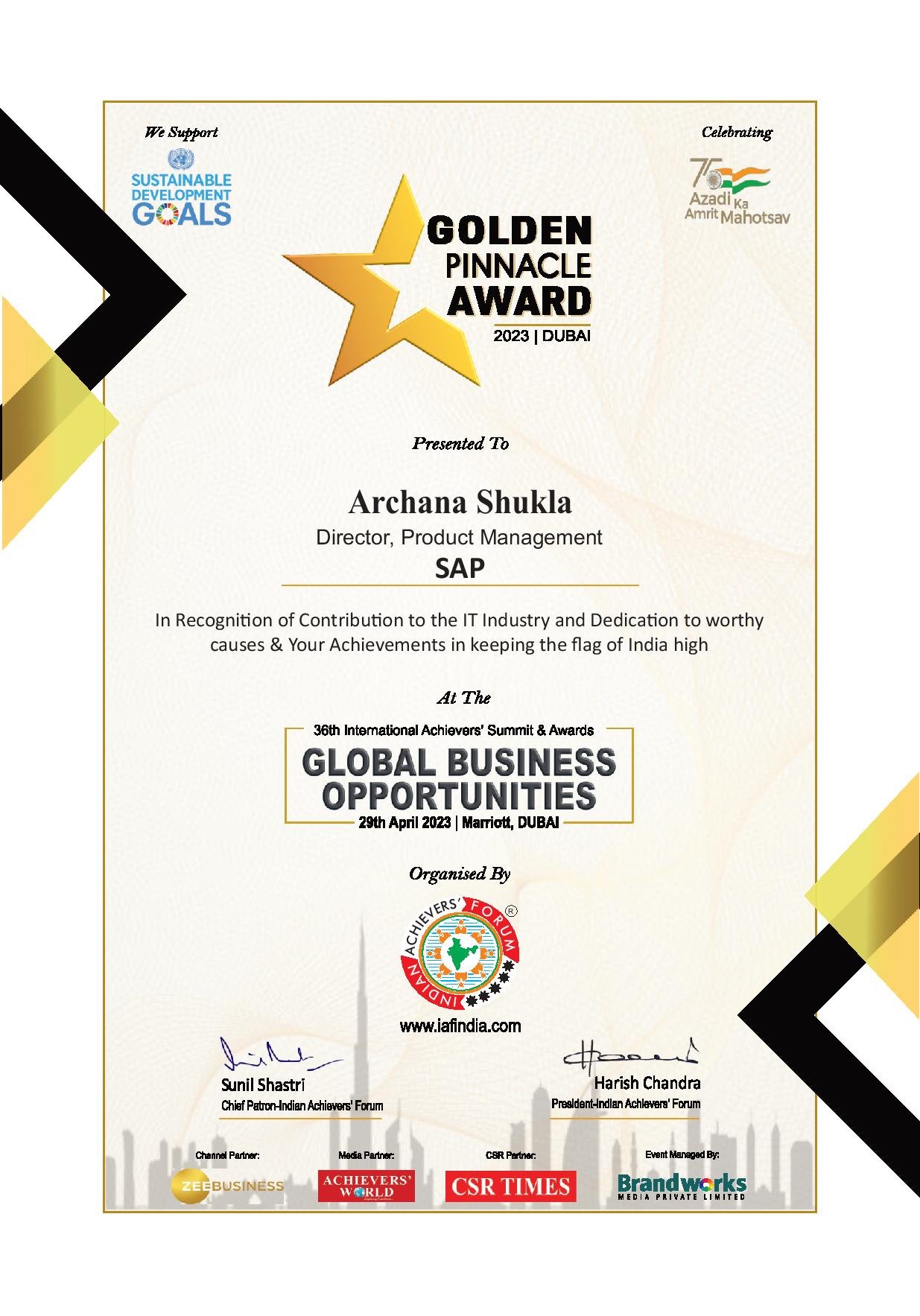 "Never give up - Just be confident, committed and courageous!" Ms. Archana Shukla
It was in 2004 when Ms. Archana Shukla graduated in computer science from one of the reputed institutes and started her professional career as a technical developer in a start-up based out of Hyderabad. It was a young company which gave her immense opportunity to learn and grow. Starting a career in start-up and being mentored by best of the minds brought the needed discipline, that eventually helped her master the art-of-technology.  
Throughout her career,she worked in diverse roles as professional coder, product owner, program manager, global partner manager and head of go-to market for APJ region (Asia Pacific Japan including China and Australia). With deep technical and domain knowledge, she has been supporting hundreds of customer go-lives in their critical projects, leading multiple strategic initiatives, and emerged as a trusted advisor for different product and solutions at SAP. Currently she is Director in Product Management area leading Strategic Customer and Partner engagements, working towards product strategies, and heading the business content unit in the cloud technologies at SAP. The aim is always towards building strong client relationship, deriving insights to improve the product experience, and increasing product awareness and adoptions across regions.
Besides product management, she has been mentoring young engineers, technical leaders, and aspirants from different universities with their career and product knowledge. Interacting with people is one of her passions, and this has always driven her to take out time to connect and collaborate with developers around the world through SAP developer community. With technical blogs and articles, she tries to share product features and her experience with SAP products that have helped numerous developers across the world who are using our product and services. Speaker at different user group, coffee corner sessions, fire side chat, code-jams, hackathons, and many international conferences. She is also a podcaster who exchange regular product information and customer/partners success stories and other relevant topics to all SAP customers, partners, employees.
As part NASCOMM Mentorship and Leadership Program, Women in Big Data Asia Region, SAP Women in Technology member etc., she aims at helping women from all job roles to educate them on new technologies and best practices. She aspires to do more for the women community by spreading awareness, sharing experiences and helping them make the impact in the community. She strongly believes that empowering women can change the way IT sector works, and more women in leadership roles inspires others to take that extra mile to achieve more and reach to their dreams.
Avid reader, travel enthusiast and people person, she was born to very humble and hardworking parents in Kanpur, Uttar Pradesh. Her brother and she were brought up in a very disciplined environment. Hardwork, Commitment, Be-Good-to-Others and Learn from Failures are the key lessons which they got from their parents as they grew, and these have been with them throughout in their lives.
As Mahatma Gandhi rightly said, "Champions are made from something that they have deep inside of them – a desire, a dream, a vision."
With her experience, she strongly believe that there must be passion, commitment and endless perseverance to achieve the success one want, and her advice to all young aspirants is to "never give up" – Just be confident, committed and courageous!
Connect with her at Linkedin.