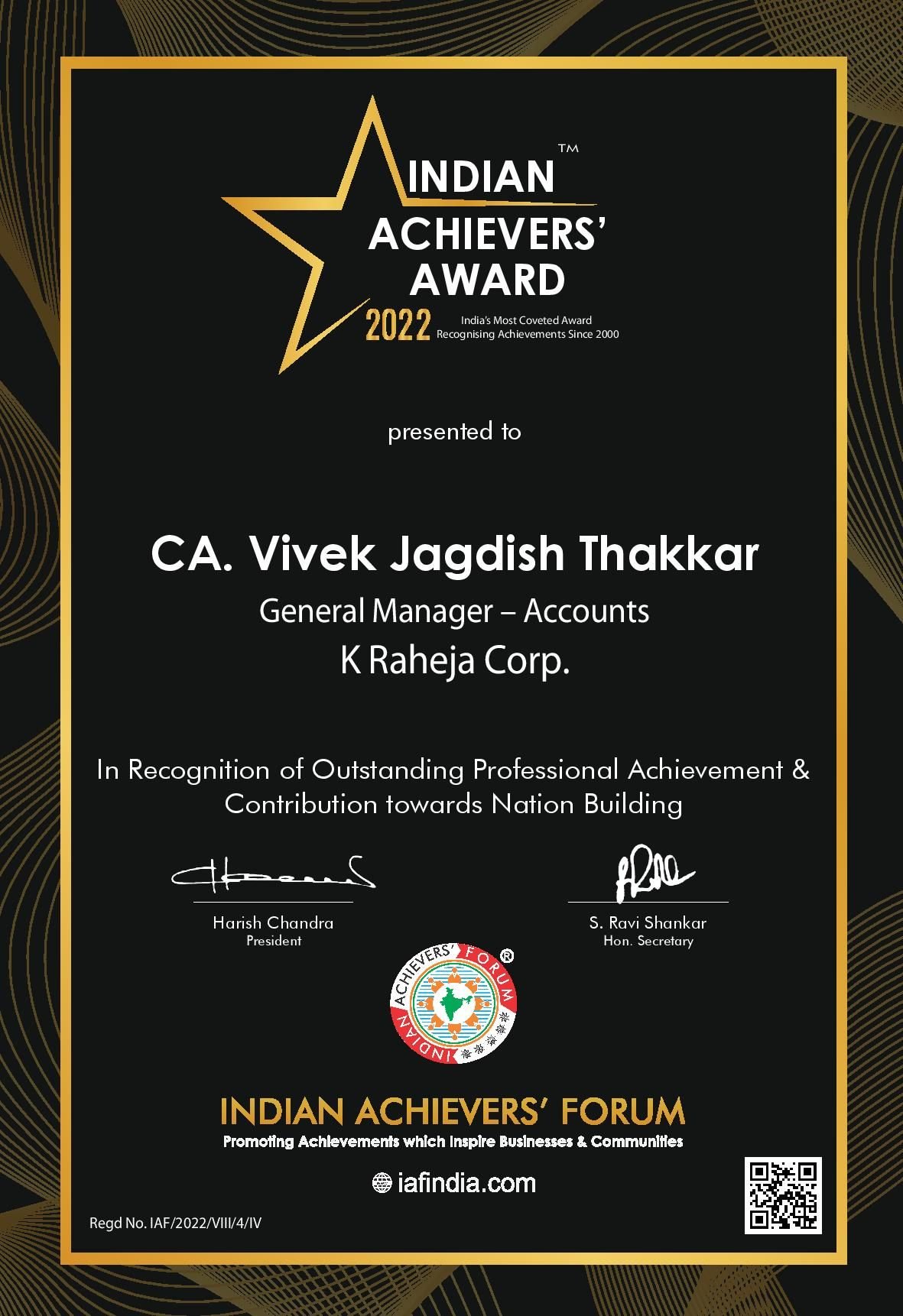 Mr. Vivek Thakkar- the man with professional principles and values
Vivek Jagdish Thakkar is currently working as General Manager Accounts with K Raheja Corp which is a property developer in India with interests in commercial and residential projects, malls and hospitality business across multiple cities (Mumbai, Hyderabad, Chennai, Pune, in the country. It owns the brands Mindspace, Commerzone and Shoppers Stop, and is the second largest commercial developer in India. Under the Mindspace banner, K Raheja Corp also operates Mindspace Office Parks, which is a 
real estate investment trust
(REIT). His passion to master in Accounts made me Chartered Accountant, wherein I can contribute to Nation building by contributing back to society thru Corporate Governance. Completed BCOM with K J Somaiya Arts & Commerce Mumbai. He began his career with an articleship with G P Kapadia & Co. where he got great audit exposure with corporates like Grasim Industries, Air India, Punjab National Bank, HPCL, Bank Empanelment audit conducted by ICAI.
He has worked with Panoramic Universal Limited as Vice President Accounts & Finance for handling Accounts, MIS and internal controls for their chain of hotels owned and operated under the brand name United 21. I was handling a team of 48 accountants, F & B Controllers for handling accounts and MIS of 30 Hotels in India and 7 under construction. My major contribution was to ensure that there is no revenue leakage by implementing robust internal process and controls in place.
Mr. Vivek Thakkar brings with him professional experience of close to two decades of deep understanding and command of domain experience in financial planning and fund management, Acquisitions and structuring, Handling legal and financial due diligence, Budgeting, development and implementation of new systems, cost controls / profitability improvement and taxation and regulatory compliance. He began his journey working as accountant with Hospitality startup in Impresario Entertainment & Hospitality Pvt. Ltd. and now working as General Manager Accounts with Business conglomerate in Real Estate K Raheja Corp Mumbai. K Raheja Corp operates its commercial business under the brands Mindspace and Commerzone with projects in Mumbai, Hyderabad, Pune and Chennai. As of 2017, K Raheja Corp had 20 million square feet (1.9 million m2) of office space, making it the second largest commercial developer in the country. The real estate group is leading the process of buying Citi Centre, a 100,000 sq. ft (9,300 m2) commercial property in Bandra Kurla Complex, Mumbai, which housed the headquarters of Citibank.
In his professional career growth of 16 Years, he has worked with Big 4 Audit and Accounting firms closely for Legal and financial due diligence, fund raising, audit, business restructuring, slump sale and business fair valuations. Apart from being a successful professional, he is also associated with ISKCON and provides voluntary services and donations in the form of empowerment of farmers, rural health care, water resource development, rural skill development, educate the youth and distribution of food to nearby villages. He is also involved in community social services which serve various facilities to deprived and underprivileged class of people for their education, food, medical and arranging blood donation camps.