Founder & CEO of WOPLLI Technologies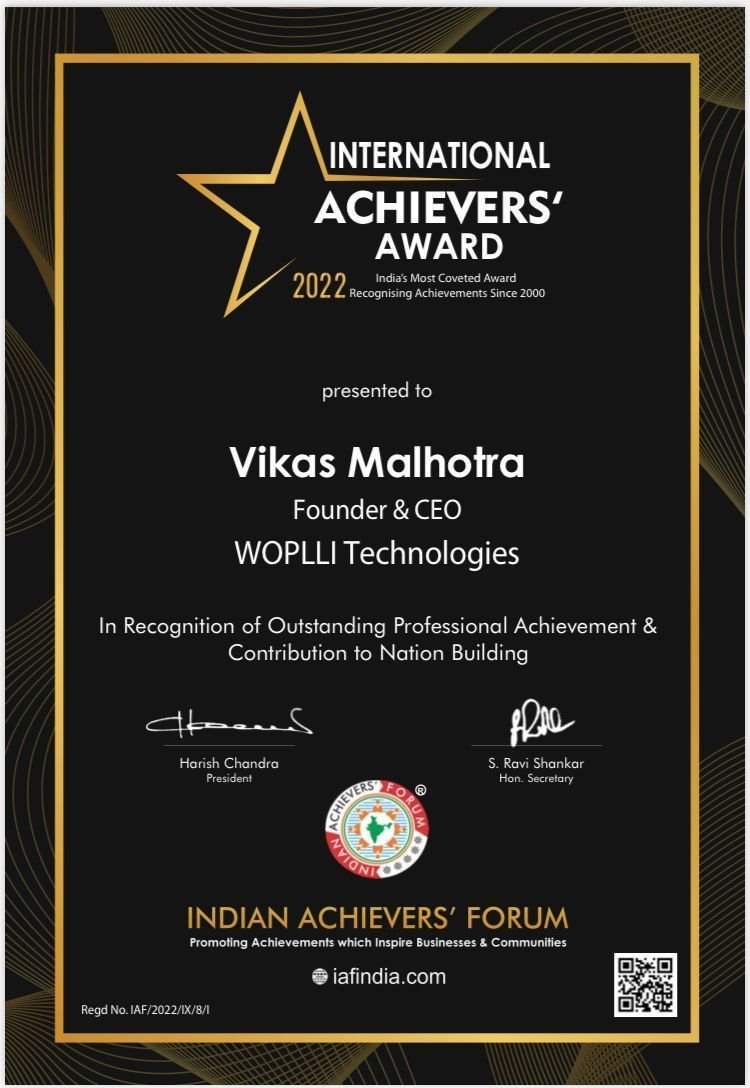 "While everyone is a learner, one should also be willing to unlearn & relearn since that is the way to innovate and come up with new findings" – Vikas Malhotra
Mr. Vikas Malhotra is the founder & CEO of WOPLLI Technologies, a startup that is making our experiences [as we work, play, learn, live] safe, fair, trusted. Vikas has progressed digitalization for 25+ years, that includes ~15 years at Microsoft, working on Office 365 and Cloud enablement. He believes that current security, privacy and in general Trust problems are unsolvable with current digital architectures and that these problems affect a human. Hence, he is raising awareness to rethink & creating products & services, based on his proposed architecture principles of Human Centricity, Decentralized Identity, Distributed storage & processing, Heterogenous control application & Self-healing. He is a contributor & leader in various standards bodies & frameworks.
Along with WOPLLI, he also co-chairs 'Artificial Intelligence & Metaverse' taskforce at Trust over IP foundation and chairs the workgroup for 'IEEE SA – Cyber Security for Next Generation Connectivity Systems'. He holds Master of Science in Telecommunication Management & Bachelor of Engineering in Electronics & Telecommunication
Mr. Malhotra can be described as an innovator, pioneer, and an entrepreneur. He calls himself an artist with a technical bent of mind, who creates art in and with technology. He lives in New Jersey, USA with his wife Ruchika and their two daughters; with an extended family in India and USA.
Mr. Malhotra was born in Jammu, India. Growing up, he lived in many places ranging from Pathankot in Punjab, to Agra in Uttar Pradesh, and Pune in Maharashtra. It was here in Pune where he began his career with a solution integration company named Microline India Pvt Ltd after obtaining his bachelor's degree in Engineering from the Maharashtra Institute of Technology (MIT). Mr. Malhotra was highly influenced by the ISO OSI stack for the web and led Microsoft's practice for Microline in the late 1990s. In 1998, he moved to The United States and settled in New Jersey whilst working for IBM as a contractor, wherein he worked within one of the largest networks in the world at the time. A key experience Mr. Malhotra encountered was the Melissa virus attack, that brought down the network deployed by Lucent Technologies for 4+ days and according to the FBI, cost upwards of $80M. This experience was an eye opener for how digital technology can be used with bad intentions to cause harm at a large scale. In the coming years, Mr. Malhotra joined Stevens Institute of Technology and obtained Master of Science in Telecommunication Management.
In the early 2000s, Mr. Malhotra contributed to the architecture of and brought to market, Application Service Provider (ASP) service, which delivered digital services remotely. He did this while working for CIBER which served customers in New York City from a datacentre in New Jersey. This was 6 years prior to the word 'Cloud' becoming recognized in the industry. This introduced Mr. Malhotra to the possibilities of computing and digitalization. Eventually, he left CIBER and joined a boutique IT consulting firm, The International Network Services. Here, he learnt the intricate art of consulting and service delivery to the enterprise customers. Later in 2006 he joined Microsoft and began working his magic in its New York practice as a solution architect.
In 2009, Mr. Malhotra helped deploy the early versions of Microsoft's Office 365 service, prior to many in the field today and eventually joined Microsoft's Office product division. He was a key driver for the cloud service business at Microsoft. His work in cloud engineering and product division contributed towards Microsoft 365's stellar growth. He was one of the early contributors in this group and helped develop many features and programs with the aim of gaining customer trust to adopt Office 365 (and cloud) service, which was a new paradigm for everyone at the time. He led the program on Trust with Transparency and developed shared responsibility matrix models for risk management in 2010. Mr. Malhotra also contributed towards new features and programs such as encryption, SMIME, bring your own key, compliance manager, secure score, right to audit etc. He did this whilst working with some of the most conservative industry verticals, helping to pave the path for the rest of Microsoft to gain penetration. Mr. Malhotra worked with many customers across finance, healthcare, and government globally. Here he devised plans, methods, features, and programs for gaining trust of customers as they moved to cloud. He helped shape many unchartered areas in cyber security, privacy, compliance, and regulations. He also helped create customer experience programs such as Fastrack at Microsoft. Some of this development has become the industry direction for cloud services, constantly being adopted by other market players.
In late 2020, Mr. Malhotra founded WOPLLI Technologies with a vision to make our experiences [as we work, play, learn, live] safe, fair, trusted. He is currently leading the way to build new digital architectures, supporting new policies and to create a new interface category, re-arranging the tech stack towards human centricity, and enabling 'Trusted Next Digital' [TND] through disintermediation of centralized, digital environments.