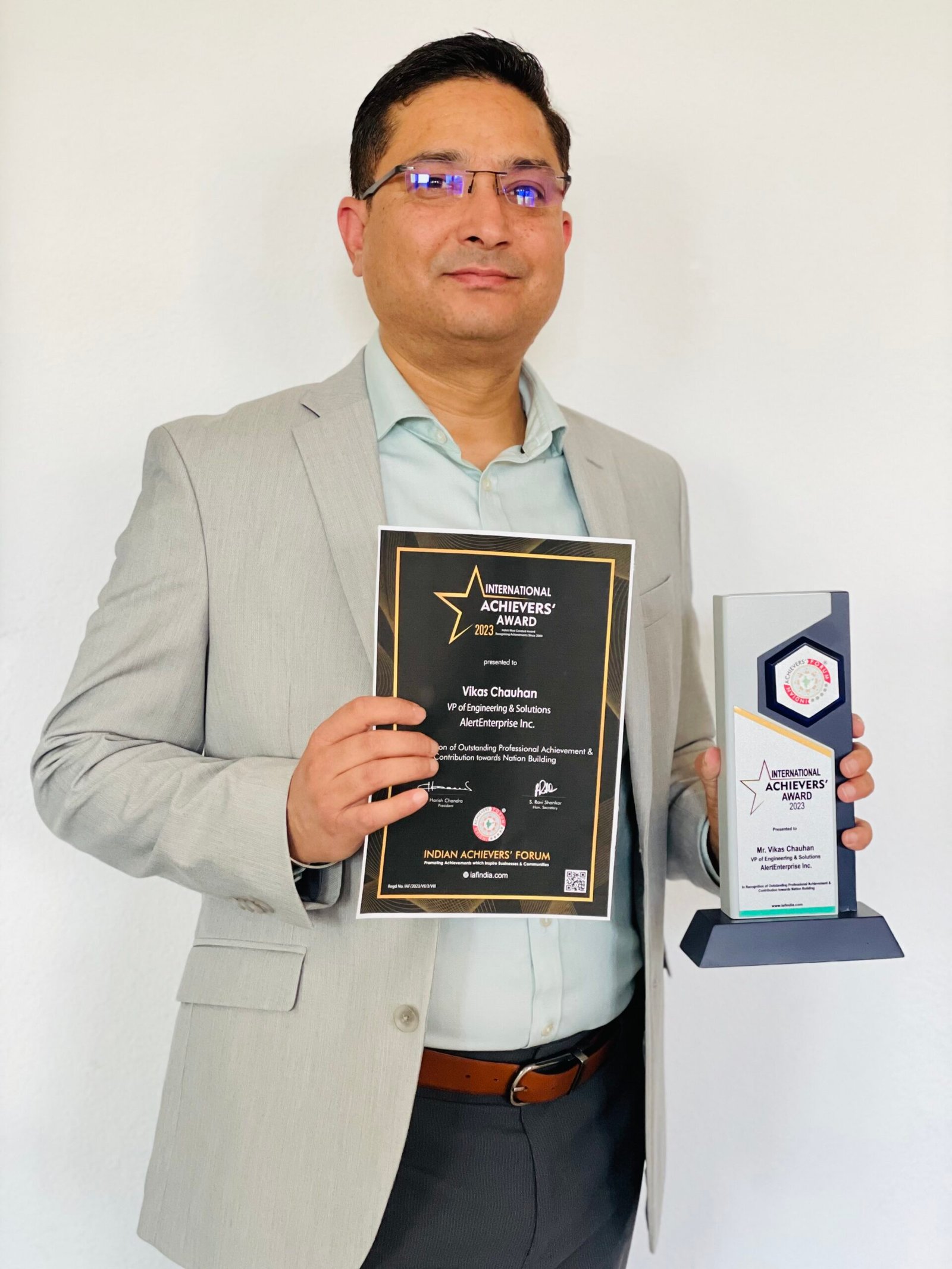 Pioneering Innovations in Engineering and Safety
Mr. Vikas Chauhan holds the position of Vice President of Engineering and Solutions at AlertEnterprise Inc., where he plays an integral role in the company's mission to enhance global safety. With a history rich in innovation, he is deeply committed to empowering individuals through technology, knowledge sharing, and innovative problem-solving.
An Information Technology Engineering graduate, Vikas embarked on his professional journey with Virsa Systems, a USA-based startup. There, he and his team worked on numerous groundbreaking innovations in support of flagship products like Virsa Compliance Calibrator, Virsa Firefighter, Virsa Access Enforcer, and Role Expert. Their work played a pivotal role in preventing financial fraud and addressing issues such as the Enron scandal, particularly in the automation of Sarbanes Oxley (SOX) 302 and 404 / Section 49 A compliance in India.
SAP recognized the value of their work and subsequently acquired Virsa Systems, incorporating these products into SAP GRC, one of its prominent Business Units. During his tenure at SAP, Vikas undertook various roles and traveled globally, consistently leading engineering delivery efforts under the name of SAP GRC Access and Process Controls.
In November 2009, Vikas embarked on a new journey by joining AlertEnterprise, a portfolio company of Startup Farms Inc., dedicated to Critical Infrastructure Protection and Insider Threat Mitigation.
At AlertEnterprise, Vikas focused on Research and Development, contributing to the creation of cutting-edge products like Alert Access, Alert Certify, and Alert Sentry. His exceptional leadership led to the recruitment and training of over 200+ engineers and professionals in the fields of Cyber Physical Security, Regulatory Compliance, and GRC best practices. Currently serving as the head of the department at AlertEnterprise, Vikas relocated to the company's United States headquarters in Fremont, California.
In his role as an engineering R&D head, Vikas continued to push the boundaries of technology, crafting solutions for Power Utilities, Airports, Banks & Financial Institutions, and High-Tech Companies. His pioneering work has resulted in technology patents in the realm of converged security, including Policy-Based Access Controls and AI-Powered Role Design.
Notably, during the challenging Covid-19 pandemic, Vikas and his team engineered the "Alert Guardian" solution, which found widespread adoption across companies globally, including India. This innovative solution not only bolstered safety and security but also streamlined "Return to Office" plans and implemented Covid-19 vaccine-based access control in office buildings. It proved instrumental in curbing the spread of the virus and enabled effective contact tracing for corporate offices.
Beyond his technological achievements, Vikas is a mentor to aspiring engineering graduates from nearby colleges in India (Chandigarh, Noida) and the USA, particularly in the fields of Cyber and Physical Security Convergence and Software Engineering.
His unwavering optimism for a united and safer world drives his commitment to inspiring the younger generation to tackle shared challenges and contribute to making our world a safer place for all.