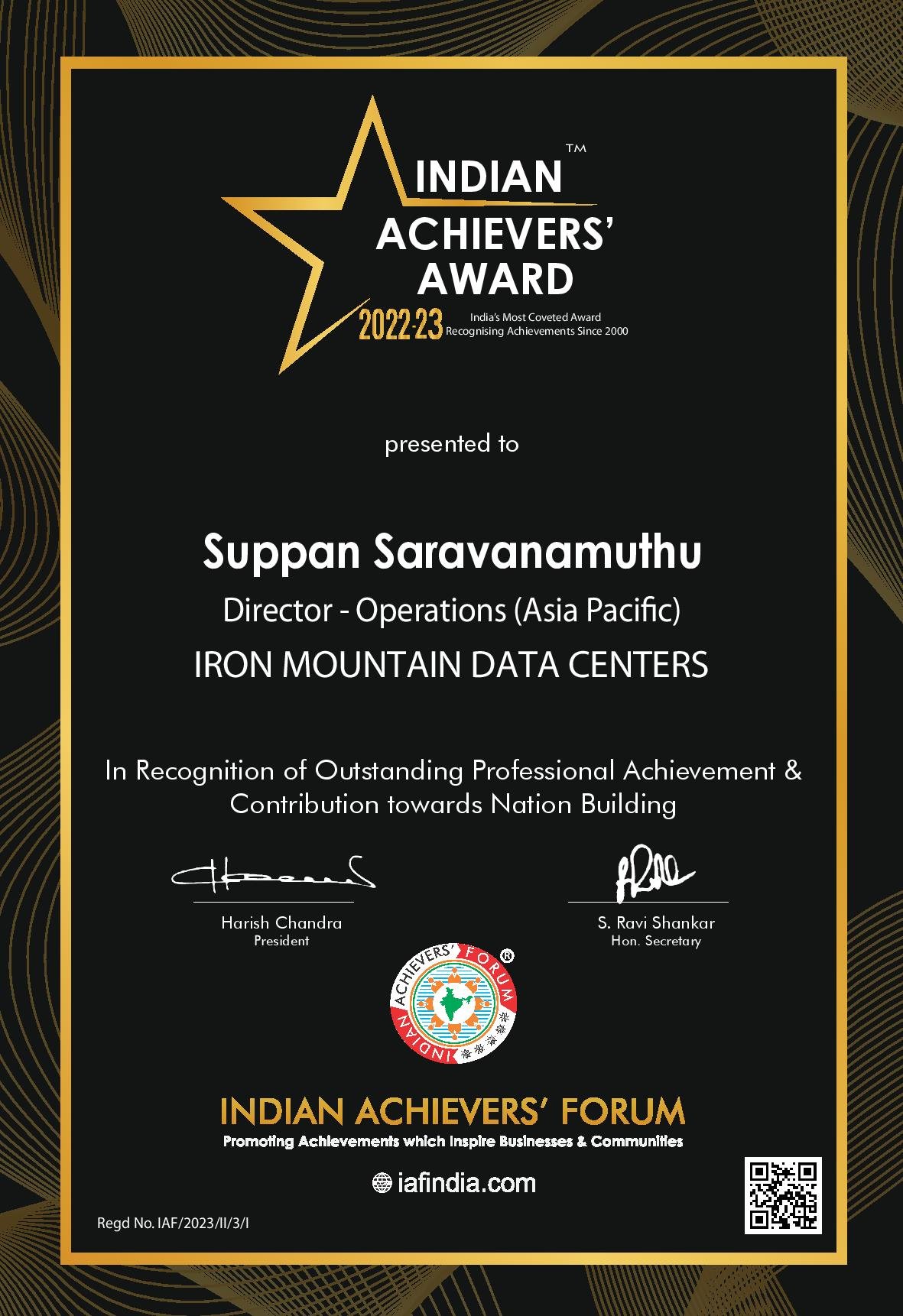 "Hard Work Never Goes Into Drain, Definitely one day it will get recognised"- Suppan Saravanamuthu
Suppan Saravanamuthu is a true leader who leads a lot of operation teams in various industries from Commercial, Financial & Data Centers. Started his journey from a small remote village Melur and slowly climbed to nationwide and followed by international. I'm pleased to dedicate this honor to my devoted my father and friend Suppan, my mother Palaniyammal, and my other half Kavitha, who helped me attain this recognition. He is one of the people who is doing both operations and business and strongly believes in Hard Work.
Sara has worked in the operation and maintenance for numerous essential facilities, including commercial and data centers, for 20 years and he was well recognised by the customers for his customer excellence support.
Presently working as Operations Director for Asia Pacific at Iron Mountain Data Centers, a firm with headquarters in the United States. Sara has a business administration master's degree and a bachelor's degree in electrical and electronic engineering.
He has outstanding technical abilities as well as business development skills. The companies where he has so far worked benefit from extra business opportunities thanks to his skills. He spent more than five years working in India before spending 17 years in Singapore. He was nominated to work in Qatar, Hong Kong, and India while he was employed in Singapore.
Singapore welcomed me with open arms, settled my worried soul, bonded with my colleagues from multiple nations and the local community too. It gave me a good time and encouraged myself to learn and grow. My career, Ramesh – my buddy, Anandbabu – my mentor, my management (Sim PH & Michael Goh), Uncle Palanisamy & Sivasamy (Brought me to SG) and my passion for lifelong learning in Singapore have all helped me get to this level. Now with this confidence and vast network, I am gratified to be able to contribute back to India and play a vital role in its growth in the Data Center Industry which is evolving presently.
Received a lot of awards and accolades from the client who worked for. Being a Singapore Certified Energy Manager, Water Efficiency Manager, passionate about sustainability, he made significant contributions to the clients' energy & water savings during his employment.
He also authored Data Center Articles and participated in Data Center Panel discussion alongside W Media, Data Centre World, Nalco, Credai and Surana (Singapore, Abu Dhabi & India).
As a volunteer and member of the community in Singapore, he is also a grass-roots leader supporting the Singapore Community.