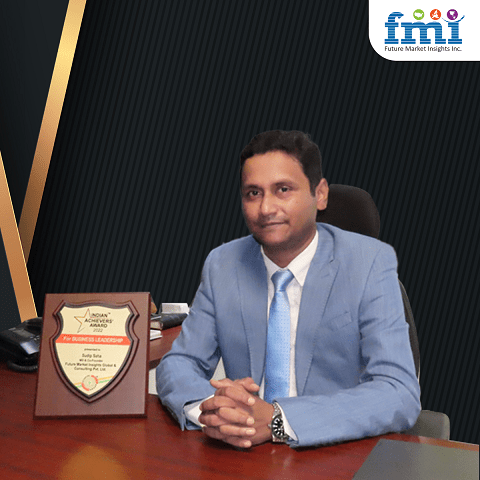 Mr. Sudip Saha- a Leader with a vision
Mr. Sudip Saha is the MD and Co-founder of Future Market Insights Inc and also looks after oversees strategic and tactical leadership, supporting and monitoring strategy, planning, execution, market performance and geographic expansion of FMI. He has effectively navigated FMI to become one of the top organizations in the research and business consultancy landscape through innovation and a customer centric approach. Under his leadership, the organization has been recognized as Top Leaders 2022 by Clutch in the field of business consulting, on account of high client satisfaction score. Mr. Sudip has worked relentlessly to lay the groundwork for FMI as well as its partner organizations to create renowned homegrown market research powerhouses that have firmly carved India's position in the global market research landscape. FMI and its partner organizations have carved a niche by using innovative market research methodologies, economical pricing, and a high degree of agility to not only attract global enterprise customers but also to help to boost India's potential as a premier market research hub across the entire globe.
With Mr. Sudip at the helm, FMI's reach has grown, with offices in London, Dubai, New York, and Delaware, and its largest delivery hub in Pune, India. The Pune office is still expanding and continues to be FMI's largest branch. The company's scope of operations has grown considerably over the years, and today FMI serves 80% of the Forbes 1000 largest firms with 70% repeat business. This has been possible as a result of Sudip's unwavering vision and growth-oriented leadership. FMI, under Mr. Sudip's leadership has made significant milestones. Currently, FMI and their partner companies have a total strength of close to 1000 employees and the organization has been certified by ESOMAR, and was the recipient of the Clutch Leaders Award 2022 in Business Consulting, and awarded Brand of the Year in Market Research in 2015 – by Silicon India.
For more than a decade, FMI's market leading insights have bene cited in several global media such as Forbes, Fortune, Business Insider, CNBC, USA Today, National Geographic, The Guardian, Moneycontrol, Tech Radar, Zdnet, HuffPost, Bloomberg, Nature. Mr. Sudip's strategic thinking and transformational insights have been quoted in leading journals and he was interviewed by several prestigious publications. His in-depth analysis of creating recession-proof and reactive tactics using market research is widely read and referred to as a template, and is still relevant in post-pandemic times. Other magazines where his articles have been published are USA TODAY, IOT-NOW, ESI AFRICA.
Being a firm believer in striking the correct balance between doing good for the community and improving operational capabilities, FMI is focused on market research on sustainable food systems and technologies such as plant-based foods, clean energy and green technology efforts, and food waste reduction. Mr. Sudip has previously held leadership positions with IT behemoths such as Capgemini, Data monitor Plc., IDC, and Springboard Research.