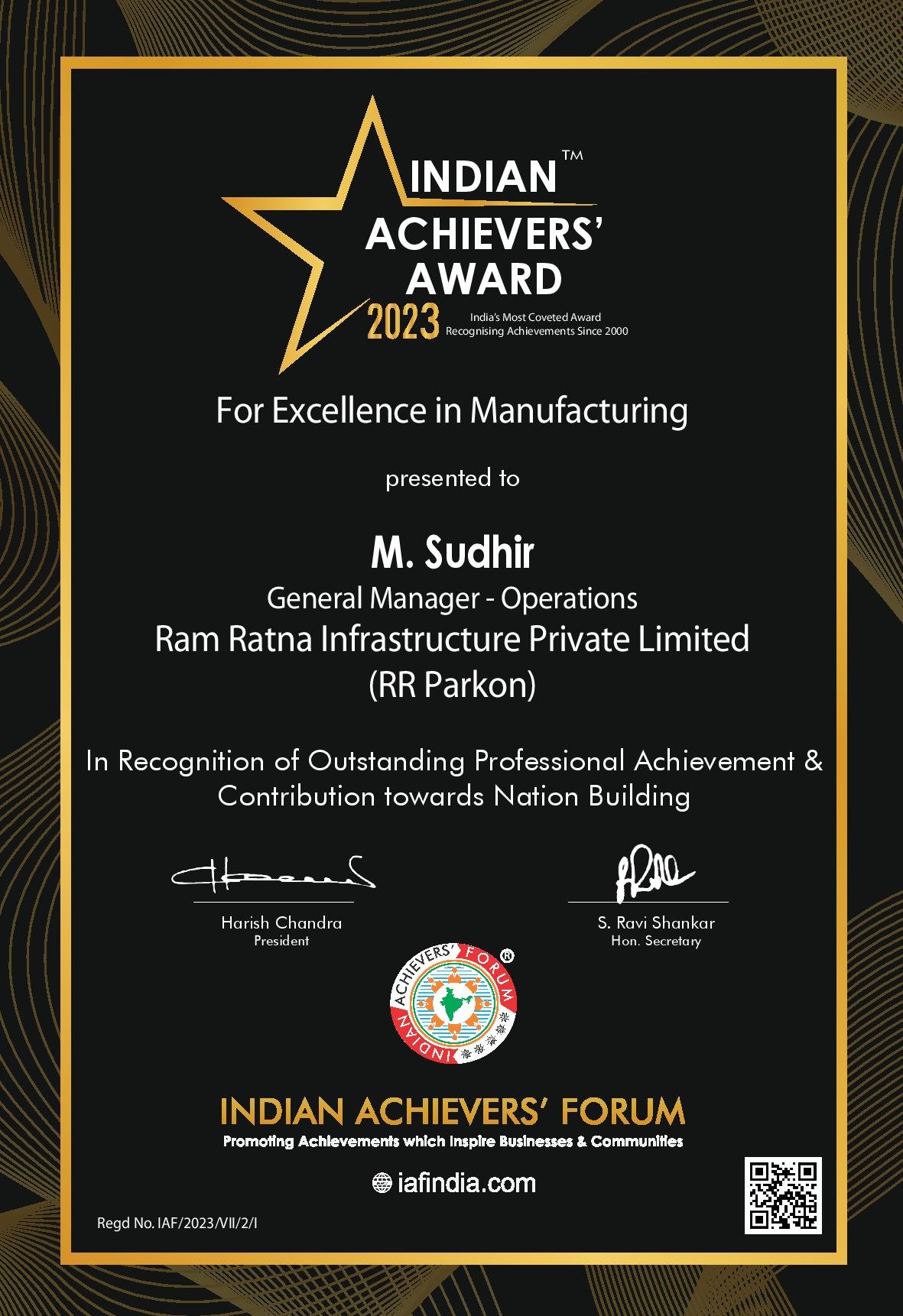 Driving Excellence in Automated Car Parking: Meet Mr. Sudhir M, GM- Operations at RR Parkon
With a commitment to innovation and a career marked by accomplishments, Mr. Sudhir M stands as the General Manager of Operations at RR Parkon, a subsidiary of Ram Ratna Infrastructure Private Limited. Armed with a B.Tech in Mechanical Engineering, an MBA in Human Resources, and a Six Sigma Black Belt Certification, Mr. Sudhir M is at the forefront of propelling RR Parkon to unparalleled success.
Under his astute leadership, RR Parkon, a part of the illustrious RR Global with a USD 1.4 billion valuation, has solidified its position as a trailblazer in the automated car parking industry. With over two decades of unwavering commitment, RR Parkon has not only conquered the Indian market across 50+ cities but has also expanded its global footprint to countries like Nepal, Uganda, Sri Lanka, UAE, Bahrain, and Oman. The company's hallmark lies in its dedication to Quality Equality, Diversity, and Ethical practices.
Famed for its cutting-edge technology and exceptional customer service, RR Parkon has carved a niche as the preferred choice for automated electro-mechanical car parking solutions. As urbanization surges, vehicle ownership rises, and smart cities unfold, the demand for efficient car parking solutions has skyrocketed.
Mr. Sudhir M has orchestrated crucial operational adaptations that define RR Parkon's success story:
Emphasizing Quality, Safety & Productivity, he has cultivated a culture of excellence.
A streamlined supply chain optimizes procurement, production, and distribution, ensuring products meet customer needs.
Agile production methods like lean manufacturing and JIT production enable rapid response to changing customer demands.
Flexible manufacturing systems and automation empower efficient customer service.
Continuous improvement methodologies like Six Sigma, Kaizen, and Quality Circle movements enhance operational efficiency and quality.
The implementation of SAP and automation enhances productivity and response times.
Investments in robotic welding, laser cutting, beam drilling lines, and roll forming machines elevate accuracy and reduce turnaround times.
Mr. Sudhir M's multifaceted expertise, coupled with his relentless pursuit of operational excellence, has transformed RR Parkon into an industry leader. With an eye on emerging trends and a commitment to quality, he continues to steer the company towards new horizons in the ever-evolving automated car parking landscape.