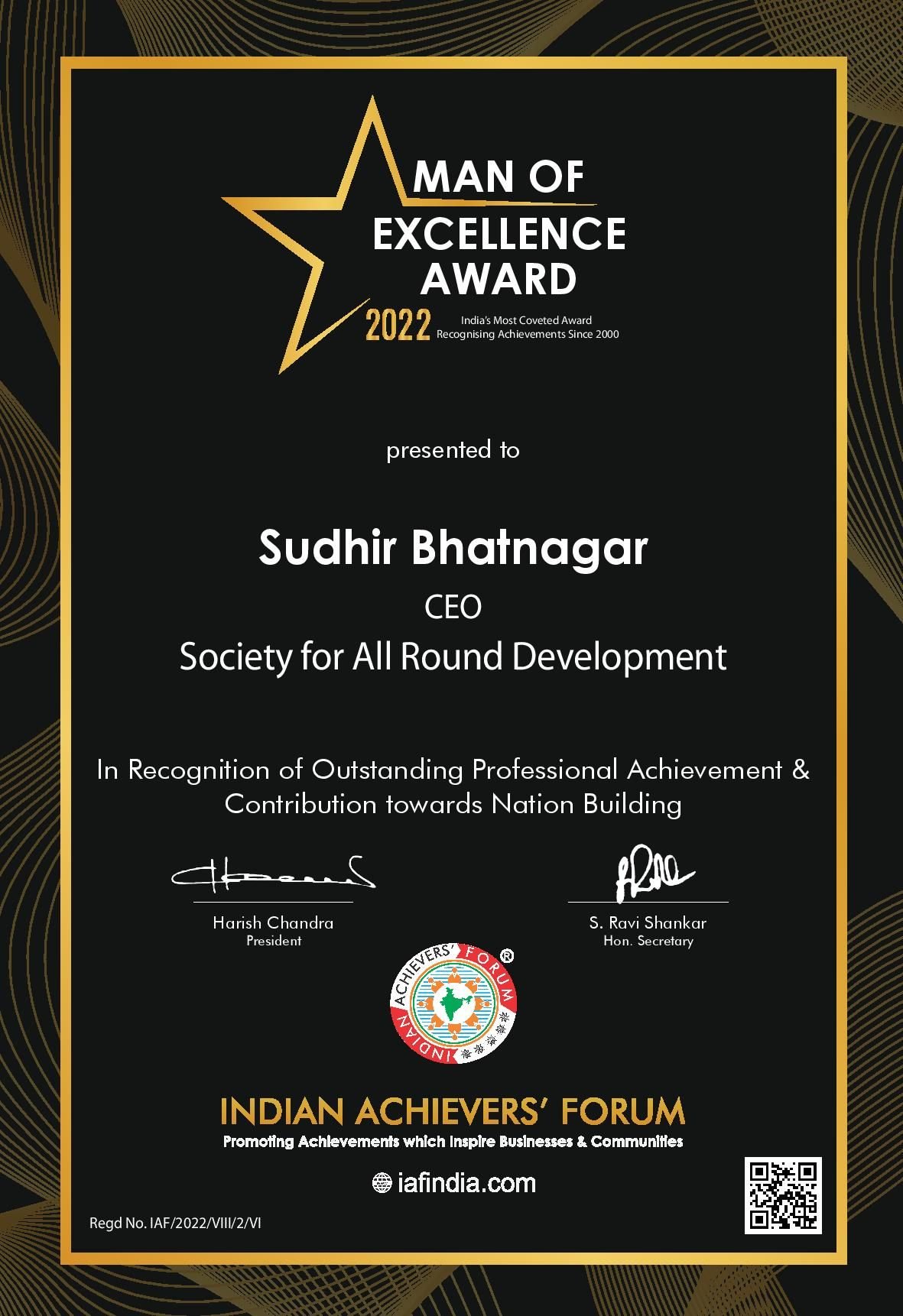 An objective of adding value to people's lives
"Sudhir Bhatnagar is the General Secretary cum Chief Executive officer of a leading Civil Society of India 'Society for All Round Development' (SARD). During his leadership, SARD has scaled new heights and became one of the credible organizations on Education, IT, WASH, COVID-19 and Health related issues. He has been able to mobilize support from leading civil society, International donor community, including some renowned business houses for spearheading their CSR Programs. He has been conferred several prestigious awards for his contributions in the field of Education and IT, Health and Nutrition, Child protection, water and sanitation, including microfinance.
The most recent ones are from Govt. of India, Ministry of Education on their interactive material for Primary grade Children. He has been listed as one of the 10 best CEOs of India 2022 by Tradeflock. He is also the recipient of Diwan Mehta award for NGO leadership in Maharashtra, Ameri Care Award in Mumbai, the Chief Minister (Mukhyamantri Shiksha Diksha- Chief Minister Award on education) Award and microfinance award in Haryana, Bhamashah award in Rajasthan, including the Cash award by UNOSD & Govt. of South Korea on climate change and MASHAV, Govt. of Israel also given him cash award for setting up Learning Resource Bank for the deprived children in Delhi, which is one of its kind. Under his leadership, the organization's field offices also got many awards in the field of Child Protection, Trafficking, Eliminating Child Labour, Polio, Routine Immunization & Covid vaccination outreach by the local administration and state government. He is a professional member of many bodies like State Resource Centre, University of Jamia Milia Islamia, SRC- Jaipur, State Council of Education Research and Training, Global Alliance for Immunization and Indian Red Cross/ St. John Ambulance.
He is instrumental in mobilizing resources for Corona during the  first and second wave and was running 100 bedded oxygen beds in Dwarka, New Delhi through Marelli India and EY Foundation, supported the Oxygen plant to Indian Spinal Injuries Centre through Marelli India, Ventilators, breathing circuits and other important equipment for ISIC, New Delhi through Project HOPE, dedicated support to Tilak Nagar Community Hospital of Municipal Corporation of Delhi for setting up Intensive Care Unit (ICU), which includes 8 Ventilators, multipara 5 & 3 parameter monitors, semi flower bed and bedside furniture, DVD pumps, Portable advanced machine, etc.
During the peak covid pandemic, under his leadership, SARD was also mobilized 12000 infrared thermometers to NHM-TN through Project HOPE. He was also instrumental to give free comprehensive ration kit support to 800 deprived families, cash support to 500 families, through CRS, who lost their family members or patients suffering from critical illness, medicine, oximeter, and vaporizer to many state governments. Under his leadership, his organization also going to support the District Hospital, Nuh, Mewat, which is one of the most deprived districts of India for their pediatric ICU and overall support to hospital to fight against Corona. He also supported Haryana Police with Oxygen concentrator during the peak of the second wave of Corona.  He has represented in many forums at the National and International levels. He has written several papers, approaches, and abstract paper on a different theme and presented in many international forums supported by UNESCO, Oxfam International, International AIDS Conference, ICBL, CIfal, Partage, World bank, European Union, USAID, British Asian Trust, MSDF, Project HOPE, EY foundation, etc.
Currently he is managing a team of 500+ staff in India.