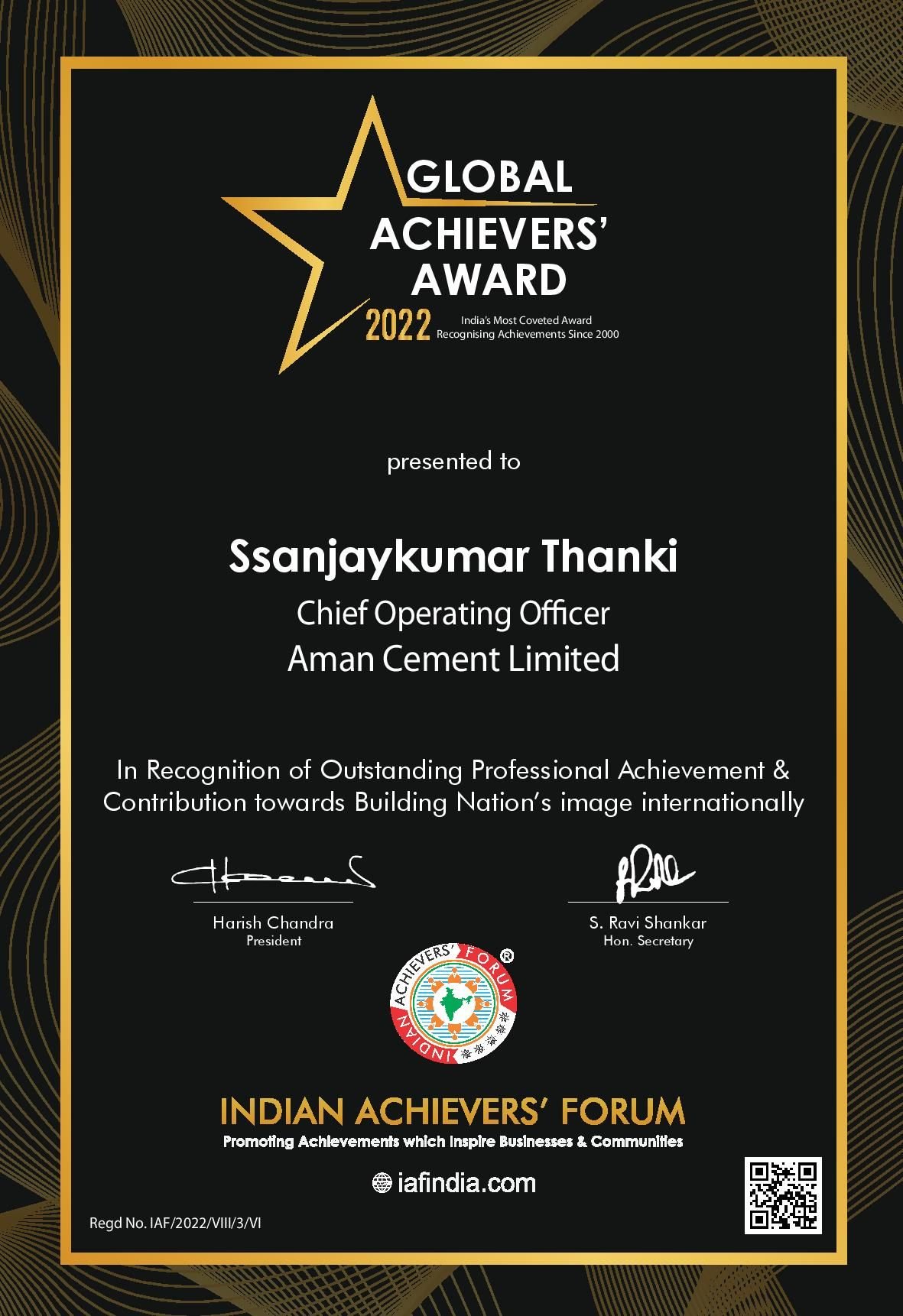 Mr. Ssanjay Kumar Thanki's impeccable professional Journey
Belonging to a humble background and hailing from a Kathiawadi, small town in Porbandar, Gujarat, Mr. Ssanjay Kumar Thanki believes that the lesson he learnt from his parents & teachers is the key of present knowledge and character he possesses.
With two & half decade rich international experience plus 14 years of experience in the Indian cement industry, he has worked across 4 countries [Saudi Arabia, the UAE (with world renowned & market leader in cement manufacturing company Lafarge & CEMEX), Sultanate of Oman & Bangladesh] with 13 different nationalities. He has been working as COO for 5 and a half years with expertise & hands on experience to plan & execute budgeted and economical mega cement plant projects (from concept to completion & operational) with cost effective solutions and financial awareness and to introduce new and longer durability cement products in the international markets and has also contributed for efficient Plant operation, operational restructuring, ERP structuring & implementation. Mr. Thanki began his professional journey in the year of 1985 at the entry level in one of the leading cement company in Gujarat, India. With his "always learning" attitude and "can do" approach, he has the ability to work independently, multitasking, effective team participant and efficient plant operation and troubleshooting, "Loyalty and integrity are priceless, one cannot buy them. It is the character of a person and it's an organization's asset" attitude helped to achieve "COO" position in a multi diversified group of companies at international platform.
Mr. Thanki has also contributed in preventing air pollution, lowering dust emission, environmental protection and reduce the energy consumption (fuel & electricity) in the various projects. The emission norms were both a regulatory and social responsibility for the surroundings. While working with CEMEX, UAE, contributed to produce the best quality cement products which allowed company to win cement & concrete supply order for the construction of foundation of the world's tallest & iconic building "The Burj Khalifa". Also, while working as "COO" in Aman Cement Ltd, he was able to introduce highest level of quality standard to produce specialized cement products to grab the opportunity to supply cement to the Bangladesh's most iconic project "The Rooppur Nuclear Power Plant project" for the construction of their main Nuclear Reactors. "AmanCem" is the exclusive cement supplier since two & half years because of the quality standard established in the manufacturing process.
He developed knowledge sharing culture: A knowledge sharing culture facilitates communication & information exchange, problem solving, TEAM working & decision making. General competencies embrace abilities such as prioritizing, learning new things, coming up with new ideas and solutions, working productively with others. Believing in Excellence & promoting innovative culture, the people who had obtained modern technological training under his leadership, are serving efficiently in the different parts of the world as well. He believes that his parents, his wife & his son were the people who gave him the moral support to achieve all his goals for the foundation of excel. He is extremely gratified to his seniors and mentors who enabled him for his achievement.