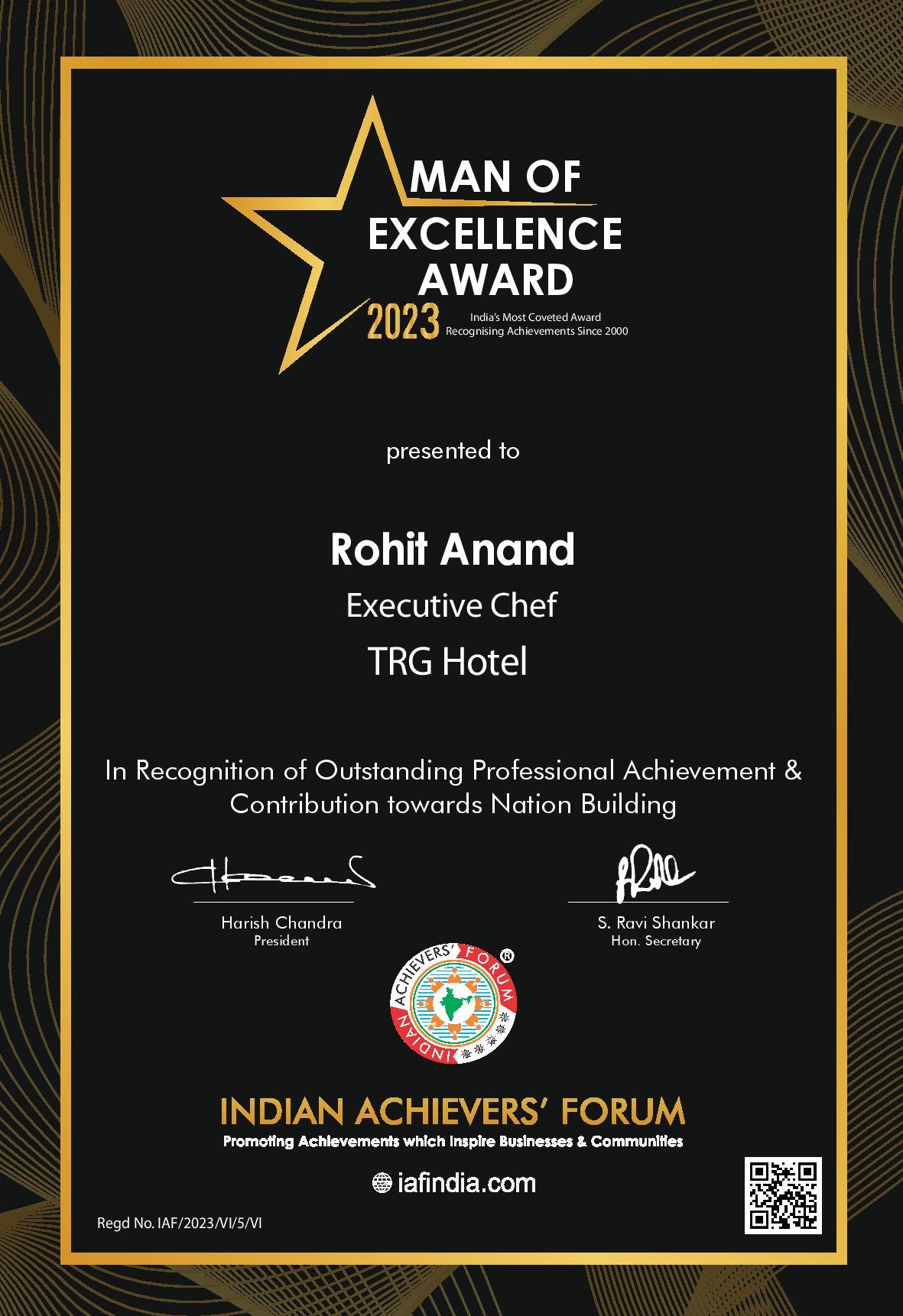 Mr Rohit Anand's exemplary professional journey
Mr Rohit Anand started his career with Grand Hyatt and gradually with experience went on to rise in Industry. He has received several appreciations from different companies where I worked. He has more than 22 Years of experience. Started up my career In Western Cuisine and then he became Executive Chef and which later changed to Multi cuisine.
Mr Rohit Anand is currently the Executive chef a TRG Hotel. He believes that food quality starts with having the right ingredients to work with that  do not compromise on quality. He sources with the help of ther purchasing department the right suppliers and uses the preferred Hotel vendors as much as possible for the staple food items. These Vendors are  audited by a third party on hygiene standards and passed this audit. Sourcing of special ingredients should be done from local sources as much as possible. This will reduce carbon footprint and helps to create a story for your dishes from a go local aspect. He says  , " Our current generation of guest want to know what they eat, the origin of products and if they  are responsibly sourced; sustainable, organic  and environmentally friendly. Let guests know  you are working in-line with this philosophy by  making a clear statement on your menu."
More and more guests are seeking out conscious comforts when they eat out.
Mr Rohit believes, "Today's diners are increasingly relying on plants for protein sources. Diners are also interested in the health and animal welfare benefits of vegetarian proteins. Now is the time to think beyond repetitive veggie burgers and branch out into plant-based "faux foods" that look and taste like meat but aren't"
He advices aspiring people in this industry to, "Create menus that are focused on the segments. The food served are comfort dishes with a clear story and direction; local is local, western is western. Garnishes of the dishes should be relevant to the food and have a function. Stay clear of over garnishing the dishes so the focus is on a flawless execution of the main ingredient. The dishes are to be executed with a minimal mis en place and a speed of service. In-Room Dining is about speed of service and less is more to  be able to do so".