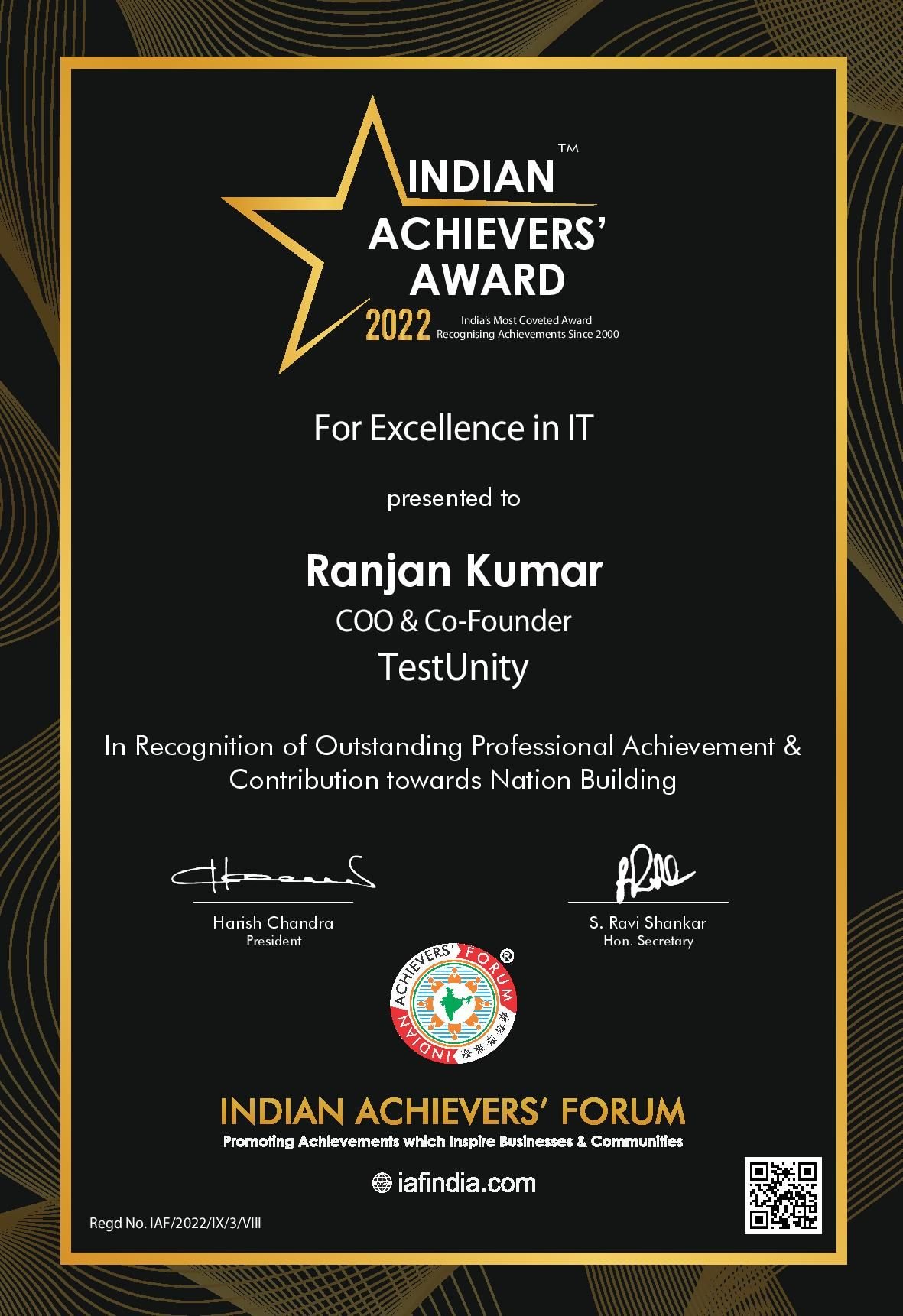 Mr. Ranjan Kumar's impeccable entrepreneurial journey
Mr. Ranjan Kumar is the Co-founder of TestUnity, which is a one-stop solution for all types of testing requirements including automation testing, manual testing, security testing, performance testing, compatibility testing, and others. The organization provides end-to-end software testing life cycle for almost all platforms to ensure software solutions and applications function smoothly across any device or operating system without any inconsistency.
TestUnity gained 20 Lakhs in revenue in just the first 6 months. Later, they developed the first version of the web SaaS app for TestUnity in just 4 months and onboarded 2000 plus testers/QAs to the TestUnity SaaS platform and within an year of the inception, their revenue increased from 1CR to 3CR. As a result of their expansion, TestUnity is currently India's fastest-growing software testing company. He believes that an effective leader manages both sides of the coin by devising strategic propositions to overcome ambiguous situations by sharing equal responsibility. He has always coached his team on the significance of being able to externalize and share their creative process with the rest of the team which is a notion that runs counter to what is often inspired by a lot of organizations where individual achievement and ownership are appreciated over the work of the team.
The journey will encourage him to feature himself as a revolutionary ambassador with the success mantra derived from balancing the techniques of Technology, People, and Process Maintaining a competitive edge, he handles key organizational responsibilities and is always enthusiastic about upskilling and transforming the nation. With precise initiatives, Mr. Ranjan advocates for technology- and business-driven outlooks. Ranjan's journey in this organization prepares him to influence future leaders and inspire them. Mr. Ranjan is a Technology Preacher, People Motivator, and Process strategist with the desire to contribute coherently and effectively to the prospects up the ladder. Having 10+ years of experience in the industry across product strategy, team building, and development, he is currently handling client relationships & projects, business development, team building, management, product development, and product designing. TestUnity has delivered 100+ large, mid-size, and small projects across different domains & geographies, our clients look up to our company to make their products more stable and compelling.
Throughout his career, he has consistently shown interest in learning more about both business needs and technological improvements. From a functional to a leadership role, he explores innovative ideas and brings positive disruption. His recent Indian Achievers Forum award continues to motivate him to contribute to national and global stability with his passion and skills. The key to success in business is to be trustworthy and responsive. In order to achieve the organization's goals, every employee is cultivated with the company's values. As a result of his decision-making skills and ability to spot opportunities at the right time and at the right place, he remains at the top of the list of Indian QA companies. He now envisions to grow the brand across different countries to achieve new heights and views. In addition, he is constantly looking for ways to expand the brand.