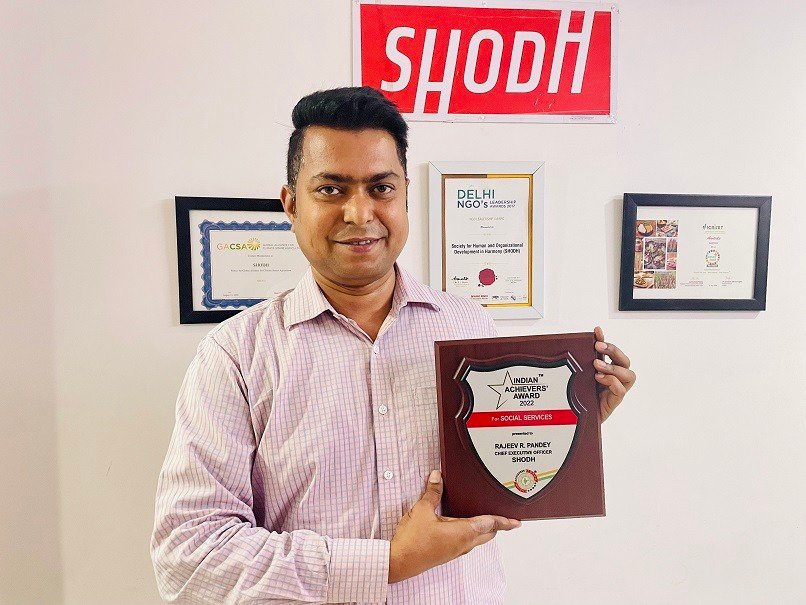 Alone we can do so little; together we can do so much
Rajeev R. Pandey is a trained social work professional with more than 18 years of experience in diverse areas of Health, Anti-trafficking, HIV/AIDS, Sustainable livelihoods and entrepreneurship development. He is an alumnus of RM College of Social Work, Osmania University & Department of Social Work, University of Delhi. He was also covered in various regional and national media like Andhra Jyothi, Andhra Prabha (Telugu Newspaper) and Loksabha TV.


He is the co-founder and CEO of SHODH, a national not-for-profit organisation which primarily works on the areas of health, skill development, sustainable livelihoods, nutrition, environment and climate smart agriculture among the marginalised and needy section of the society. He was able to bring many companies closer to communities under employee engagement & CSR. SHODH has its footprint in five states namely Andhra Pradesh, Bihar, Delhi, Telangana & Uttar Pradesh and has implemented projects in various other states- Rajasthan, Madhya Pradesh, Karnataka and Haryana.

The current focus of their work is with farmers in difficult terrains in dry and semi-arid regions and with urban poor who are facing the double burden of malnutrition. He is strengthening the work with millet farmers and helping them find market linkages which is instrumental in many fold increase in their income.

He is aiming to tackle both the problems in the rural as well as urban areas with the help of millets. By this he will create an ecosystem where everyone will win-the farmers, the consumers and the environment.