Mr Raghwendra Kumar Verma
Chief Legal, Compliance & Risk Officer and Group Company Secretary at iSON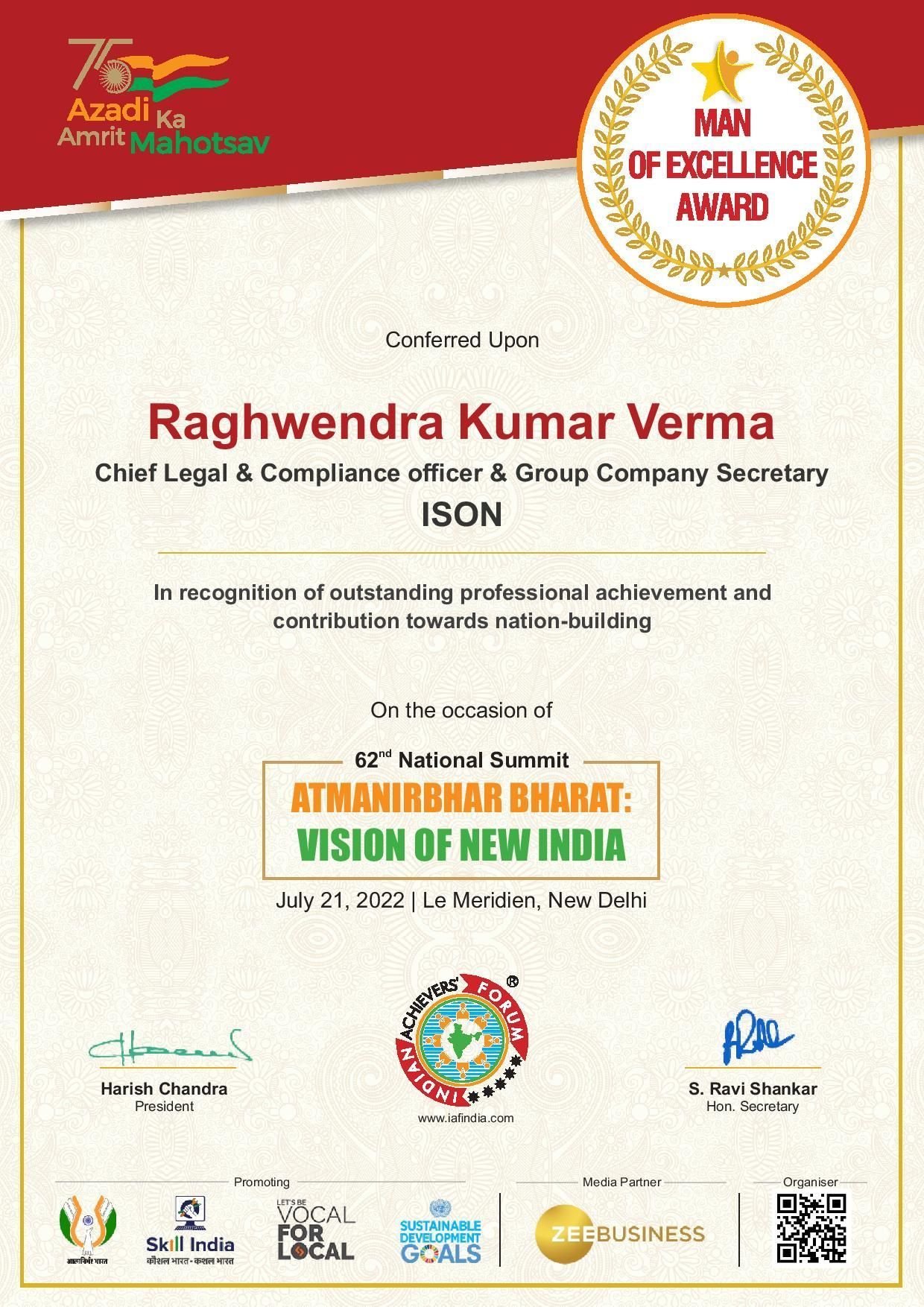 Patience in mind and dynamism in action brings all the success in life
In a career spanning 23 years, Raghwendra delivered business-driven Legal strategy at global, regional and national levels across industry verticals. He has over 24 years of experience as General Counsel, Corporate Secretary and Chief Compliance Officer. Seasoned in corporate governance and corporate law, he's a professional with a proven ability to ensure multi-jurisdictional compliance and risk management programs. He leads ISON group's efforts in building strong corporate governance, Compliance focused organization.
He helped organization in spreading its wings by Carrying out acquisitions in Egypt, South Africa, Dubai, Cyprus, Mauritius, Kenya, Nigeria, Tanzania, Mozambique, and in other parts of Africa and Middle East and becoming a true Global organization.  His exposure to multiple geographies and understanding of local laws has been very helpful for iSON, with him taking initiatives to strengthen compliance and proactively mitigate legal liabilities. He specializes in cross border M&A, contract/risk/litigation management, corporate/employment/privacy/cybersecurity law and the list just keeps going on.
His peers consider him a quintessential professional with excellent domain knowledge in  Overall Legal & Compliance matters with the unique ability to imbibe, digest and then come up with appropriate options to solve any problem, whether issue is related to contract, Litigation, Human resources, M&A, Board & Shareholders related, Regulator, Risk, Corporate Governance or Compliances.
He dreams of building a legal platform where he can assist the less privileged members of society for a fraction of the market rates as getting justice has become an expensive affair- beyond the means of many. His mantra has always been "Accept your mistakes rather than defending them. Only in vulnerability lies true strength. Patience in mind and dynamism in action brings all the success in life."
Adhering to Sri Sri Ravi Shankar's teachings, Mr Raghwendra has always aimed to resolve difficult problems through mental composure and contentment in his work.
In his own opinion, he considers himself as a Business & legal strategist who is committed to minimizing risk while providing pragmatic Business & legal strategies to achieve business goals. In the future, he's going to pursue implementing strategic business growth initiatives and building strong board relations, along with creating powerful internal and external alliances being able to manage any crisis.