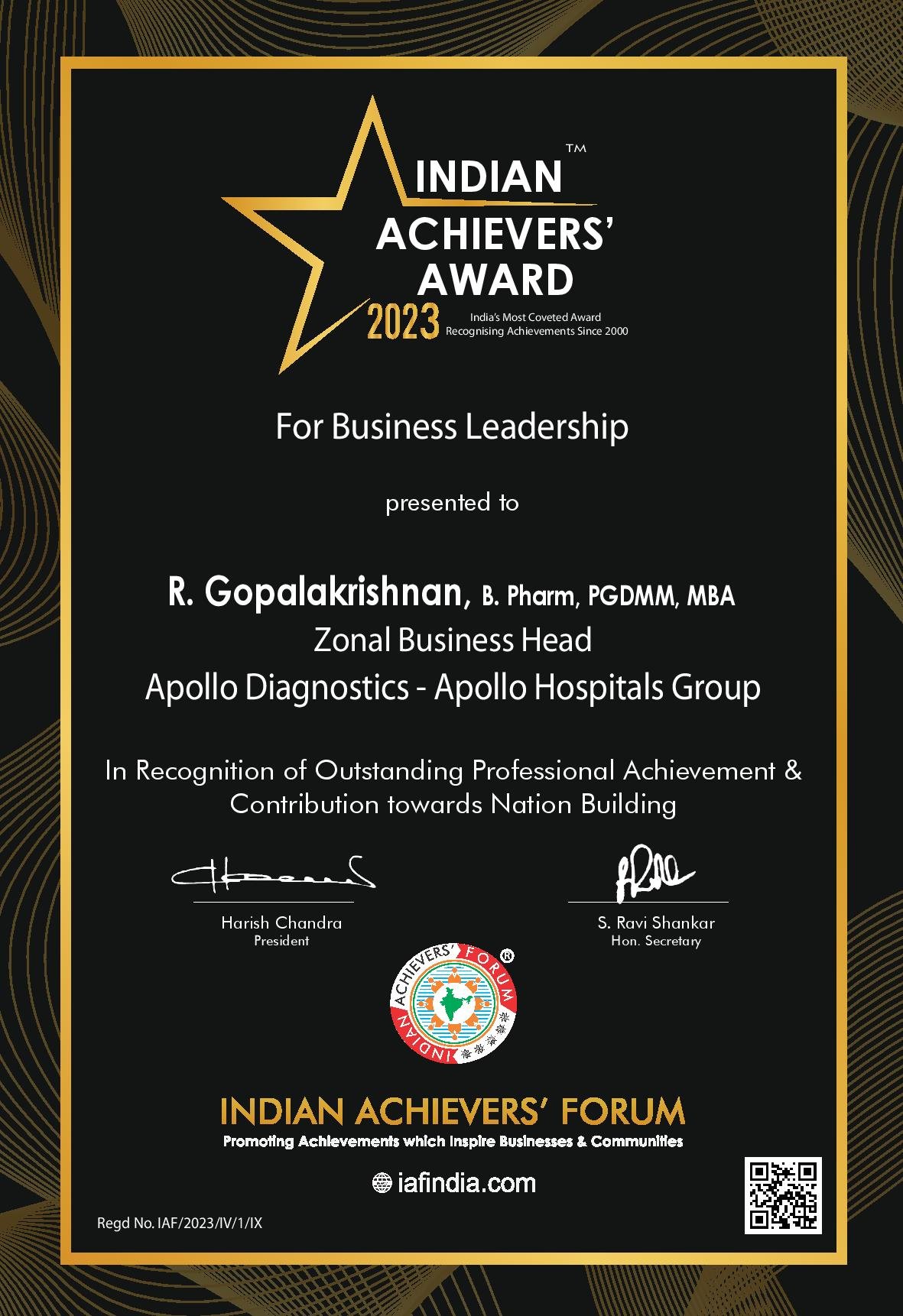 Mr. R Gopalakrishnan's noteworthy journey
Mr. R Gopalakrishnan is a native of Chennai, Tamil Nadu, and he has over 30 years of experience in the Health Care segment, both in Pharma and Laboratory Diagnostics. After high school, his M.B.B.S. aspiration was narrowly thwarted, leading him to pursue a career in B Pharmacy within the Health Care Services industry. He was one of the best three students from his college to pass the B Pharm final examination. Continues to pursue a Postgraduate Diploma in Sales Management and an MBA in Marketing, having chosen Sales as a career by joining a leading pharmaceutical company, Cadila Pharma, and later moving to the Product Management and Sales Team of Blue Cross Pharmaceuticals, where he was instrumental in transforming a product segment into the company's best-selling brand.  His ten-year dedication to selling and marketing in the pharmaceutical industry earned him numerous Best Sales and Marketing Person awards.
His meeting with Mr Vivek Trika, who was also a founding member of Onquest Laboratories, prompted him to switch to the Laboratory Diagnostics segment by joining the India's Top 3 Diagnostics Company SRL Ltd (Formerly Specialty Ranbaxy Ltd), followed by his highly productive tenure with Metropolis Laboratories Ltd to establish a solid foundation for Tamil Nadu state sales. Technically, he has contributed by introducing innovative techniques such as Luminex, which is the gold standard for transplant immunology testing in India. Also awarded with the Metropolis Gold Medal for his contributions under the direction of Mr. K. Anand (currently the CEO of SRL Ltd.) .
Moving from Metropolis to MEDALL, while transitioning from a primary Laboratory company to a Radiology-based company posed a challenge for him. Under the capable leadership of Mr Raju Venkatraman CMD, Medall was transformed from a pure Radiology company in 2011 to South India's largest Integrated Diagnostics solutions company with LDHC (Lab Diagnostics & Health Checks) as its primary function.  Contributed admirably during their eight-year tenure with Medall. In addition to Sales, he managed the Training of the Sales Team for the entirety of South India and was a member of the technical committee that created the " Book of Tests"  Mr Raju Venkatraman, CMD at the time, referred to me as a subject matter expert, which was regarded as one of the highest honours at the time.
Moving to Neuberg Diagnostics after working closely under the able guidance of Industry Legend Dr GSK Velu as Associate Vice President was again a boon in transforming Dr Velu's long-term vision and vibrant ideas into business to make 2x growth in a span of 1 year and two months.
Currently, he is the Zonal Business Head for Apollo Diagnostics – Apollo Hospitals Group, a position he has held for the past 2 12 years with a 3x growth rate and the inauguration of over 120 Collection Centres, which earned him Sales Manager of the Year 2022..