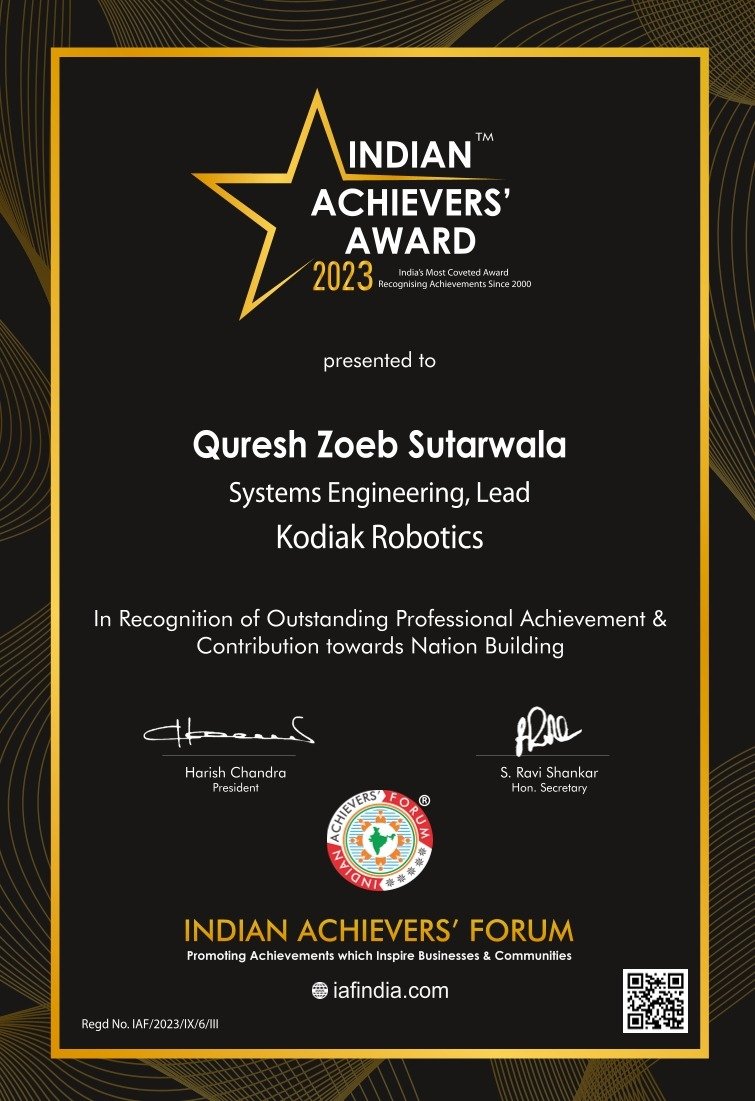 Pioneering Safe Autonomy in Self-Driving Industry
In the fast-paced world of autonomous vehicles, Quresh Sutarwala stands out as an industry leader and subject matter expert, dedicated to advancing the safety and reliability of self-driving technology. His journey has taken him through pivotal roles at Kodiak Robotics and Nuro where he has contributed to shaping the future of autonomous transportation.
Kodiak Robotics is a pioneer in the autonomous trucking industry and as the Systems Engineering Lead for Systems Verification and Validation (V&V) at Kodiak, he holds a crucial position responsible for constructing the V&V framework, a comprehensive suite of tests and evaluations that ensure the safety and performance of Kodiak's autonomous systems. This framework encompasses a wide spectrum of testing levels, from unit testing to simulation and public road validation testing. This multifaceted strategy addresses the intricate challenges of autonomous systems, focusing on both their performance and safety.
Prior to Kodiak, Quresh served as the Head of Hardware Systems engineering at Nuro, a robotics company building an autonomous delivery vehicle, where he led the work to build a fully autonomous electric robot platform. Nuro is a Series D startup, having raised $2 Billion + and building a public road certified autonomous delivery vehicle. At Nuro, Quresh managed three critical verticals of Systems and Safety Engineering, overseeing both hardware and vehicle platform systems. He successfully deployed Nuro's R2 robotic platform and Prius platforms on public roads and played a key role in launching Nuro's R3 robotic platform for closed-course autonomy development and scaling.In this role, he  managed direct reports which included managers and also individual contributors.
His contributions were not confined to management; Quresh was deeply involved in the technical development, test execution, and the creation of safety cases. His dedication ensured the safety and performance of Nuro's autonomous platforms, further validated by Nuro filing for multiple patents based on his designs and architectures.
Quresh has also held various roles at Cummins, including System Integration Leader where he was part of the team that launched Cummins's first electric power-train on a bus platform in 2019. His work has also included development of air-handling of diesel engine systems, working on new technologies that decreased emissions while maintaining fuel efficiency. Quresh was the primary author of a patent that was granted in 2020 based on this work.
Beyond his day-to-day roles, Quresh has become a sought-after speaker at prestigious conferences. He has presented on topics such as autonomous vehicle architecture and safety validation techniques at events like the Transportation Research Board's ARTS '23 and Tech.AD USA '22. His expertise and insights have resonated with industry peers
Quresh Sutarwala's journey is a testament to the dedication, innovation, and expertise that drive progress in the autonomous industry. With each step, he brings us closer to a future where autonomous vehicles are not just a reality, but a safer and more reliable mode of transportation for all.