Mr. Pavan Kumar Reddy Poli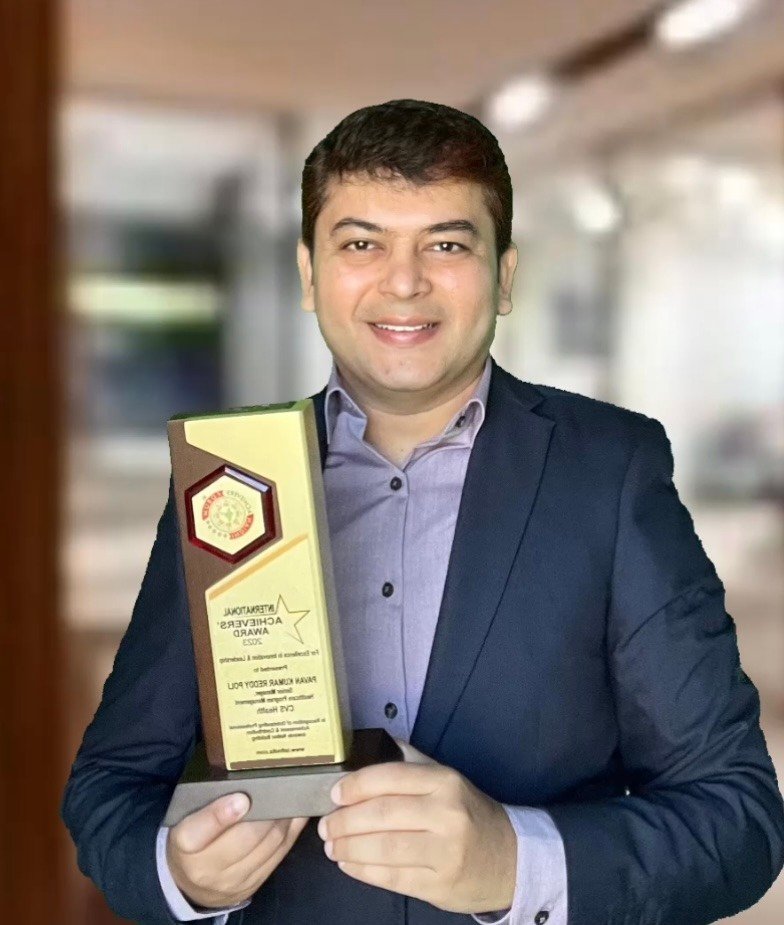 Pavan Kumar Reddy Poli: Forging a Legacy of Innovation through Visionary Leadership
In the ever-evolving landscape of business and technology, the remarkable journey of Pavan Kumar Reddy Poli resonates as a symphony of inventive leadership, skillfully harmonizing education, business acumen, and visionary thinking. From his diverse academic pursuits to his extraordinary professional achievements, Pavan's story epitomizes the fusion of learning, entrepreneurship, and transformative vision.
Pavan's educational journey commenced with a Bachelor's degree in Electronics and Communication, a foundational stepping stone that propelled him toward excellence. He further honed his skills through a rigorous Postgraduate Program in Infrastructure Management at the esteemed Adani Institute of Infrastructure Management. Pavan's insatiable thirst for knowledge then led him to embark on a transcontinental journey, resulting in an MBA with distinction and a Master of Science in Information Technology Management from the United States. Pavan's relentless pursuit of staying ahead of industry trends is underscored by his impressive array of certifications, including PMP, ITIL V3, CSM Scrum Master, and SAFe RTE.
Over the course of his illustrious 15-year career, Pavan's trajectory mirrors his exceptional leadership and technological finesse. He began his professional journey as a developer, rapidly ascending the ranks with his exceptional skills and strategic insights. During his tenure as Deputy Project Manager at Adani Group, Pavan orchestrated projects that seamlessly integrated cutting-edge ICT technology into infrastructure management, setting a new benchmark for excellence in the industry.
Upon entering the US job market after graduating with an MBA, Pavan embraced new challenges at McAfee, a cybersecurity titan. Here, he skillfully harnessed technology to modernize security operations, employing methodologies like Six Sigma and Lean to achieve operational excellence. Pavan's innovative thinking and unwavering determination positioned him as a driving force behind McAfee's technological advancements.
Pavan's journey eventually led him to CVS Health, a Fortune 6 company, where he assumed pivotal roles, underscoring his versatility and transformative leadership. As a Senior Project Manager in the Client IT Services team, he orchestrated projects anchored in intricate metrics, guiding a substantial IT organization toward peak performance. His tenure as a Service Delivery Manager in the Enterprise Infrastructure Technology Services team highlighted his innate ability to manage multifaceted projects and effectively lead cross-functional teams.
Subsequently, as a manager and Senior Manager in the Project Management team, Pavan's leadership prowess shone even brighter. He adroitly managed multi-million-dollar initiatives, placing a keen focus on pioneering solutions. A standout achievement was his adept management of CVS Health's first AI implementation program in the Pharmacy Operations area, leveraging machine learning and AI models to streamline processes, amplify efficiency, and drive transformative results. Another innovation led by Pavan improved customer service and Pharmacist experience in thousands of stores owned by a Fortune 6 Pharmacy giant. The total cost of this program was approximately $25 Million USD. A comprehensive analysis estimated the realized benefit of this program at approximately $ 100 Million USD per year across key value sources such as optimizing capacity, increase in operational efficiency of tasks, savings due to prioritizing tasks between Pharmacists and technicians, growth in sales due to improved service levels etc.
Yet, Pavan's influence transcends the realm of corporate achievements. His dedication to mentorship and strategic advisory roles for startups, such as Red Cube Technologies and thetimes365, underscores his commitment to fostering technology and innovation in various areas. As Pavan aptly notes, "True leadership stems from empowering others and fostering an environment where creativity thrives."
Moreover, Pavan's intellectual curiosity led him to pen a definitive work, "Healthcare 2.0: The AI Prescription." In this book, he explores the untapped potential of AI and blockchain across industries, offering a visionary perspective on their transformative power. As Pavan eloquently describes, "In the collision of technology and healthcare lies the canvas of unprecedented possibilities."
Pavan Kumar Reddy Poli's narrative is a living testament to the potential of blending education, adaptability, and visionary leadership. His seamless integration of educational accomplishments, global experiences, and technological mastery has not only reshaped industries but also ignited the spark in the next generation of leaders. As business and technology landscapes continue to evolve, Pavan's story stands as a poignant reminder of the profound impact that innovative leadership can have in shaping a vibrant and transformative future.