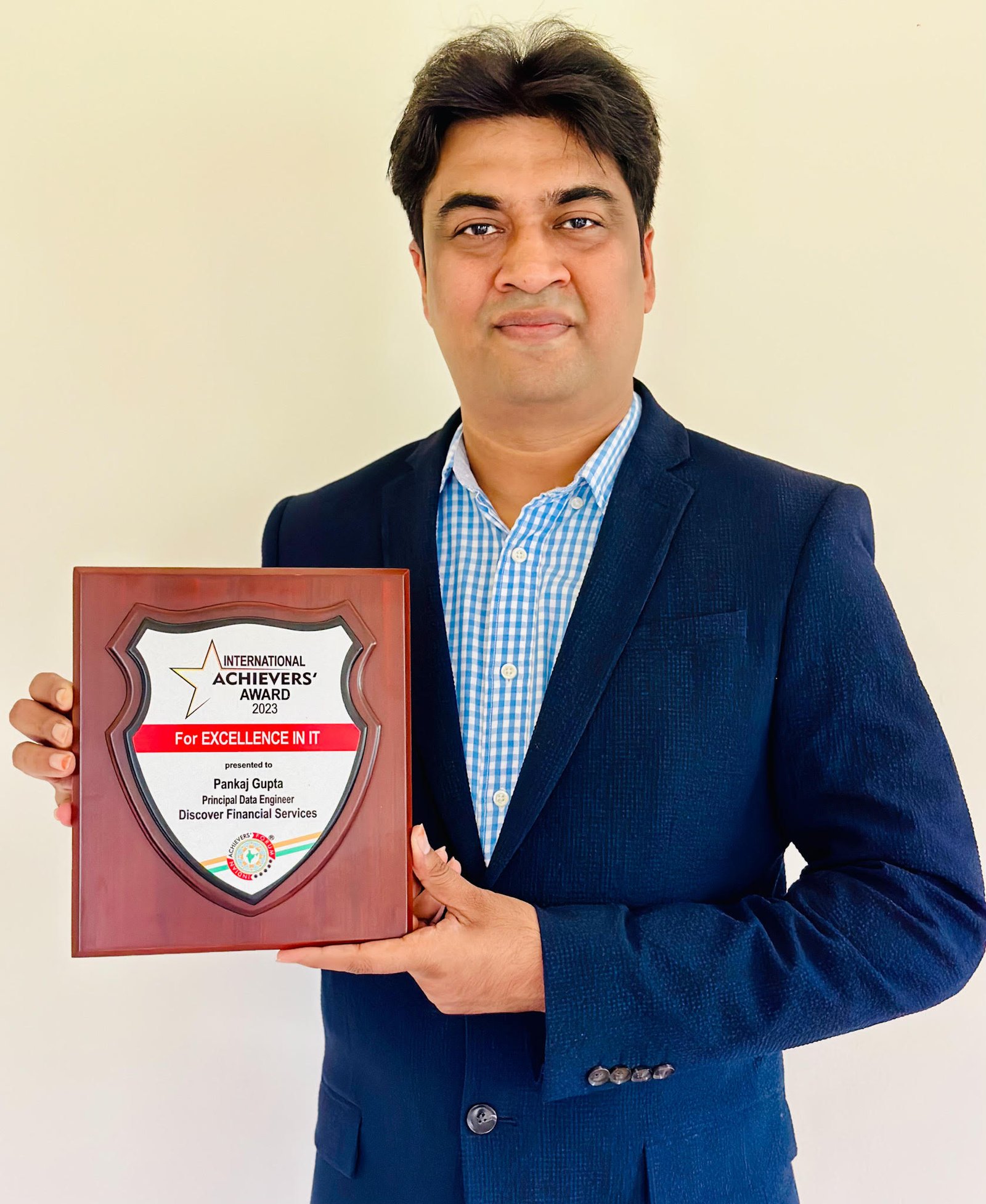 Leading the Charge in Data Engineering and Fraud Prevention
In the realm of fraud prevention and detection within the banking and financial domain, Pankaj Gupta stands as an exceptional data engineering expert. His extensive knowledge spans a wide range of new and emerging technologies, including real-time data processing, big data, machine learning, microservice architecture, and artificial intelligence. Through his invaluable contributions, numerous organizations have greatly benefited from enhanced efficiency and security measures.
Moreover, Pankaj's dedication to mentoring individuals, whether they be university or high school students, has laid the foundation for a promising and prosperous future for many. His unwavering commitment to excellence and innovation continues to make a significant impact in the field.
Pankaj Gupta holds the esteemed position of Principal Data Engineer at Discover Financial Services, a renowned institution based in the United States. With an illustrious career spanning nearly 17 years, Pankaj has established himself as a prominent figure in the field of data engineering and digital transformation.
Before joining Discover Financial Services, Pankaj served as Associate Vice President at JP Morgan Chase, where he led a dynamic data engineering team and specialized in fraud prevention and anti-money laundering domains. His expertise and innovative approach have resulted in the development of groundbreaking products, including real-time data ingestion systems for anomaly detection mechanisms, early warning systems and groundbreaking JPMC Omni AI platform. These solutions have garnered widespread recognition and are widely employed across diverse industries. Pankaj's proficiency extends beyond these domains, as he possesses remarkable expertise in facilitating cloud migration for organizations seeking to transition from legacy platforms.
Throughout his professional journey, Pankaj has collaborated with esteemed organizations such as Capital One in the USA and UK, Barclays Bank PLC in the UK, and Vodafone Germany, providing his invaluable consulting services. Notably, Pankaj's leadership at Capital One as a digital transformation leader led to their successful transition to cloud computing, ushering in a new era of innovation and efficiency. He played a pioneering role in establishing robust data lake platforms for these organizations for machine learning models, serving as the bedrock for their strategic data management initiatives.
Pankaj holds a Bachelor of Engineering degree in Electrical Engineering from Pt. Ravishankar Shukla University Raipur. He has also acquired various professional certifications, including being an AWS Certified Solution Architect and a Teradata Certified Professional. His commitment to continuous learning and professional growth is evident through his active membership in prestigious organizations such as the senior member of Institute of Electrical and Electronics Engineers (IEEE), Fellow the British Council of Technology (BCS), the International Association of Engineers (IAENG) and Fellow RSA.
Recognized as a prolific researcher, Pankaj has published multiple scholarly articles in reputable journals such as the International Journal of Computer Science and Engineering, Redgate, and the British Council of Technology (BCS). His contributions have been widely acclaimed in the media, further solidifying his reputation as an industry expert.
Furthermore, Pankaj actively participates in various activities related to diversity, equity, and inclusion, particularly in student mentorship programs. His decades of experience and wide-reaching impact have earned him invitations to judge various hackathons at esteemed institutions such as NC State University, Ohio State University, and Duke University. Pankaj has also mentored numerous high school students and actively contributes to the Technology Student Association (TSA). Additionally, he serves as an independent reviewer at O'Reilly publications, where he provides valuable insights and reviews for books related to cloud computing and Snowflake.
With a remarkable track record of accomplishments and an unwavering commitment to excellence, Pankaj Gupta continues to shape the future of data engineering and digital transformation.