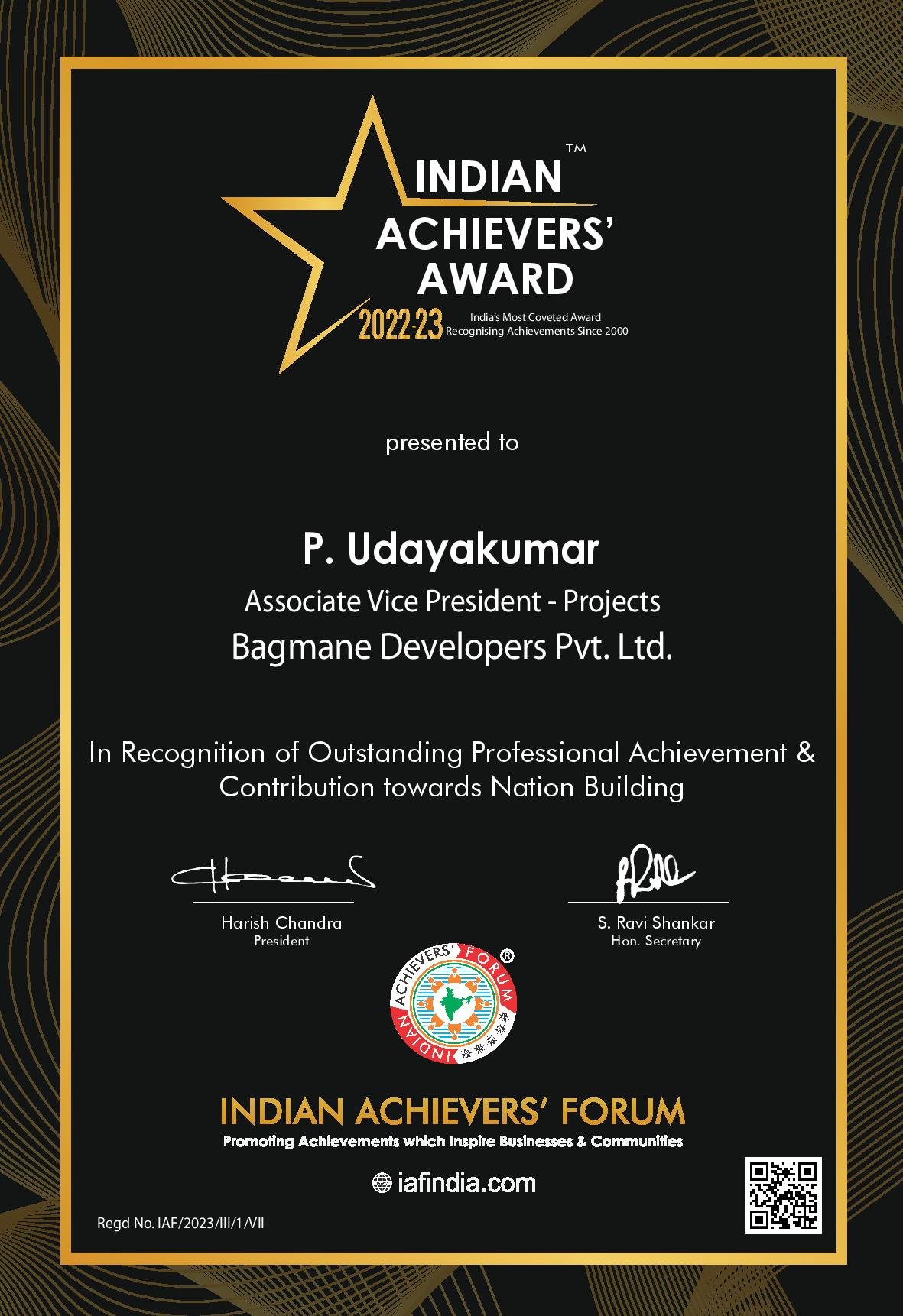 Mr P.Udayakumar's exemplary professional journey
P. Udayakumar is an accomplished senior professional with over three decades of experience leading commercial, residential, and industrial projects that are on par with global standards. Having previously held important positions at L&T Construction Group and RMZ Corp, he now holds a significant portfolio at Bagmane Developers (P) Ltd.
As the Project Head at Bagmane Developers, P. Udayakumar has been instrumental in the successful delivery of around 5 million sqft of premier 'Grade A' workspaces across various projects during the last five years (2017 to 2022). These projects have been for some of the world's top organizations, including Google, Amazon, Qualcomm, Cognizant, GE Oil & Gas (Baker Hughes), Legato (Carelon Global Solution), Microsoft, Shell, GK Healthcare, First Abu Dhabi Bank, American Express, Northern Trust Bank, and others.
Udayakumar has led prime commercial milestone projects of huge magnitude and value with aesthetic appeal that have been considered landmark projects at Bagmane Developers. These projects have been significantly different, with environment-friendly landscaping covering nearly 35% of the site area. P. Udayakumar has used new concepts for the 'first time' at Bagmane Developers, further emphasizing his innovative mind-set.
Throughout his career, P. Udayakumar has worked with some of the top architects, consultants, and experts in the field. His projects have ensured cost efficiency, saving several lakhs with judicious use of men, money, and material. With far-sightedness and impeccable planning, he has made futuristic projects that meet stringent quality, safety, and time parameters within budgeted costs. In an advisory role, he has imparted sound technical counsel with efficient risk mitigation programs and value-engineering measures. All his projects during the last 15 years have been designed and built with LEED Gold rating under the US Green Building council and have won prestigious CII EHS/Safety and Quality awards.
Udayakumar is proficient in managing SEZ development projects. He understands the deeper legal and statutory implications, taking all precautions to avoid any such deviations. His expertise is not limited to SEZs, as he has also delivered a staggering 2.5 million square feet of office space interior development for Google, with another 6 million square feet nearing completion.
His contribution to these developments goes beyond just the physical space, as he has also spearheaded the development of unique amenities such as food courts, multi-sport arenas, gyms, creche, banks, and clinics,. His vast experience, expertise & ability to deliver such high-quality projects have made him a sought-after leader in the industry, and his success stories continue to inspire others.