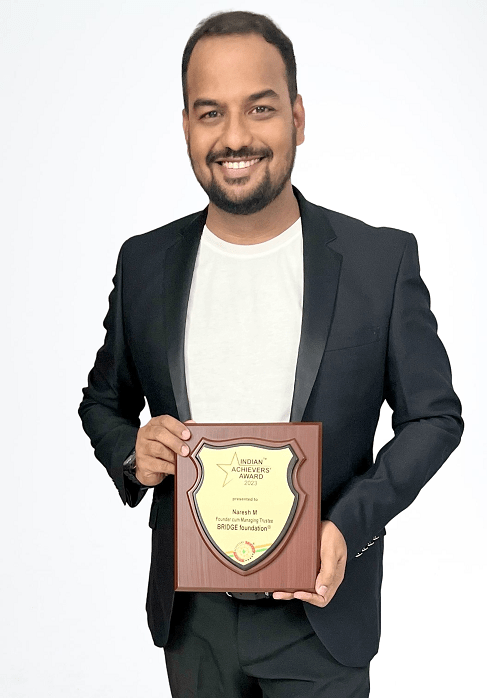 "Service to others is the rent you pay for your room here on earth"
Introducing the inspiring Mr. Naresh M. He is an Indian social worker who has been serving the society for over two decades and a recipient of the Mother Teresa Humanity Award. He was born in Chennai, Tamil Nadu, and working with an International Bank. He is the Founder cum Managing Trustee of BRIDGE foundation®. He has received many national and international recognitions for his selfless service.
Since childhood, Naresh was raised in a very simple and down to earth manner where he actually learnt the art of giving. He then realized his real aim of life was to help people. Naresh with the aim to serve people, dedicates most of his time, efforts and money for the welfare of the poor & needy. As part of which, he established a Non-Governmental Organisation (NGO) called BRIDGE foundation® (www.BRIDGEfoundation.co) along with his friends Mr. B. Umanath & Ms. Swathi Murali, together initiated several activities for those in need.
His services includes covering free education to underprivileged students, distributing free food to the poor, supporting orphanages/old-age homes, environment friendly projects, feeding stray dogs, creating various awareness campaigns such as, good touch / bad touch, self-discipline et al.  He is successfully running this NGO more than 10 years with the help of like-minded volunteers from working professionals, students, house wives.