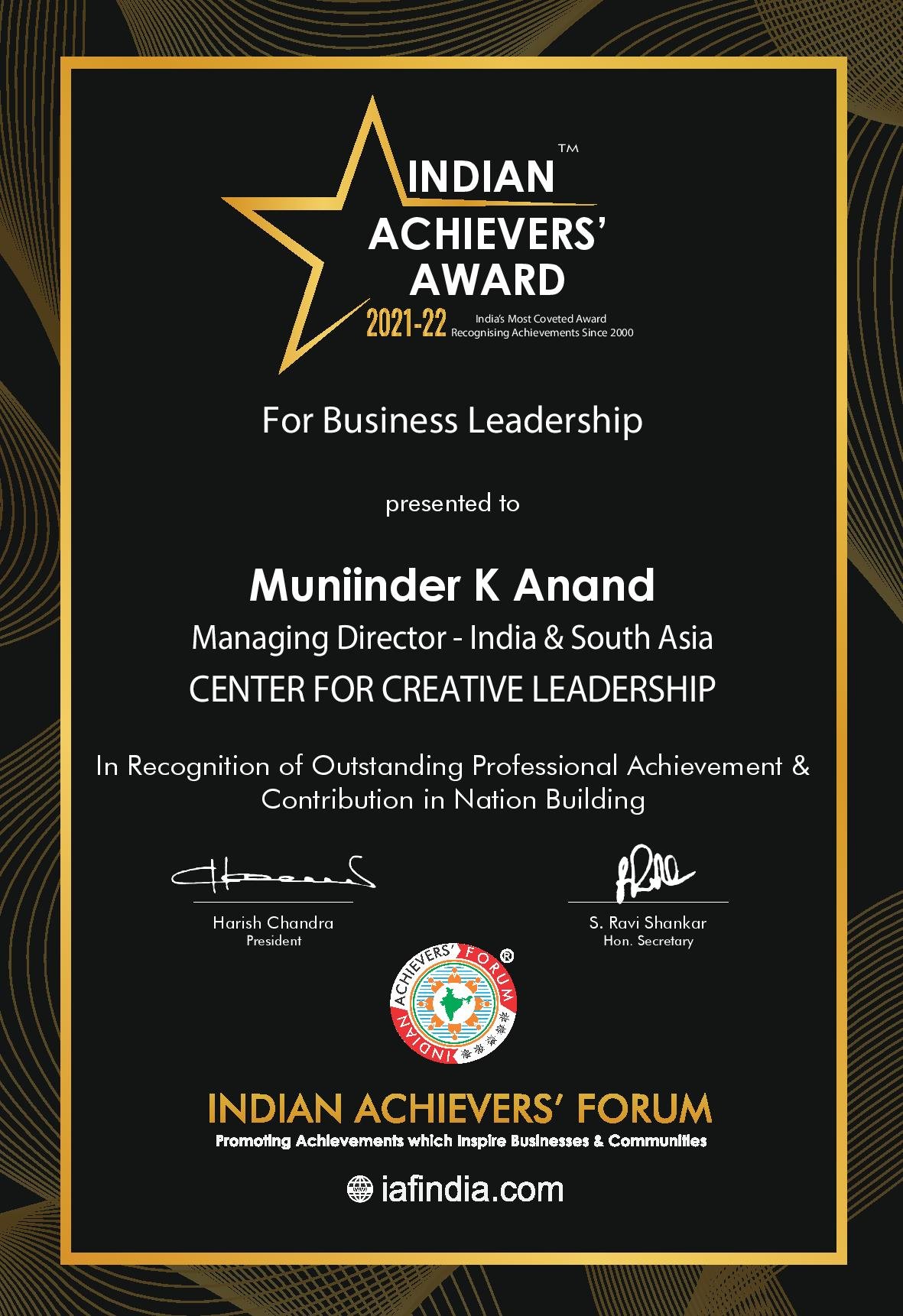 Global Provider Of Leadership Development
Muniinder K Anand, C.A, ICWA, MBA, is Managing Director (India and South Asia) for Center for Creative Leadership (CCL), a global non-profit organization with offices throughout the world
 (www.ccl.org).
Over 25 years of experience across business and HR consulting, Muniinder has been a lifelong learner and contributed to the various dimensions of human resources, leadership development, aiming to propel businesses and leaders to peaks of business success. Despite working across a number of different organizations, nation building and giving back to the community has been the anchor of his endeavors. The approach has been to take the Indian public sector to new heights with skilled, progressive and growth-oriented leaders. He was also presented with many opportunities in Consulting in the areas of Leadership Development, Organization Transformation and Talent Management, his approach has been to tackle "People Problems" to enhance productivity and engagement for the organizations he has touched.
A global provider of leadership development, the Center for Creative Leadership is deep rooted in research aimed at effective business growth.  Furthering their leadership development mission in India and South Asia, over a commitment of 5 years with CCL, Muniinder has traced the success of 7500+ leaders all over India and serviced organizations in the region with solutions aligned to their personal and organizational growth across different leadership levels.  More than 60% of CCL's clients are retained and 25% have returned for business thrice and more. Given his contributions Muniinder was recently awarded with Edvocate Leadership Award and L&D's Business Excellence Award in the space of Leadership Development.
As leadership is the driving force behind the success of every organization, with CCL, Muniinder is transforming organizations with effective leadership interventions that help business leaders fulfill their full potential while simultaneously meeting essential and aspirational business outcomes.
Career Journey
Before CCL, Muniinder was Director, Management Consulting – People and Change at KPMG, the leading global provider of professional services in India. Leading a team of 20+ consultants across the North and East region at KPMG, he spurred members towards organizational development; in 2014 receiving the KPMG Super Employee Award for his efforts.
At Mercer Consulting, India, as Director, Talent Business for India and South Asia, he built a client focused team that brought more than half of the overall top-line revenues for Mercer, India.
Spearheading Schneider Electric's HR Shared Services Center for India and South Asia, Muniinder matched employees' passion with their work responsibilities and organizational growth.
As the Business Technology Leader, Talent & Organization Analytics Consulting, Asia Pacific, at Hewitt Associates, he oversaw the end-to-end management of business, client management, business operations, people management and development and business technology, later winning All Rounder of the Year (2004-2005) at Hewitt's Annual Recognition Program for the same.
Awards & Recognition
Edvocate Leadership Award, 2022
L&D's Business Excellence Award for Leadership Development, 2022
Indian Achievers' Award – 2020 & 2021-2022
KPMG Super Employee Award – 2014
Awarded All Rounder of the Year (2004-2005) – Hewitt's Annual Recognition Program
Awarded Faculty of the Year (2005-2006) – Hewitt's Annual Recognition Program