VP Manufacturing & Operations Excellence Huntsman Textile Effects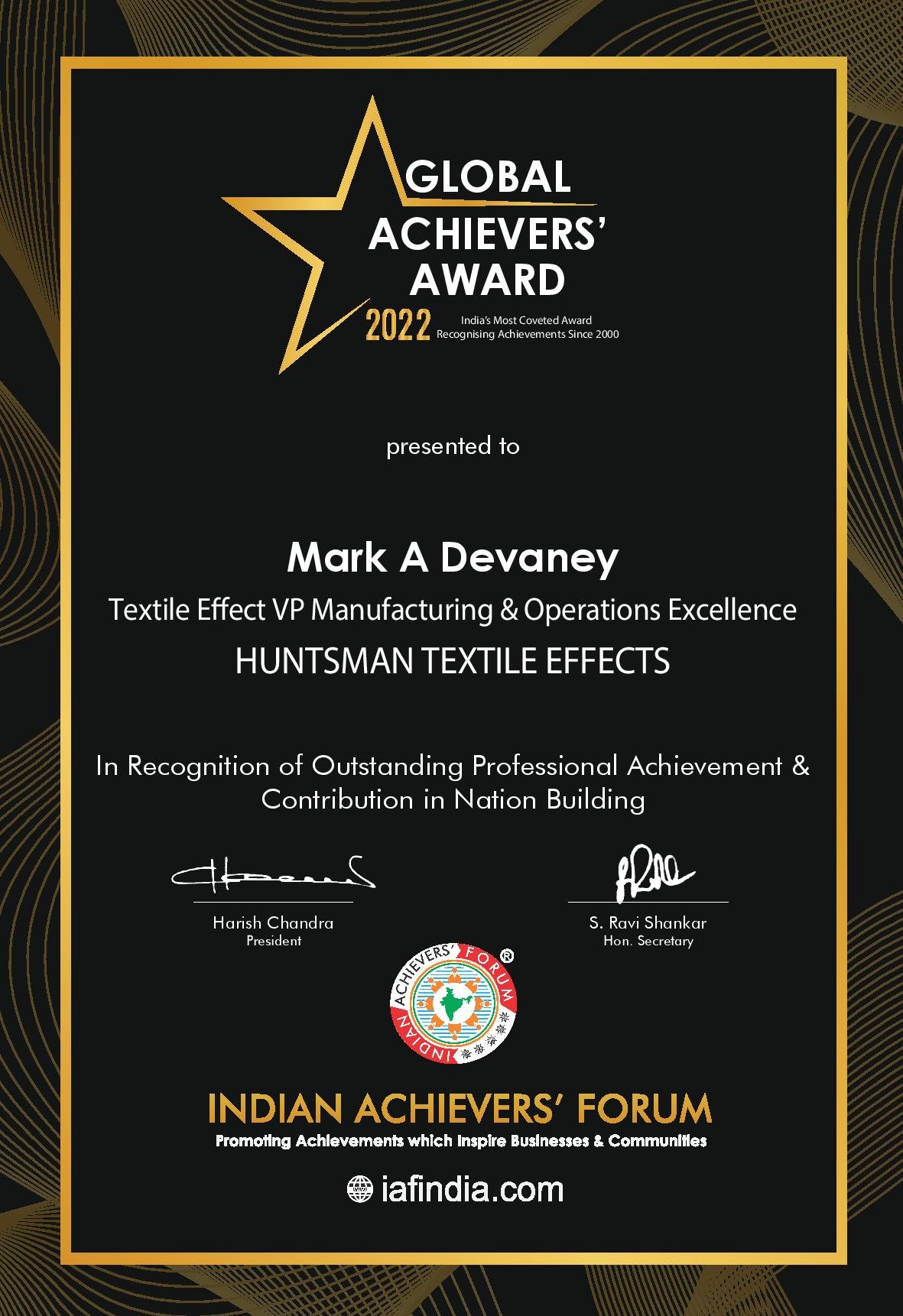 " Huntsman Textile Effects' Mark Devaney Honoured with a Global Achievers Award"
Singapore – Huntsman Textile Effects is proud to announce that Mark Devaney, its Vice President of Manufacturing & Operational Excellence, has received the Global Achievers Award for 2022 from the Indian Achievers Forum.
This prestigious award recognizes outstanding achievements that directly or indirectly impact the socio-economic welfare of India.
Mr. Devaney was honored for leading the transformation of Huntsman's manufacturing operations in Baroda and around the world. A global leader in innovative solutions and environmentally sustainable dyes, chemicals, and digital inks, Huntsman is working towards Horizon 2025 targets that include a reduction in net water usage at facilities in water-stressed regions as well as long-term sustainability goals that prioritize carbon neutrality, full circularity and sustainable chemistry.
In partnership with Site Director Kavishwar Kalambe and his team at the Huntsman Baroda plant, Mr. Devaney was instrumental in implementing a water conservation process that aims to save around 76,000 litres of water a day by optimizing the plant's reverse osmosis water purification process.
On a global scale, Mr. Devaney also leads Baroda and other manufacturing sites to make continuous improvements to achieve a Zero Harm workplace and to adopt an integrated manufacturing system that enhances sustainability and efficiency.
"It is a huge honour to receive this
Global Achievers Award on behalf of the Huntsman Textile Effects team in India and around the world. We believe strongly in our power to make a difference to the wellbeing of the communities in which we operate and to help lead our industry to a more sustainable future," Mr. Devaney said. "I am so inspired by the innovation, dedication and drive of the Baroda team and confident that our support for the community will continue to blossom as our operations continue to become even safer and more efficient and effective."
A 25-year veteran of the specialty chemicals industry, Mark Devaney has held various leadership roles in global manufacturing operations and project management across the Huntsman group since 2013.
About Huntsman Textile Effects
Huntsman Textile Effects is the leading global provider of high quality dyes, chemicals and digital inks to the textile and related industries. With operations in more than 90 countries and six primary manufacturing facilities in six countries (China, Germany, India, Indonesia, Mexico and Thailand), Huntsman Textile Effects is uniquely positioned to provide prompt and expert technical service wherever our customers are based. Sustainability, innovation and collaboration are at the heart of what we do. We use cutting edge technology to develop solutions and create innovative products with intelligent effects such as durable water repellents, color fastness, sun protection or state-of-the-art dyes which reduce water and energy consumption.
For more information about Huntsman Textile Effects,        
please visit www.huntsman.com/textile_effects.