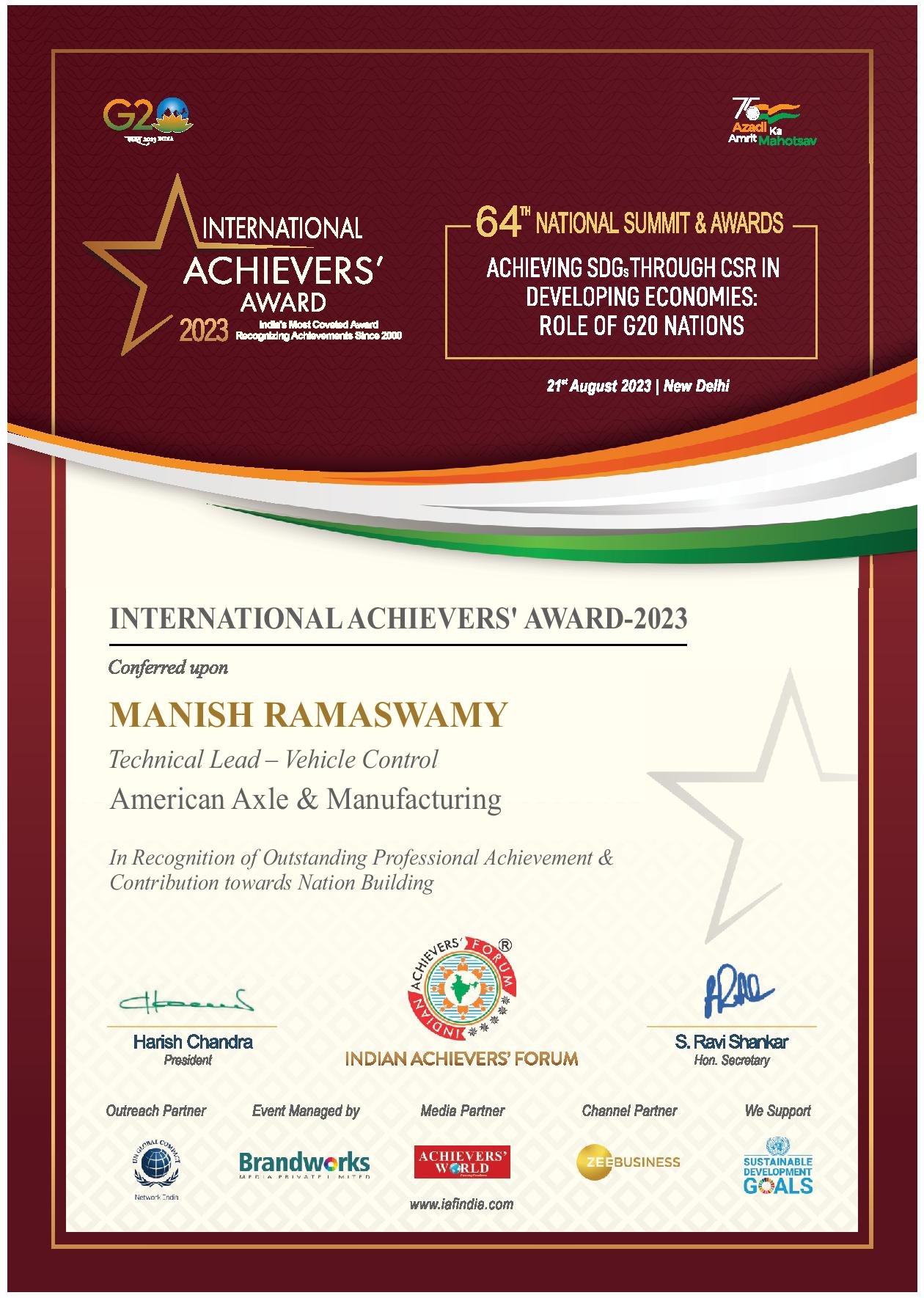 Manish Ramaswamy: A Visionary Technical Leader Shaping the Future of Automotive Control Systems
At the forefront of the automotive industry, one name stands out as a driving force behind the advancement of control systems – Manish Ramaswamy. His journey, as a first-generation college graduate, is not only extraordinary but also inspiring. With an extensive decade-long tenure dedicated to research and development, specifically within the realm of automotive powertrain systems, torque management, and battery control, Mr. Ramaswamy has undeniably emerged as a prominent figure in this domain.
Manish Ramaswamy has always been driven by a passion for innovation and a desire to push the boundaries of Control technology. His journey began in India, where he completed his Bachelor's in Electronics and Communication Engineering. However, it was during his master's program at PSG College of Technology in Coimbatore, India, that his profound fascination with control systems ignited. In 2010, he achieved his master's in Control Systems, culminating with a thesis on "H∞ Output-feedback Control." This early research exemplified his innate talent for pioneering cutting-edge control system design.
Determined to further his knowledge and impact, Manish crossed continents to pursue higher education in the United States. Enrolling at The University of Texas at Dallas, he earned dual master's degrees in Electrical Engineering and Systems Engineering & Management. Under the mentorship of Prof. Stephen Yurkovich, Manish completed his thesis, 'Modeling and Control of Li-ion Dynamic Battery Pack for Automotive Applications,' a work of such significance that it earned an invitation for presentation at the prestigious first IEEE Conference on Control Technology and Applications (CCTA) – IEEE CCTA 2017, one of the flagship conferences organized by the IEEE Control Systems Society.
Manish's professional odyssey is equally striking. Following graduation, he joined Ford Motor Company on a contractual basis, where he developed cutting-edge control algorithms for vehicle powertrain modules. His prowess in model-based control swiftly garnered recognition from Ford's Research and Advanced Engineering division. Subsequently, he assumed the role of Senior Controls Design Engineer at General Motors in Milford, MI. Here, he led groundbreaking projects, notably contributing advanced control techniques integrated into production models like the MY 2021 Hummer EV, MY 2023 Cadillac Lyriq, and MY 2024 Corvette E-Ray.  In 2022, Manish took on the role of Lead Controls Engineer at American Axle & Manufacturing, where he leads the vehicle control systems team and provides them with critical technical guidance. His expertise has solidified him as a global expert in vehicle controls.
Beyond his professional accomplishments, Mr. Ramaswamy is committed to education. He served as a Teaching Assistant at The University of Texas at Dallas, helping students navigate the complexities of control systems. His passion for education extends to his certifications, including a Self-Driving Car Nanodegree and Machine Learning from esteemed institutions like Stanford University.
Manish Ramaswamy's accomplishments have garnered a plethora of awards and recognitions, including the prestigious International Achievers' Award in 2023 and multiple accolades from Ford and General Motors for his innovative contributions. His biography was selected for publication in Marquis Who's Who in America in 2015. Furthermore, Manish's illustrious career includes the honor of being recognized as an IEEE Senior Member in 2023, a distinction bestowed upon a select 2% of the IEEE's extensive membership, which exceeds 221,000 professionals worldwide.
 In summary, Manish Ramaswamy's journey from an aspiring engineer in India to a technical leader in the American automotive industry is a testament to his dedication, innovation, and relentless pursuit of excellence. He continues to shape the future of control systems in the automotive industry and inspire the next generation of engineers and researchers alike.