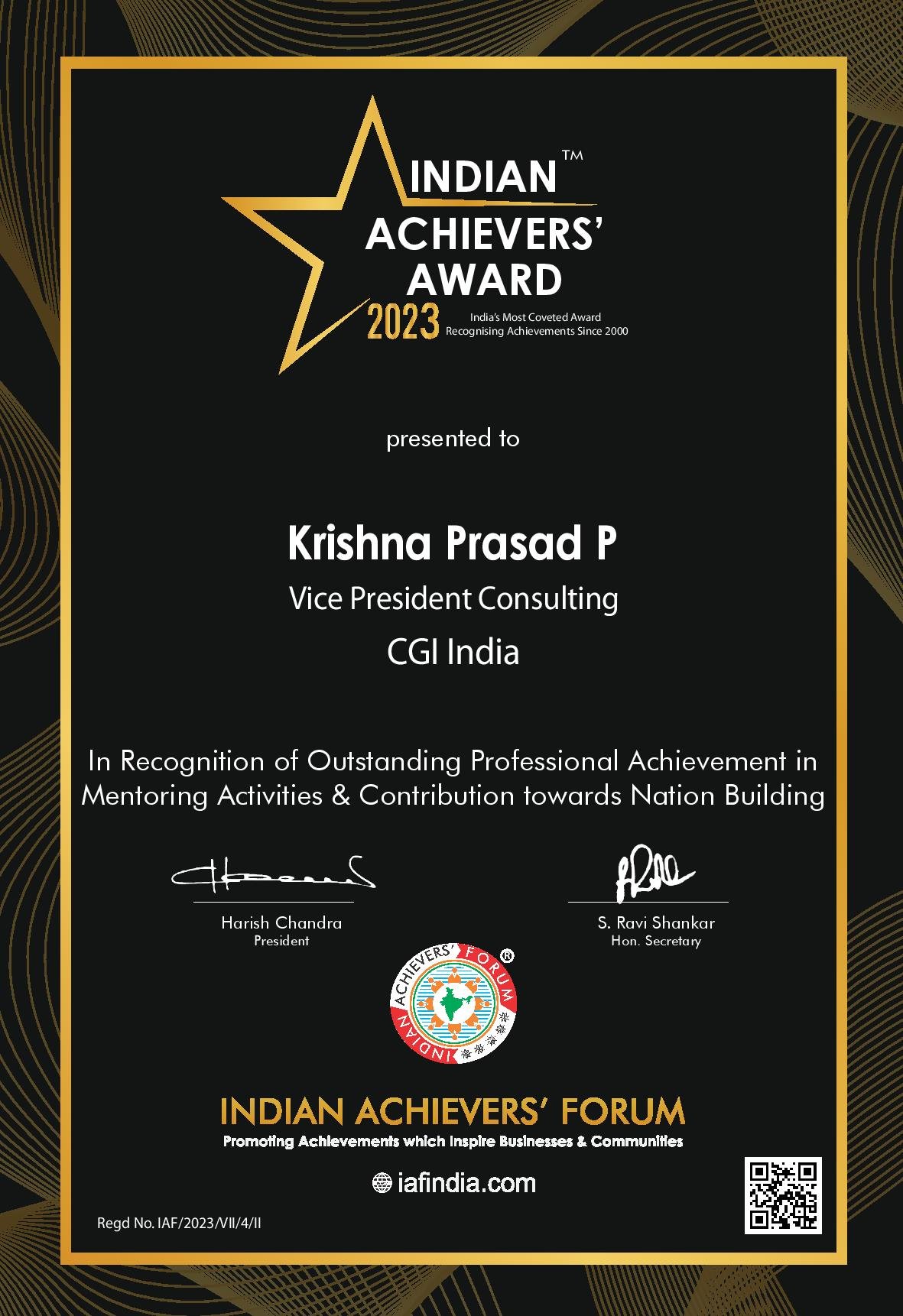 Catalyzing Leadership and Innovation
Introducing Krishna Prasad (KP), a remarkable professional renowned for his technical acumen and expertise within the AA & AI and Capital Markets domain. KP is a dedicated advocate of knowledge expansion, mentoring numerous individuals both within and outside of CGI. His guidance has paved the way for mentees to assume leadership roles, making him an exceptional role model within the realm of Data platforms in IT. Constantly driven by innovation, KP stands as a stalwart champion of Diversity & Inclusivity and has furthered Corporate Social Responsibility (CSR) initiatives, particularly in Go Green initiatives and skill gap reduction for college students.
Embracing the philosophy of impactful actions, KP's mentorship has fostered the growth of numerous leaders, solidifying his reputation as a respected figure in the IT industry. With over 25 years of experience at CGI, KP has consistently provided leadership, innovative solutions, and thought leadership in crafting enterprise solutions for major global financial institutions. Armed with a Bachelor's degree in Electronics and Communications, KP is a preeminent Subject Matter Expert (SME) in Capital Banking, Markets domain, and Data space.
KP's distinction within CGI is further underscored by his recognition as the recipient of the prestigious CGI Builder Award in 2019. This esteemed accolade was in honor of his exceptional contributions to expanding CGI's presence into Tier 2 cities during challenging times, a testament to his deep domain competence within the Banking sector coupled with an unwavering culture of innovation.
An active contributor to knowledge dissemination, KP has presented a multitude of whitepapers through DCAL (hosted by IIM-B) and inspired CGI professionals to deliver over 75 whitepapers over the past decade. His commitment to addressing the skill gap is evidenced through numerous connect sessions with college graduates, a laudable endeavor that highlights his forward-thinking leadership and mentorship role in NASSCOM W2RT.
KP's engagement extends beyond the professional sphere, as he emerges as a trailblazer in various community-oriented activities with positive environmental impacts, such as seed ball making and the likes. His multifaceted contributions reflect a profound commitment to driving positive change and innovation in both professional and community contexts