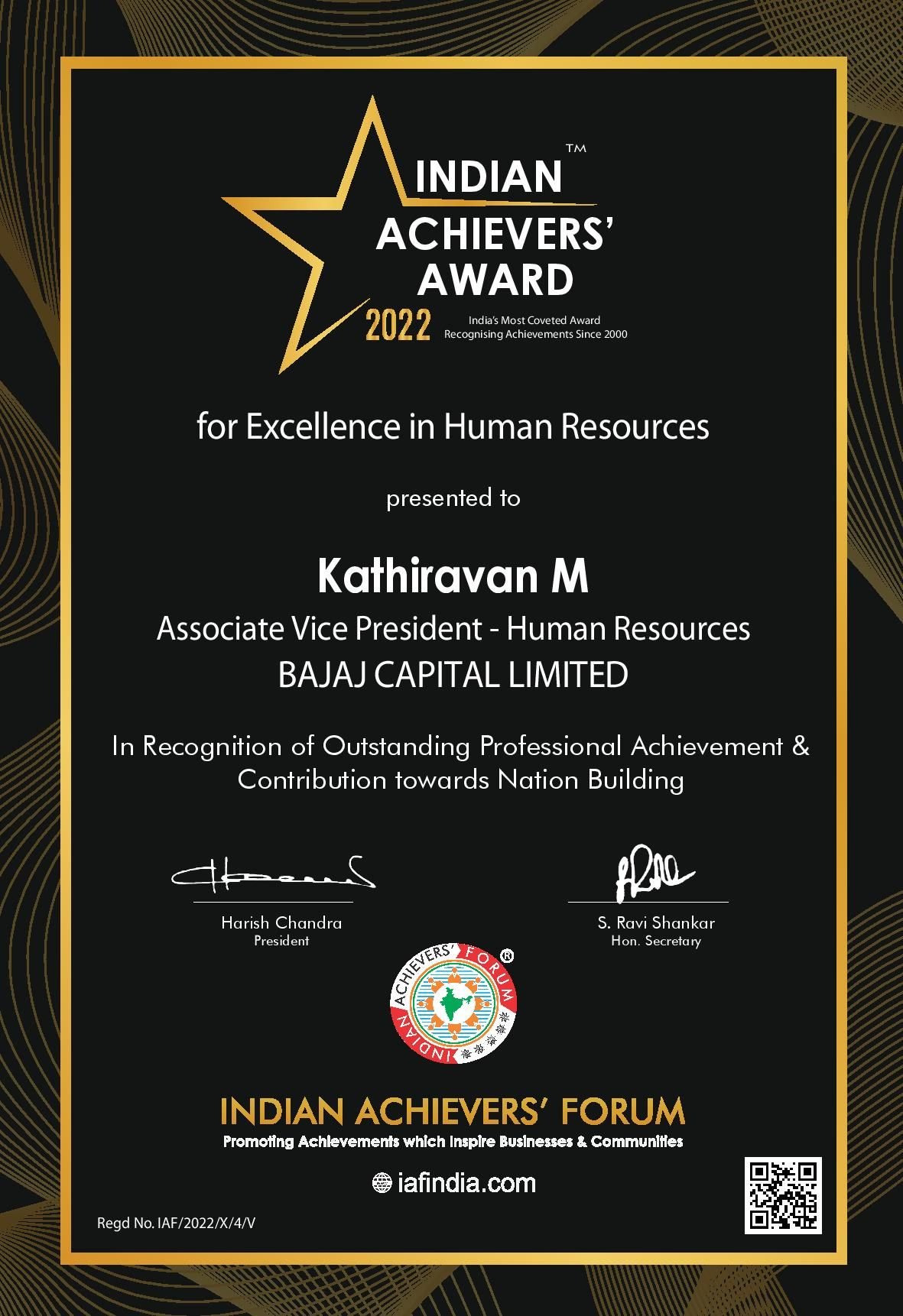 Mr. Kathiravan's successful professional journey stands as an inspiration
Mr. Kathiravan is best described as an ardent and optimistic HR professionally and stays a grounded and humble, as an individual. With over 10 years of experience in Human Resources, he is committed to his profession and is fueled by integrity and is an impactful HR personnel.  He is recognized in the HR industry of India where he has always led his team with the concept of having a guiding coalition and open communication. His team is his Great asset& Strength. He believes in developing vibrant team by building a strong base of positive culture and bringing best outcome in every venture.
With a Master's in Business Administration (Full time) in Human Resources-GIMS affiliated with Anna University, Coimbatore, Kathiravan is an all-in-one HR professional with exposure to a gamut of HR practices. Kathiravan is believed to be a technology evangelist across different sectors since he has worked with BFSI/NBFC/Retail/ ITes/ Fintech space implementing the best and the latest HR practices. Currently serving the role of Associate Vice President-HR at Bajaj Capital Limited.  Bajaj Capital is one of India's best known/Largest Wealth Management firm and most trusted financial services brands, Bajaj Capital has rich legacy of being financial industry for 58 years. Bajaj Capital is operating with 270+ touch point in 109 cities/ 4000+ colleagues across India.  Bajaj Capital is a tech driven wealth Management company serving Retail, HNI, Corporates Institutional clients, Prior to Bajaj Capital he worked with Tata Group& Nearby Technologies Pvt. Ltd (Paynearby) gaining experience professionally and growing personally.
He started his career in the year 2012 with GI Staffing Services as an "HR Recruiter" and eventually grew within this recruitment organization with maximum closures, little did he know that recruitment would inspire him towards love for humanity along with personal growth and values like kindness, compassion and to care for the society we live in. It was baffling how he projected a job as the solution to all his problems. He wanted to take care of his family, and a job meant that he would be able to afford the basic three-course meals. The hardest part was deciding and aligning his profile to an open position. Because his personal life hardships would not land him a job. But as an HR, he must be an enabler of skills when he sees one. So, he approached one of his clients and set up an interview for this candidate. After multiple rounds of interviews with different candidates for the position, his client decided to hire this guy with a decent salary. The excitement, joy and sense of peace on the face of this candidate inspired me that there is nothing in the world one cannot achieve no matter what circumstances one may go through.
This energized him to excel his career in Human Resources to reach heights and he continues to look for more such opportunities in his life to be part of the world where we can say that the World is a better place for all because of the HR department (People Function) is an enabler of skills. Now, he makes sure that his approach is not just enabling but strategic as well. Using time and cost-effective HR business practices, he thrives to include the best the most diverse set of HR practices and make them inclusive for the organization. His view to approach life is that, there is something new to learn in ones' daily life. Keep your mind open and willing to learn. Mr. Kathiravan believes learning will help you to develop personally and professionally. It gives strength, confidence and clarity. An investment in knowledge will always pay back in the future career.