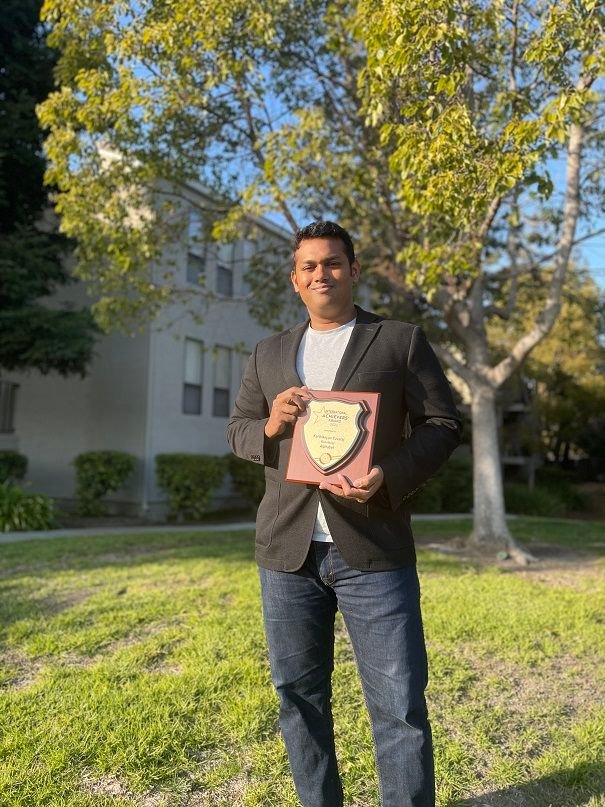 Building the factory of tomorrow through advanced robotics and AI (Artificial Intelligence), Karthikeyan Yuvaraj's professional journey is highly remarkable.
Today, Karthikeyan Yuvaraj is a roboticist at Alphabet. Particularly in robotics, he specializes in developing vision systems for complex robots and enabling them to achieve autonomy. In simple words, he makes robots see the world. He has several international patents and publications in robotics and artificial intelligence. In addition, his work has been mentioned in major media like National Geography, LA times, Popular Mechanics, etc.
How it all started…
During his childhood, Karthikeyan was drawn to science-fiction movies and books. His fascination for robots started when he saw R2-D2 and C3PO from Star Wars. Mathematics and computer science were his favorite subjects in school. His interests led him to pursue a B. Tech in Computer science from Amrita University, Coimbatore. While pursuing his undergraduate degree in Amrita, he developed a strong interest in robotics. He built and programmed his first robot for his final year senior design project. To further his studies in robotics, he pursued his masters in robotics from Drexel University, USA.
Some of his most notable efforts are:
DARPA Robotics Challenge:
In December 2013, the Defense Advanced Research Project Agency (DARPA) of the United States conducted an international robotics competition called DARPA Robotics Challenge (DRC). The competition aimed to build a robot that could respond to disaster recovery situations. Some of the competitors were NASA, JPL, and Lockheed Martin. Karthikeyan's role as a robotics researcher (as part of Team DRC-Hubo) was to enable a humanoid robot to drive a utility vehicle. His main contribution was developing a vision system, which the robot used to navigate autonomously, precisely locate and manipulate objects, and avoid obstacles when driving. This effort gained a lot of traction in the robotics community. In addition, he published many conference and journal papers based on this effort.
Robotic truck unloader:
Post-DRC, his commercial robotics journey started as a roboticist at Honeywell R&D. One of his primary efforts was building a robotic system to unload cargo from a truck. He was a front-runner in building and programming the RGBD vision system, which is essential for the robot's autonomous navigation and precise localization/grasping of cargo inside the trailer. The robotic truck unloader was eventually deployed to customer sites in different parts of the USA. This endeavor was widely covered in the media and was featured in The Daily Mail, LA Times, The Economist, etc. Besides the media attention, his innovation in the visual sensing aspect of the robotic truck unloader earned him several patents worldwide. In addition, his patents have received more than 100 citations, some from tech giants like Google and Amazon.