Mr. Hemavantha Rajesh Varma Mudunuri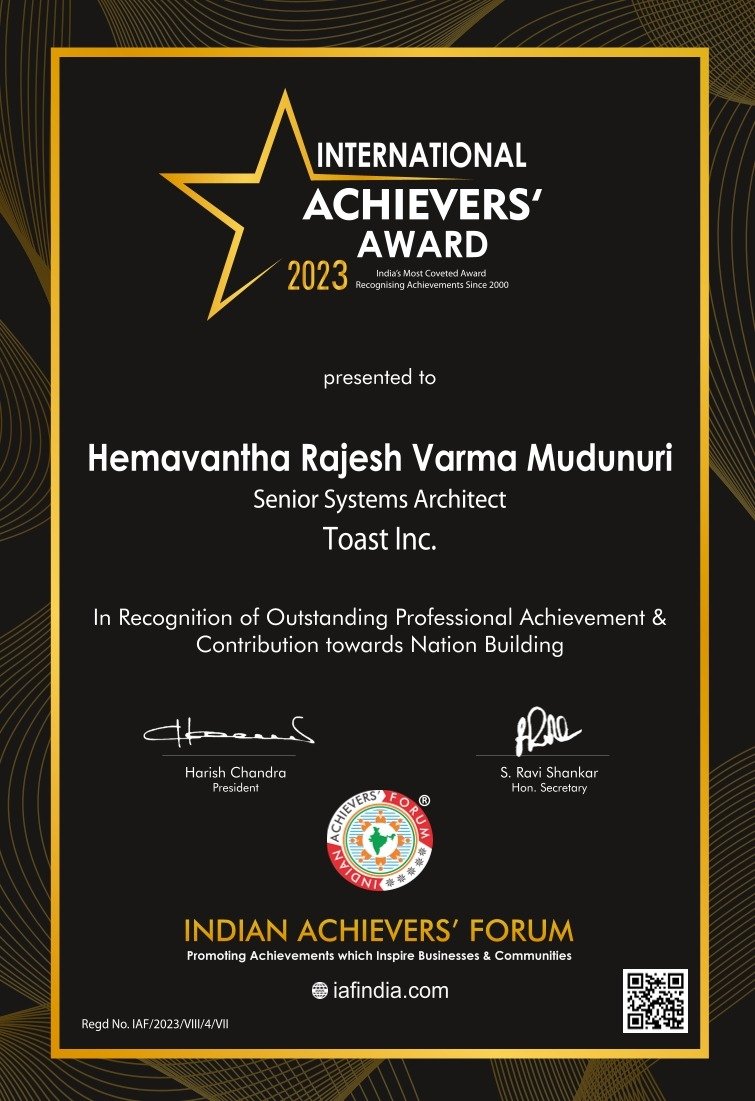 Hemavantha Rajesh Varma Mudunuri stands as a shining example in the realm of Information Technology, garnering well-deserved recognition with the prestigious Indian Achievers Award for 2023. Armed with a Master's Degree in Electrical Engineering and over seven years of hands-on experience, Hemavantha has consistently showcased his exceptional prowess in orchestrating and executing cloud-based solutions utilizing the Salesforce platform.
Presently serving as the Senior Systems Architect at Toast Inc., Hemavantha has not only displayed leadership but has spearheaded numerous projects revolving around the complex realms of CPQ and Billing platforms, each entailing intricate integrations. His collaborative ethos shines through as he adeptly collaborates with diverse teams in a multi-cloud environment, effortlessly bridging the gap between business objectives and IT implementations.
Hemavantha's impressive list of accomplishments includes being recognized as a Salesforce Lightning Champion in 2018 and actively contributing to the Salesforce Stack Exchange, where he selflessly shares his wealth of knowledge with the community. His extensive contributions to the Trailblazer community underscore his unwavering dedication to the Salesforce ecosystem.
As a featured speaker at renowned conferences like Dreamforce 2018 and Southeast Dreamin Atlanta, Hemavantha has not only shared his insights but has also been a wellspring of inspiration, urging professionals to embrace cutting-edge innovations. His commitment extends beyond the confines of his workplace, as he generously gives back to the community through public speaking engagements, mentorship of budding professionals, and active contributions to various community initiatives.
Hemavantha Rajesh Varma Mudunuri epitomizes the essence of an International Achiever through his unwavering dedication to his profession, his profound commitment to community service, and his fervent passion for disseminating knowledge. He is a truly deserving recipient of the illustrious 2023 Indian Achievers Award, an honor bestowed upon professionals who are leaving an indelible mark on the world through visionary leadership and innovation.