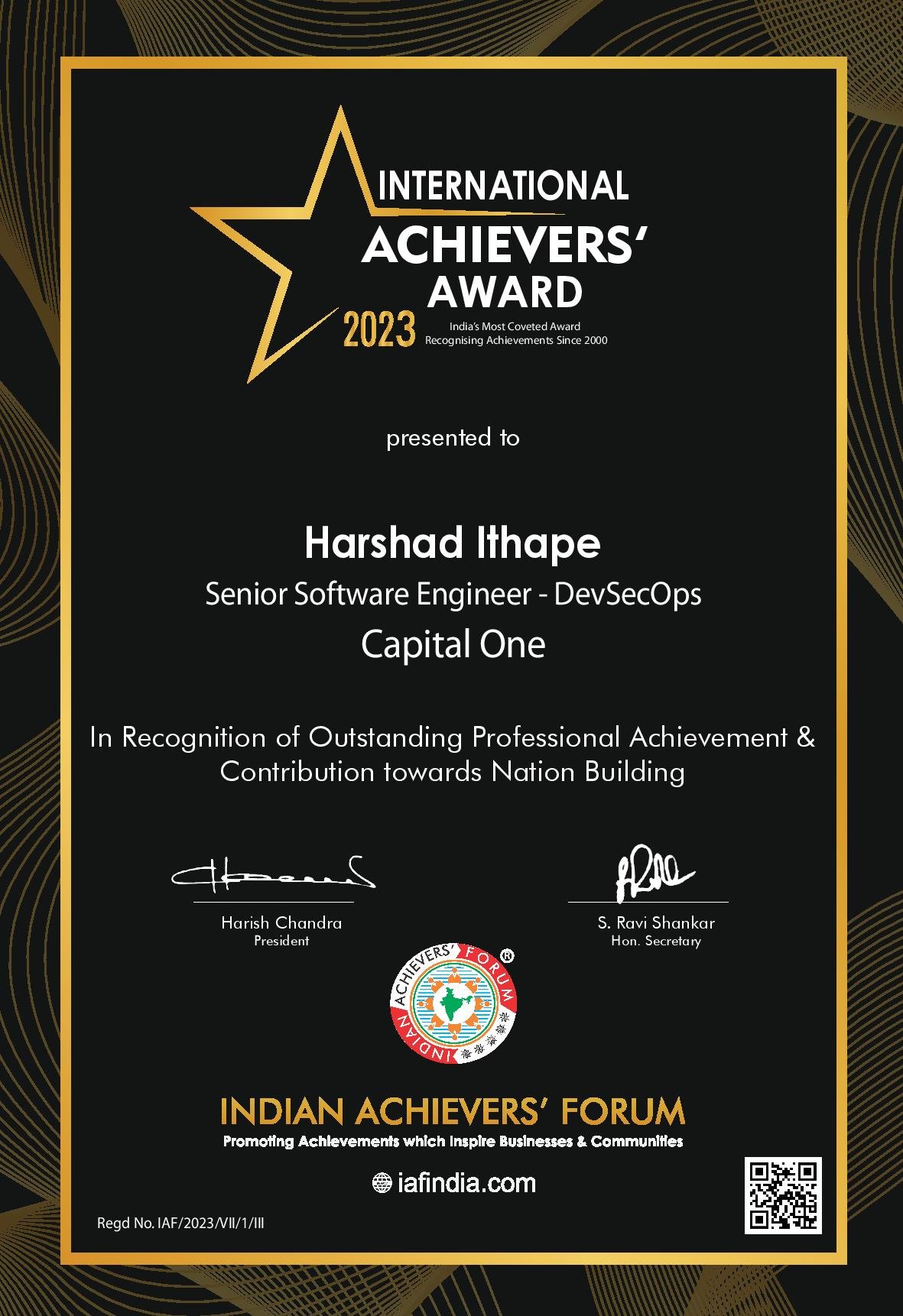 Harshad Ithape: The DevSecOps Dynamo Revolutionizing Cloud Technology and Nurturing Talent"
With his international and global expertise, Harshad is reinventing the world with an impressive repertoire of skills and demonstrated proficiency in cloud technologies, open-source automation testing frameworks, DevSecOps, and Cloud Security. His unwavering commitment to excellence has garnered numerous accolades, further solidifying his stature as an industry luminary.
Harshad is an esteemed DevSecOps specialist with a remarkable decade-long career, demonstrating unparalleled expertise in delivering exceptional software applications and offering invaluable vulnerability support to various companies. Throughout his journey, he has consistently employed his strong analytical and problem-solving skills to tackle intricate computer application systems and optimize infrastructure costs with unmatched finesse.
Having worked closely with Fortune 100 companies, Harshad's leadership abilities flourished in senior-level roles as a Teach Lead, where he adeptly trained software developers across project teams, ensuring seamless IT support for their esteemed customers. Among his remarkable contributions, he spearheaded Performance Engineering efforts for external facing applications and provided expert DevSecOps advice on cloud security, significantly benefiting diverse teams in the largest financial institutions in the United States.
Beyond his professional achievements, Harshad exhibits a heartfelt commitment to giving back to his community. Currently, he volunteers as a technical interview preparation coach, mentor, and resume reviewer at CodePath, a non-profit organization supporting IT engineers from underrepresented communities across the United States. Furthermore, his dedication extends to being an active member of Cloud Security Alliance working groups, where he volunteers to contribute to various initiatives.
Harshad's passion for mentorship has led him to become a valued mentor and judge for University Hackathon events at esteemed institutions such as Harvard, Ohio State, the University of Cincinnati, and the University of Washington, among others. His recent judging contributions include prominent events like Hack Ohio, HackHarvard, MakeUC, DubHacks, NCWIT High School and Collegiate Awards, Asia-Pacific Stevie Awards, and Globee Awards.
Moving forward, Harshad remains committed to continuous learning in the realm of cloud security, consistently striving to expand his knowledge and unlock the limitless potential. Through his relentless dedication and exceptional contributions, he endeavors to leave an indelible mark on the DevSecOps landscape, paving the way for future generations in the ever-evolving world of technology.
You can connect to him at: LinkedIn