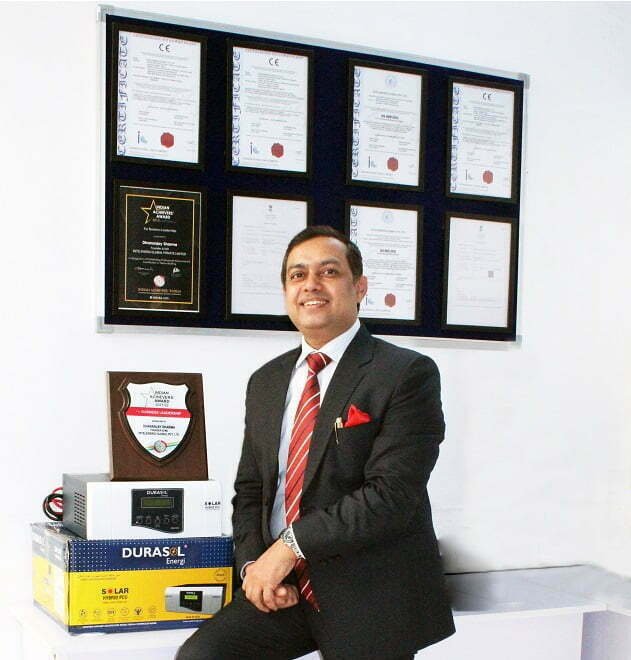 Founder & MD, Intelenergi Global Private Limited
Introducing the dynamic and quintessential Mr. Dhananjay Sharma who is one of the youngest entrepreneurs in India. He has left no stone unturned to prove that there is no age barrier for invention and entrepreneurship. He believes that it's all about having an inquisitive mind to try something extraordinary in order to make a difference. His successful entrepreneurial journey has been embellished, with taking his brand to 30 countries within 24 months of establishing the company.  He is the Founder & MD of his venture "Intelenergi Global Pvt Ltd".
Intelenergi is one of the vibrant energy companies of the world that caters to the industrial & private sectors in a wide range of energy solutions. Over the years the company has maintained growth and profitability, with finances being managed internally, which is a rare thing in such a young company.
IGPL's few accomplishments include: 
• Forayed and signed MOUs for sharing India technology of Energy Storage and solar in overseas markets. Soon Indian technology in the domain would be available to cater to local demand.
• The company secured 13 brands registration, 1 design approval Under IPR, applied for a technology patent. 
• Designed and developed 20 models of products in the span of less than 12 months.
• The company has also signed an MOU with an International solar Power developed to be their technical arm based out of India and currently working on the cumulative project size of 58 MW and intend to achieve 130 MWp in next 2 years.
Their long term vision is to become an admired, trusted, innovative solar company. They have an excellent product portfolio, strong presence and committed employees who support their strategy. The company is fully equipped for future growth and success.
The pioneer behind IGPL's success is Dhananjay Sharma and the buzz IGPL has created in such a short span of time in globally is incredible. Talking about global success,  Intelenergi is has successfully supplied to the industrial market with products being sold to over 30 countries worldwide, achieving industry leading margins along with impeccable and unblemished growth since its inception. 
Along with the world class manufacturing facilities catering to Batteries, Inverters, Home UPS and Solar water pumping systems situated pan India, company has its own state-of-the-art R&D Centre, which ensures the company's products meet the highest industrial standards complying with CE & UL. Needless to mention, the state-of-the-art factory meets all statutory certifications like UL Laboratory, SONCAP, and NEPCA. 
Mr. Dhananjay Sharma, Founder of Intelenergi Global Pvt Ltd is a renowned Global Business Leader in the renewable energy & power back-up segment. He holds two decades of rich experience and before starting his journey as a new age entrepreneur, he spearheaded the strategic direction of global operations for Indian conglomerates and established the Indian brand on the global map. He hones multiple hats and has been accredited with bringing game changing innovation to the Indian renewable energy & power back-up industry which gave our country an edge over China and other fast-growing markets in this domain.
He prides himself on rich industry knowledge and has been a very active member of ESC Africa Committee (run by Electronic and Software Export Promotion Council, Govt. of India, India Africa Community, CII and FIEO. He also received the prestigious award of Highest Exporter of India in Power and Solar domain by Ministry of Commerce, Govt of India.
Dhananjay holds qualifications such as  PGDBM, EPGDIB and attended various leadership programs from IIMT, IIFT (Indian Institute of Foreign Trade) and ISB (Indian School of Business).