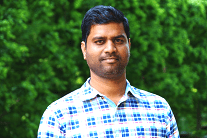 With his expertise and a vision to provide best & cost-effective field force management software solutions, Mr. Bharath Annamalai's professionalism is remarkable
Mr. Bharath Annamalai has been running a SaaS-based startup venture named Lystloc. He envisions and strives to provide the best and most cost-effective field force management software solution that helps businesses in increasing their field force productivity and growth prospects. He also adds "If you want to turn a vision into reality, you have to give 100% and never stop believing in your dream."
He believes that 'a strong aim is what motivates us to achieve success. Having a clear aim implies that we possess a much bigger vision for the company beyond fulfilling the basic short-term objective and coping with problems as they emerge.' The main aim of developing and launching Lystloc is to globalize location intelligence solutions for companies in such a way that is superior in quality, value for money, and flexible. We can better comprehend the necessity for Lystloc because many businesses have converted their office space to remote functioning because of the recent pandemic outbreak. Moreover, in this post-lockdown time, the increased rate of adoption of digital technology and faster developments in workforce productivity would allow businesses to deploy field force management platforms like Lystloc in the coming days and in the near future.
Mr. Bharath believes in the quote- "There are no secrets to success. It is the fruitful outcome of passion, dedication, and hard work." His journey with Lystloc began in 2017, as a Chennai-based startup, as a result of his own need to measure the productivity of his parent company's on-field workforce. Like many other startup CEOs, he too faced many challenges and struggles in his initial days. Be it technical discrepancies, customer engagement, capitalization, revenue, and more. But with constant motivation, hard work and not giving up attitude he overcame each and every challenge to reach this great success in this arduous journey of 5 years.
Another remarkable aspect of Lystloc is that the company started its operation with only 3 employees at the outset. The Lystloc team now includes nearly 40+ promising and hardworking Lystlers in it. The venture has grown dramatically in size too over the last five years. Lystloc currently serves 3500+ businesses worldwide, servicing customers with 500+ licenses and generating 50% MOM sales revenue. In 2021, Lystloc was awarded the Expert's Choice and Best Support badges by Software Suggest. Lystloc is mentioned in Best Startup's 101Best Delaware Internet Companies And Startups. Lystloc has grown rapidly to be one of India's fastest-growing FFMS startups, with a strong sales-to-customer ratio. "This doesn't end here, where we have more to add in the upcoming years," says Mr. Bharath. He hopes to expand to other continents in the world by adding 1,00,000 users in a couple of years.