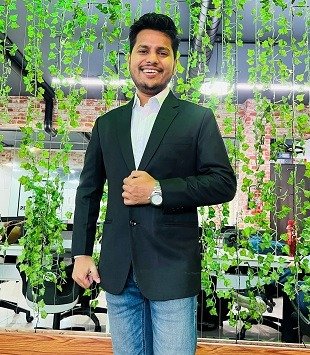 Mr. Ayush Agarwal's Successful entrepreneurial Journey stands inspiring to budding entrepreneurs
We often listen to success stories from the successful people dropping out of their colleges to achieve something big. Mr. Ayush Agrawal's successful journey is no less. He enrolled himself in one of the prestigious institutes of India, i.e., IIT Kharagpur and dropped out of college to follow his entrepreneurial dream and decided to finish his education once his business kicked off. His journey started at Intugine in mid-2017 when he and the other co-founders realized that most of the manufacturers/e-commerce companies depend on market-vehicles for their transport, and have zero visibility (vehicle tracking) of the goods they are transporting from one point to another.
As the co-founder and Chief Business Officer of Intugine Technologies, Mr. Ayush believes that tech products have the capability to simplify business complexities and can impact millions of lives in the most unimaginable ways. Presently, he and his team are actively helping 100+ enterprises including Flipkart, Philips, Xiaomi, Ultratech Cements, Mahindra Logistics, Duroflex and others optimize their supply chain and logistics operations. With Intugine, Ayush wishes to leverage technology to help brands delight their customers, reduce costs and grow their business.
Intugine Technologies was co-founded by Harshit Shrivastava, Ayush Agrawal & Mrinal Rai and it currently, it is one of the leading supply chain visibility enablers in the world. It leverages its expertise in IoT Technology to help businesses optimize & digitize their supply chain & logistics operations. Intugine is one of the very few companies with multi-modal visibility capabilities. Which means, the organization is able to provide the world's largest enterprises visibility over their assets across modalities (be it air, land or ocean) on a single platform, thereby helping them build resilience within their supply chain operations.
Intugine offers real time vehicle/shipment tracking, yard management, a control tower module, digital indenting solutions, ocean freight tracking, PTL (parcel) tracking and e-POD among other supply chain digitization products. Today Intugine is a well-established SaaS business built over the years with a young bunch of energetic people who share their core belief of customer centricity. With this belief towards making the lives of customers easier, they now look to expand internationally and focus on shippers to help them create transparent and efficiently connected supply chains globally.