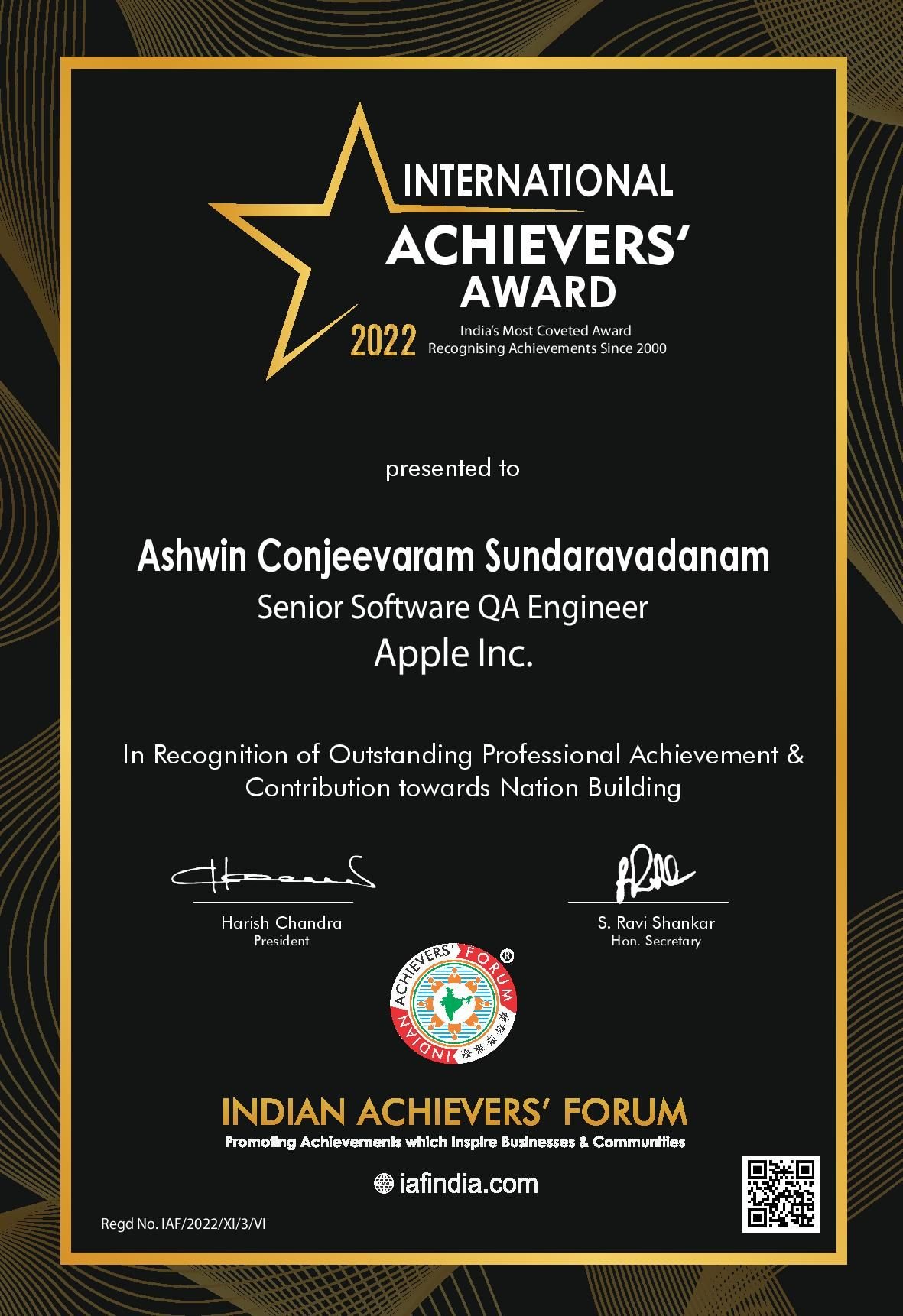 Mr. Ashwin's impeccable professionalism outshines the crowd and makes him one of a kind person
Mr. Ashwin Conjeevaram Sundaravadanam is a Senior IEEE Member, a Research Scholar, and a Technical Professional with abundant passion towards the field of Research and innovation in the field of Computer and Information Sciences Engineering. He is currently working as a Senior Software Engineer at Apple, Inc. (World's Most Valuable Company) located at New York City location, USA. With around 15 years of experience in the field of Computer and Information Technology, he has worked with various Fortune 100 companies globally. He has obtained his Masters of Science Degree (MS) in Information Systems with Honors here at USA.
Mr. Ashwin is a prodigious public speaker and has been invited as a Chief Guest to proffer several Guest lectures under the topics mainly Cloud Computing, Artificial Intelligence, Machine Learning, HCI (Human Computer Interaction) at various educational Institutions across India. Right from his graduate days, he was a board member at Virginia International University for their cyber security course. From 2007 to 2022, he has published around 15 research papers in several National and had attended several IEEE International conferences across the globe. He has also published '4' International Journals and Scopus indexed Journals with high Impact Facto. His research areas mainly include Human Computer Interaction (HCI), Data Mining, Information Science, Data Engineering, Artificial Intelligence, Cloud Computing, Machine Learning, Data Analysis, Data Privacy, Biometrics, Offline-Signature verification, decision making, EEG, medical computing, Pattern Mining, Pattern classification, Sensor Fusion, and Speech Recognition.
Inspite of living in the USA for a period of 9 years, his copious potential remained incessant towards R&D (Research and Development) and continued over these years in providing significant contribution in the field of Information Technology and Computer Engineering Domain. During his graduate studies here at USA (from 2013 till 2016), his footprints had literally remained ubiquitous in all Research and Development areas which was highly reflected in his successful project thesis submissions and furnishing bountiful other Academic projects during his coursework. During this tenure, he had actively worked as a Research Assistant (RA) for several esteemed professors at his university and he also served as Resource person in developing several FDP's (Faculty Development programs) assisting his faculty members in his university. After graduating with his Masters, he resumed his Professional work career in USA starting to work for several renowned global Tech companies and client-partners. Even in his current professional career at Apple, Inc. he is actively involved in holding Substantial Engineering responsibility in Developing various Software products including the latest MAC-OS, iOS Software Development and Innovations, by placing his footprints across so many other evolving Apple products soon in the future which will deliver highest human value to the end customers.
Mr. Ashwin, undoubtedly is  a man with in-born talent and his optimistic approach under all circumstances, embedded with his ambitious mindset, will undoubtedly pave way for his successful career in the field of Research and Innovation, thus bringing out several marvelous Research contributions towards the Computer Science and Information Engineering Discipline.