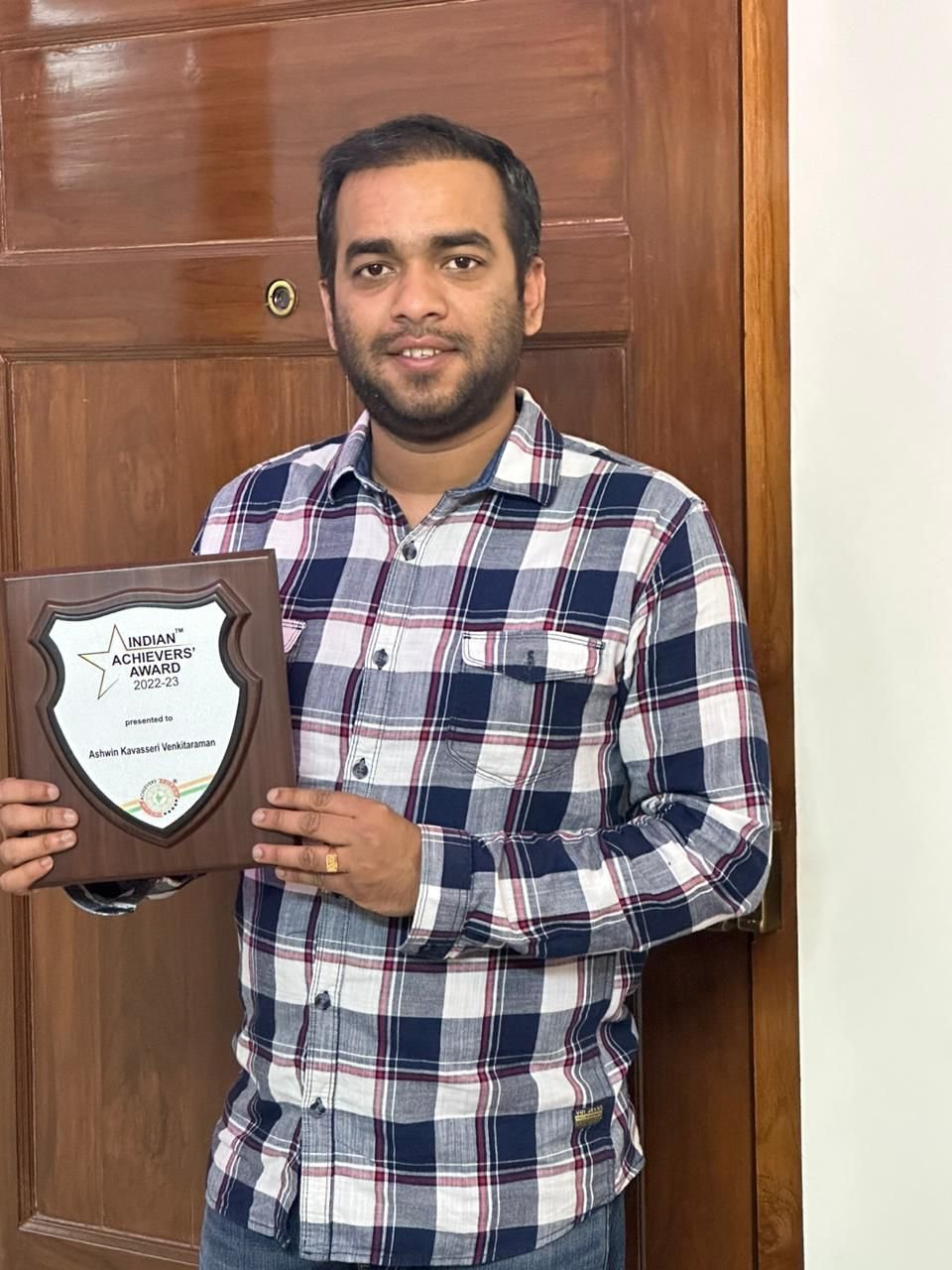 Mr. Ashwin Kavasseri Venkitaraman
The Young Achiever Making a Difference in Sustainability and Start-up Mentoring
Ashwin is a remarkable electrical engineer who has made significant contributions to the field of sustainability and start-up mentoring. His dedication and hard work have been recognized with the prestigious Young India Achievers Award. In this article, we will explore his achievements and his journey so far. Ashwin completed his undergraduate studies in electrical engineering from a reputed college in India, PES Institute of Technology. During his studies, he developed a keen interest in sustainability and began researching various ways to reduce the carbon footprint of electrical systems. His research led him to several breakthroughs, and he published several research papers in top journals such as IEEE, MDPI and Elsevier.
After completing his studies, Ashwin worked for a few years in the industry, at Mercedes Benz Research and Development India, where he gained valuable experience in designing and implementing sustainable transportation solutions in electric vehicle charging, charging network design and optimization. He also developed a passion for mentoring start-ups and helping them to succeed. He has helped several start-ups in Bangalore scale up manufacturing. Also, he has providing strategy and operations consulting to start-ups in Bangalore, that have helped make them competitive on a global level. His expertise in electrical engineering and sustainability made him an ideal mentor for young entrepreneurs in the field.
Ashwin's work in sustainability and start-up mentoring did not go unnoticed, and he was soon recognized with the Young India Achievers Award. This award is given to individuals who have demonstrated exceptional talent and leadership potential in their field and have contributed to society through their work.
In addition to his work in sustainability and start-up mentoring, Ashwin has also been actively involved in community service. He has volunteered for various social causes, including education and healthcare, and has worked to improve the lives of people in his community.
Ashwin's success is a testament to his hard work and dedication. He has proven that with the right mindset and skills, anyone can make a difference in their field and contribute to society. His achievements serve as an inspiration to young people who are looking to make a difference in the world.
In conclusion, Ashwin is a talented electrical engineer, a successful start-up mentor, and a dedicated community volunteer. His contributions in the field of sustainability and his work in mentoring start-ups have been recognized with the Young India Achievers Award. Ashwin's journey so far serves as a reminder that with hard work, dedication, and a passion for making a difference, anyone can achieve success and make a positive impact on society.