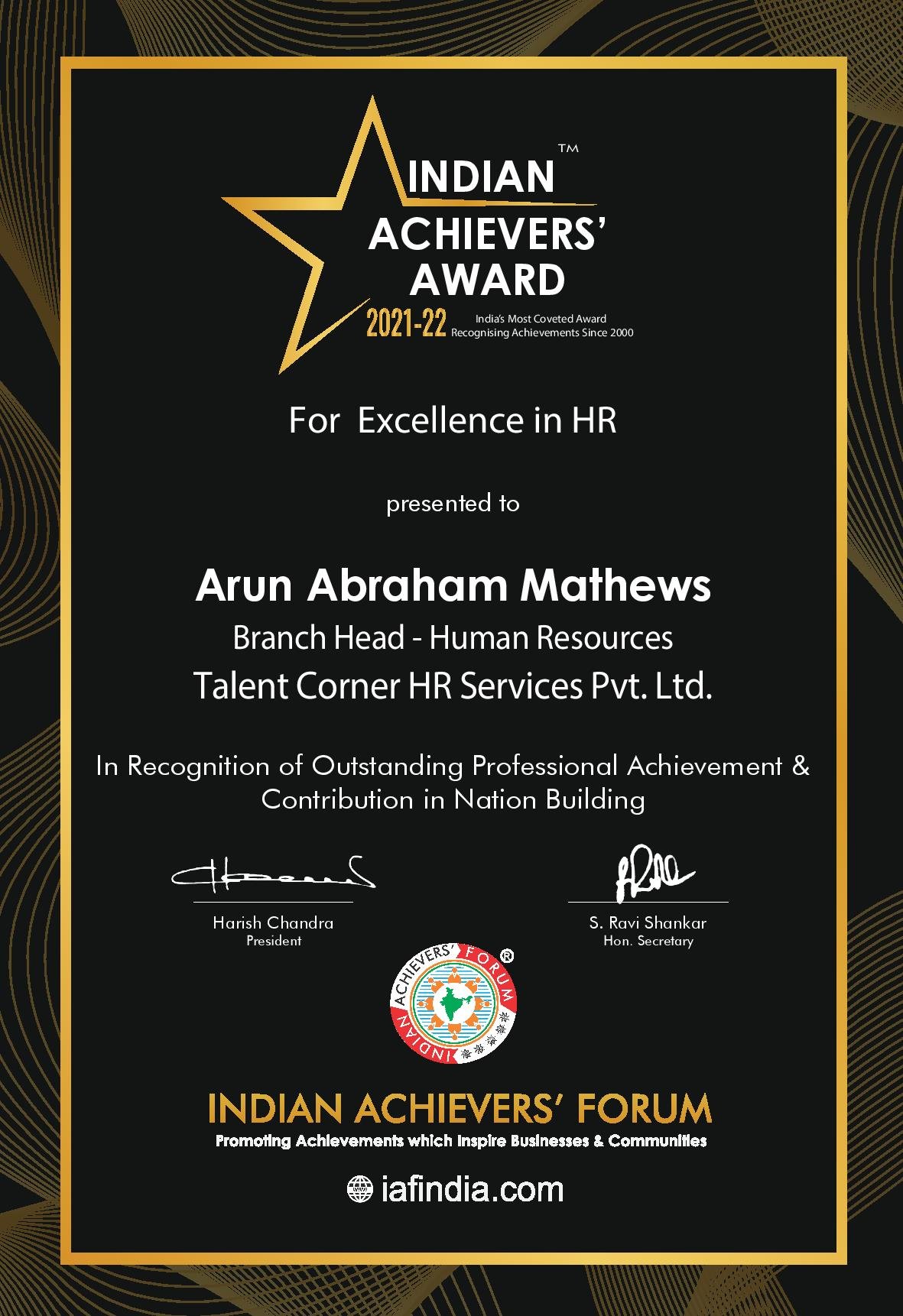 "Hire character. Train skill." – Peter Schutz
Arun Mathews can be an inspiration for any budding HR professional. His work ethics, sense of humor and never-say-die attitude will surely motivate and push you to achieve your professional goals, without a doubt! Ask his team members…ask his clients…ask his professional circle of friends – They just have three word to say about him: Determined, disciplined and a complete team player.
Arun did his schooling in Kuwait and returned during the Gulf War 1990. After returning to India, he completed his graduation from St. Joseph's College, Bangalore.He was an average student, but excelled in sports, especially when captaining for the college cricket team. He then went on to complete MBA (HR) from St Joseph's College of Business Administration and passed out with flying colors. He had an opportunity to work with with well known companies like Mphasis and Les Concierges in HR and also provided Manpower Consultancy Services to Hotels like Empire Group of Hotels, Northern Suites, Comfort Inn, RG Royal Hotels. He was also HR Head for a travel company called Crazy Holidays until 2020.
International Groups like Q -Technologies Pvt Ltd(Singapore), Golden Wings Inc (Hong Kong). entrusted their complete HR to him right from Recruiting Manpower to making him their company advisor. In his 20+ years of HR experience, he has helped companies to not only form innovative strategies to retain manpower (and reduced attrition) but also helped staff stay motivated, perform and deliver consistent results. He loves Recruiting and specializes in Head-hunting. Always seen as a team player, his passion to help others succeed made him a favourite in many a companies.
He is also an Entrepreneur by heart and started a Beauty Salon, along with his wife Mercy in Bangalore called NINA. Though his wife takes care of the Salon mostly, Arun gives her support where ever possible. As Arun Mathews candidly puts it
" Behind every successful woman, there surely will be a exhausted man!"
Today Arun Mathews works with Talent Corner HR Services as Branch Head – HR & Recruitment. He feels that the company not only provided him an opportunity to express his talent in Recruitment but the support shown by the company is amazing. Arun Mathews currently handles clients Pan India and soon Internationally as well. He leads a team of recruiters and balances his work and personal life perfectly! On weekends, he enjoys spending his free time with his family(he's got two lovely daughters), listen to music (he loves a-ha/Cliff Richard) and meditates too.
Did we forget to mention that he is an International author as well, and a few of his books had topped the bestsellers list on Amazon.
Some of his books worth mentioning are ' MASTER YOUR KINGDOM', '36 SECRETS HR DEPARTMENT NEVER TELLS YOU' and the popular murder mystery ' THE SPIDER'S WEB'
Linkedln :    www.linkedin.com/in/arunmathewshr