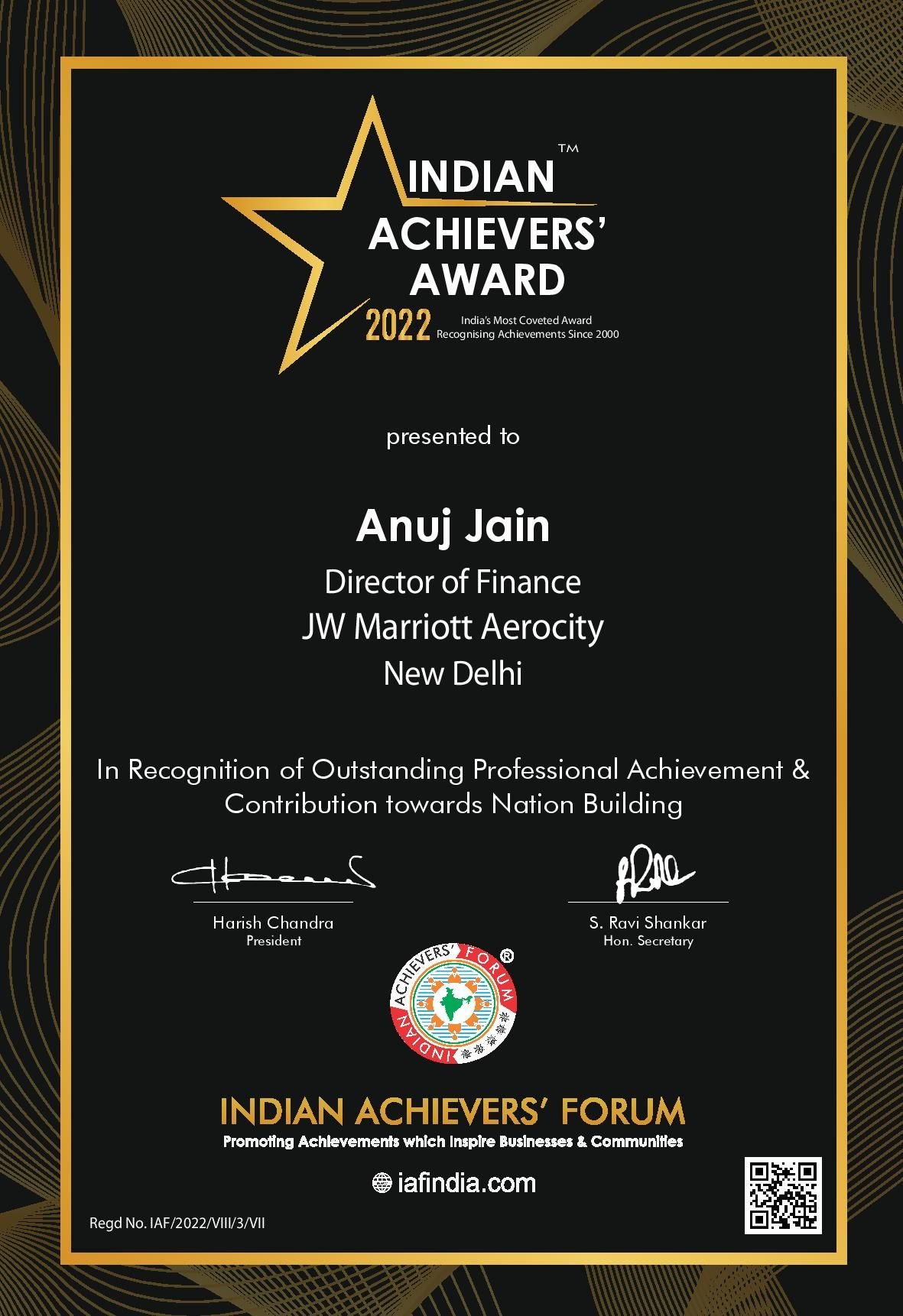 Mr. Anuj Jain's remarkable Professional Journey
Mr. Anuj Jain brings with him an experience of close to two decades of deep understanding and command of domain experience in financial planning, strategic planning, development & implementation of new systems, cost savings/profitability improvement and taxation & commercial operations. Anuj spearheads the hotel's business strategy and continues to evolve various financial structures to take the team towards success. He began his journey with an entry-level accounting function to the level of Director Of Finance at JW Marriott, Aerocity New Delhi, where he is recognized for delivering excellence in process improvement, financial analysis, and suggesting 'out-of-the-box ideas' in driving profitability and identifying and eliminating waste to drive efficiency.
Mr. Anuj has successfully led the finance team at JW Marriott Aerocity New Delhi to a 97.13 percent rating in the Marriott A&L review for 2022. In addition to this, he has improved the profitability of the largest business unit in India across more than 140 Marriott hotels within the policies, procedures, and internal control matrix that had been established. Anuj efficiently handled business units with a yearly volume of more than $42 Million, EBITDA increased, during the business rebuilding period, by 2.5 bps. He successfully drove the reduction in Debtor's Outstanding by 15 business days and handed a team of more than 40 people directly and achieved a staff engagement score of more than 90%.
He is a University of Rajasthan alumnus who studied and efficaciously qualified as a CA while working for The Oberoi Group, successfully balancing work life and professional goals. In less than 6 years, he advanced from Accounts Assistant to Head of Department at The Oberoi Group. SUJAN effectively launched a new vertical of Management Contracts and Heritage Palaces.
Mr. Anuj's expertise and foresight continue to effectively guide JW Marriott New Delhi in its pursuit of productivity through the application of valuable financial principles on which to build and grow.