Data Enthusiast & connoisseur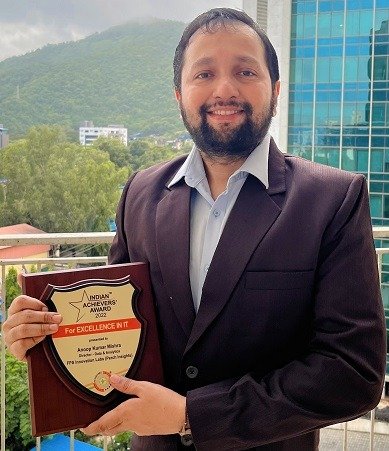 Do what you love, or love what you do
Mr. Anoop Kumar Mishra is seasoned Technology executive and is a prominent face of Data Engineering, Business Intelligence & Analytics Industry. He has more than 14 years of extensive experience working across a blend of leading multinationals and high-growth startup organizations. Anoop has been an eminent leader in his space with both Strategic and operational success to his credit. His areas of expertise include Data & Analytics Products, Data Governance, Master Data Management, Real-time Data consumption frameworks, Data Integration, Warehousing and related streams of technical skill sets. Anoop has been heading Data practice in several leading global companies headquartered across different geographies like Singapore, USA, UK and so on.
With the past few companies which he has been working in, he played a critical & strategic role in leading all disruptive changes which involves Process Excellence and Improvement Initiatives, Raise the Bar Hiring Programs, Holistic Automation Strategy, Technical Debt & Backlog Settlement, Efficient Project Management & Capacity Planning, enabling monetization pipeline via powerful data products, adding new Revenue Generating Products & Streams etc. He has been responsible for setting up Data platform best practices, devising group strategy/roadmap, P&L for Data Vertical, Blueprints for divisional growth and aligning that with overall organizational success, and building end-to-end data frameworks from scratch. He has single handedly hired, built, mentored and led globally successful high-performant teams from ground up.
Anoop has been an acting Principal Data Architect and a go-to leader for engaging with international stakeholders, while being a consulting advisor to them for building Data driven solutions and products. He has also been a key driver for Client pre-sales engagement with direct involvement in building fully functional Minimum viable data products which has helped generate sales revenue or get further rounds of investment based on working prototypes. Anoop's profound technical expertise combined with his deep understanding of leadership fundamentals have triggered his companies towards exponential growth especially where Data has been a key organizational driver.
Anoop is currently Head of Data & Analytics at Full Potential Solutions (Perch Insights) which is a US based CX Analytics corporation. He is currently in-charge of diverse data/bi-analytics/engineering teams with a common goal of building CX Analytics product version 1.0 (Perch), the group which he heads also supports existing BI & Data services which establishment provides to global customers. In addition to that, his role as a strategic executive in Perch Insights involves directing accomplished Data leaders reporting to him and their teams towards excellence via result-driven approach. His responsibility also entails him to directly interact with his global counterparts and relevant stakeholders in conceptualizing product, envisioning roadmap, ideation, designing, specifications, and development leading to implementation of evolved feature-rich robust Analytics product with each upcoming version. Simply put, within his division he is completely accountable for building & defining multiple layers of BI & Data platform and integrating them with Front end SAAS application.
Previous to FPS Perch, he was heading data platform in Fintech establishment Matchmove Pay Pte (Payments Domain), and was working with Trade Finance startup Traydstream as VP-Data Architect, had a short stint with Deloitte as well. Before Deloitte, he worked with Standard & Poor's as Lead Data Architect for 4 years and was working in CitiusTech Inc, Mastek Ltd and TCS prior to that. Anoop started his career as a data engineer evolving into a senior executive leader in data space. During his journey as Data enthusiast in his career, he has seen the entire evolution of the data ecosystem throughout years, right from Legacy Data Storage Systems /Data Processing Engines to New-gen cutting edge Big Data & Analytics / Data Science technology landscape. Anoop has done Master's in Computer Applications from Mumbai University with a strong meritorious track record throughout his academics. He currently stays in Mumbai with his family which includes his Wife, 2 kids (A Son & A Daughter) and Parents (Mother & Father). In his personal time, he likes spending time with his Family, reading history and philosophy books, traveling to quiet and serene places, delving deeper into meditation and spirituality.