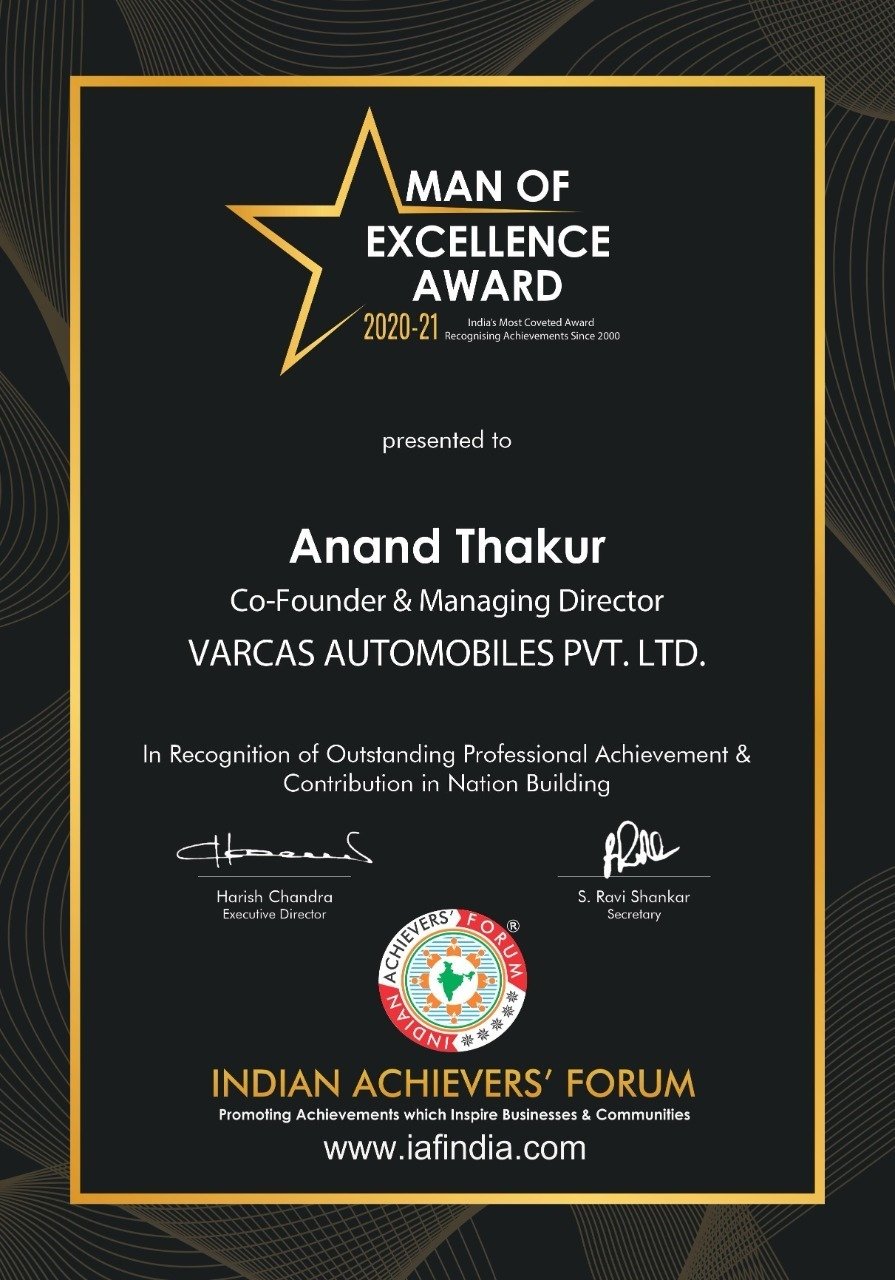 Mr. Anand Thakur's Journey from a Corporate Professional to a Successful Entrepreneur stands highly inspiring
The Founder and CEO of Only Electriq Solutions Private Limited, Mr. Anand Thakur has over more than 25 years of Experience with Automobile Industry in Sales, Marketing, Operations, Business Development, New Product development, International Business, P&L Operations both with Corporates (viz- Suzuki & Piaggio – 2W Division) & Green Field Projects and setting up of New Projects / Business (Being Human E-Cycle).
Mr. Thakur's Corporate experience is noteworthy. He was the Co-Founder and MD of VARCAS Automobiles till Feb 2022, and headed Being Human E Cycle (SK EBicycle LLP) as Business Head responsible for entire P&L and also handled Operations (Entrepreneurship) of the Company.
With Corporate experience of more than 20 years, he has held various positions and has handled numerous responsibilities that include, Associate Vice President at Piaggio Vehicles Private Limited- 2W Business, Pune (National Sales, Channel & Business Development, Training)/ Functional HOD. At Suzuki Motorcycle India Pvt. Ltd., New Delhi he was the National Sales Head, Regional Business Head at Yamaha Motor India Pvt. Ltd., Pune, Tata Motors Ltd., Kolkata as Asst. Manager- Sales- Passenger Car Business Unit, Honda Motorcycle & Scooter India (Pvt.), (HMSI) Ltd., Gurgaon and at Mahindra & Mahindra Ltd. (Automobile Division), Bangalore and TVS Suzuki Ltd., he served as Sr. Executive-Sales.
In his successful professional career, Mr. Thakur has played a key role in setting up Green Field Projects / New Product Development / Product launch of new scooter / brand (concept to development). As an entrepreneur, he made a 100 cr Revenue in 2021-22 with a growth-rate of 6 times over previous year as an entrepreneur. At Suzuki Motorcycle (Products were – Access 125new, Gixxer 150cc motorcycle, Lets Scooter, Hayate 100cc motorcycle); It was under his leadership that Repositioning of Vespa took place. Launching of Electric Cycle (Premium Range), Being Human E-Cycle and Building Varcas Automobiles from a Team of 3 to a Team size of 130 between 2019 to 2021 are all feather to his hat. Achieving a Revenue of INR 100 cr in 2021-22 from INR 1.5 cr in 2019-20. Being Human E-Cycle Project from Concept to Project Launch and successfully managed the entire project for 16 months is one such achievement Mr. Thakur achieved. He has also managed Business turnover of 1650 cr / Annum with Suzuki Motorcycle and launched the Piaggio 2w in International Markets of South Asia (Nepal, Sri Lanka, Bangladesh, Maldives) and Handled Pan-India network of 1,397 outlets + International Location.