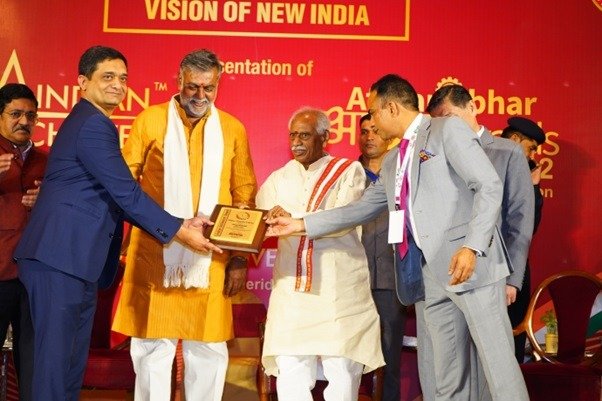 "For businesses to optimally utilize resources and ensure business sustainability, adopting AI tech today is the answer"
Anand Mahurkar is the Founder & CEO at Findability Sciences. Anand is an accomplished business leader with extensive experience in serving global Fortune 500 clients and shaping traditional enterprises with AI-led digital transformation, making them data superpowers. Anand's inimitable style of leadership, combined with his sharp focus on customer experience has helped Findability Sciences emerge as one of the leading enterprise AI solutions providers globally.  His entrepreneurial spirit, persistence, and consistency with the changing dynamics of technology helped him establish Findability Sciences, a company with the goal to equip enterprises with 'The Ability to Find Information'.
Today Findability Sciences is a leading Enterprise AI Company that helps traditional enterprises worldwide realize the potential of data and become data superpowers.  Findability Sciences enables customers across industries and geographies to accelerate their Data-to-AI Journey, enabling them to build their own IP and data science capabilities, besides executing strategically to derive real financial ROI. Their portfolio of products and services finds utility value across industries such as manufacturing, retail, media, and communication. Their five key product offerings such as Findability.AI, Findability.DSL, Findability.Labs, Findability.Inside, and ERP Max. 
There are six ways in which the offerings create value for the clients – cost reduction, speed to execution, reduced complexity, transformed engagement, insight-backed innovation, and fortified trust and thereby helping traditional businesses harness the power of data & AI to transform business.
Hailing from a small town in the interiors of Maharashtra, Anand is a first-generation entrepreneur and immigrant to the U.S.A. His love for numbers and science made him pursue Mechanical Engineering. Right after college he worked for a company which was a supplier to General Motors and Ford. After working from 1990 to 1999 in manufacturing, Anand secured a job in a mid-size banking software company as a regional manager. During late 90's when computer science and application were witnessing a boom, Anand found great opportunities to explore the global market.
In 2003, on the insistence of his previous employer Anand and his family relocated to the United States to support an acquisition of a small company in Billerica, Massachusetts. Ever since his first job Anand was determined to build his own venture in the advanced tech space like Artificial intelligence. Given his intent and entrepreneurial spirit, Anand founded Findability Sciences with the vision to equip enterprises with 'The Ability to Find Information'. Findability Sciences is an award-wining enterprise AI company with over 40 clients across verticals such as Manufacturing, Telecom, Retail, Professional Services, Financial Services, and Government. Growing from the challenges faced during his initial years of starting Findability Sciences to working with multiple global companies is a notable success story of modern-day entrepreneurship.
Anand believes that the world is changing at an unprecedented pace, and it requires inventive solutions to help organizations and traditional businesses worldwide realise the potential of data. As part of his 30-year career, Anand has stepped up to take several leadership positions to promote technology innovation and tech entrepreneurship. His stellar career in technology can rightfully place Anand as an innovator in Big Data & Contextual Data Technologies. His tech prowess and sound understating of artificial intelligence has him on the IBM Watson Ecosystem Partner Advisory Board. IBM Big Data Magazine identified Anand as the Big Data Hero in 2014. Anand was also a member of the Forbes Technology Council – an invitation-only community of leading Tech Visionaries who contribute to thought leadership content in Forbes magazine.
Financial Times recognized Findability Sciences as one of the fastest-growing companies in the U.S. in 2021. INC Magazine also recognized the company as being among the fastest-growing American private companies in 2020. Fast Company recognized Findability Sciences for its World-Changing Ideas Special Mention in 2021. His exceptional career is a testament to how he is driving technological innovations to help enterprises accelerate their Data-to-AI Journey. The Small Business Administration (SBA) has named Findability Sciences the 2022 Microenterprise Business of the Year for Massachusetts.
Anand has been acknowledged and honoured by various leading institutions and magazines. To enlist just a few- he was featured on CNBC TV18, India's leading broadcast channel Anand Mahurkar, to highlight how legacy companies can transform into data superpowers with AI and data. In an authored article in Forbes, he talked about how traditional enterprises can supercharge legacy products and operations with AI and wide data.