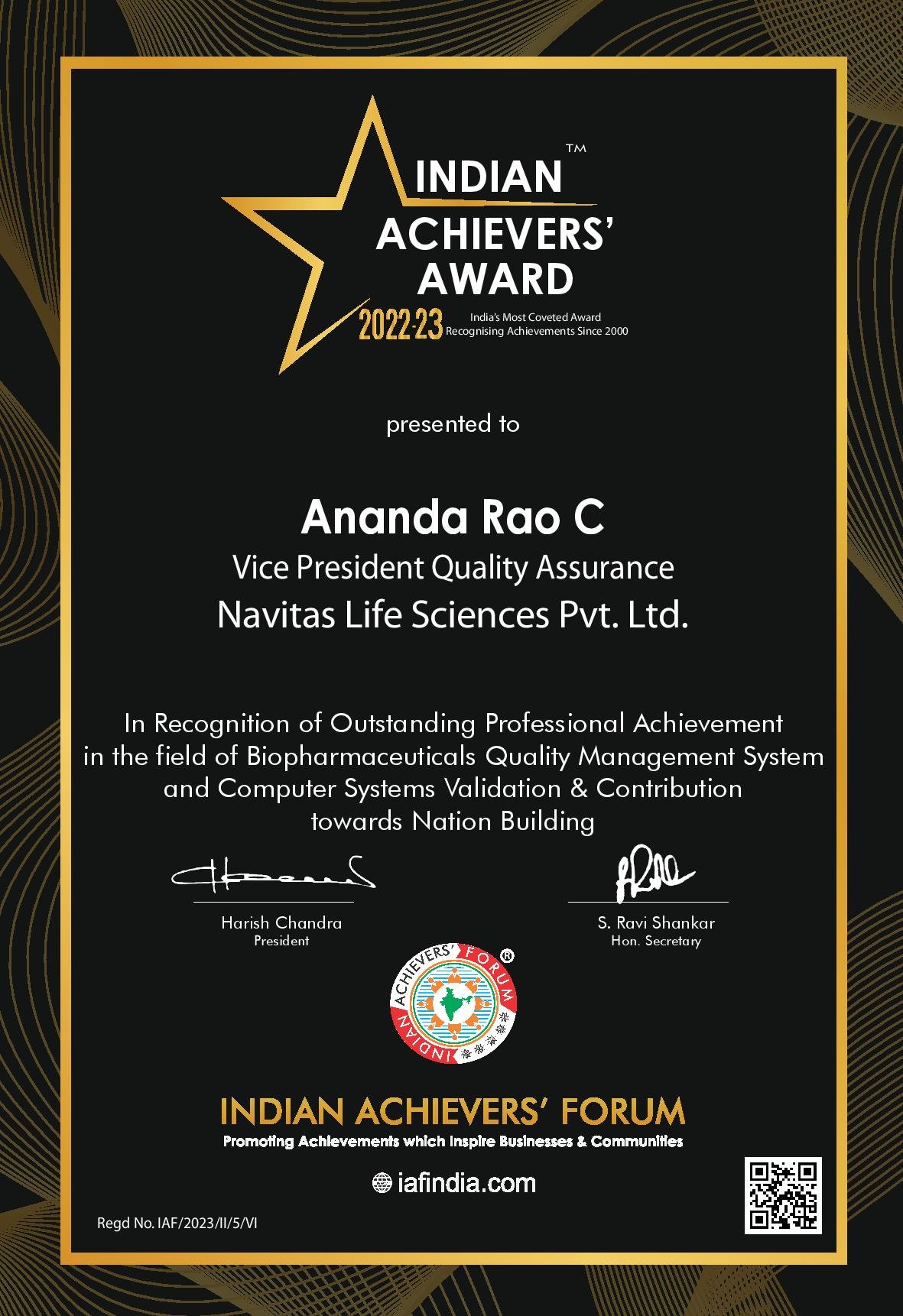 Award-Winning Quality Assurance and Computer Systems Validation
Anand C. Rao  has been awarded the Indian Achiever's Award for his outstanding professional contributions to high quality assurance and computer systems validation. A highly motivated and progress focused thought leader in QMS requirements for the Pharmaceutical, Clinical Research, Medical Device, and Life Sciences industries with a Master's Degree in Biochemistry, Master's Degree in Medical Laboratory Technology, MBA in total Quality Management, a certified lead auditor for ISO 9001 and ISO 13485 QMS standards, and currently serving as an ISPE- GAMP India steering committee member.
21+ Years of Experience in Quality Assurance & Computer Systems Validation
Anand brings over two decades of experience in successfully leading the design, development, manufacture and delivery of drug products through his expertise in the field of Quality Assurance and Computer Systems Validation. He works with Navitas Life Sciences to ensure the highest standards of safety and wellbeing for patients.
Safe & High-Quality Drugs & Services
Anand's work with Navitas Life Sciences has resulted in a wide range of safe and high-quality drug products and services that meet regulatory requirements across multiple regulatory authorities. He has been instrumental in ensuring products and services are delivered with the highest quality standards, meeting both customer expectations and industry regulations.
Humble Beginnings to Transformational Growth
Anand is the first graduate from his village, and he had to walk 15 Km every day to reach his school. Wearing the weight of expectation from his entire village, and the perseverence to seek a new path for himself, Anand has successfully traversed new avenues of growth.
He is adept at leveraging his vast experience in quality assurance, contributing to conferences and seminars, and developing numerous resources on Quality Management systems and industry best practices. His team at Navitas Life Sciences has successfully hosted more than 250 inspections and audits from agencies and customers.
Unparalleled Expertise & Dedication
Anand's dedication to excellence is unparalleled, making him a perfect fit for heading the Quality Assurance team at Navitas Life Sciences. His expertise has been invaluable in helping create safe and effective drug products for patients in need. This award is a testament to Anand C. Rao's commitment and dedication to excellence, and his unwavering focus on achieving high quality in whatever he sets out to do.